Rather than battling delays and queues to get to that wished for holiday, people who have chosen to stay here in the UK this summer, may well feel a little smug and rightly so.
With the flexibility a domestic break can offer, you can be within your chosen holiday accommodation here at Seal Bay Resort in Selsey, West Sussex from as little as a 2-hour drive, giving you the chance to enjoy more special time with your little ones.
This precious time is what Seal Bay has placed ultimate focus on with their offerings and boy, do we have great activities for the kids.  So whether you're camping, touring, or looking for basic to luxury self-catering accommodation for a holiday that will ensure the kids build great memories, Seal Bay is certainly one not to be missed.
With our 'Go Cove' concept, Seal Bay take the element of providing a happy holiday to another level.  Activities director Gordon Bush says 'Go Cove is all about providing more to your stay than just the accommodation.  It's about assisting our guests in having the best time possible, offering a range of activities suitable for all ages and ultimately to give greater value for money and more time to spend on enjoying as opposed to spending time researching!'
At Seal Bay Resort you can book activities quickly and simply through an on park app.  So whether it be pottery craft, axe throwing, zorbing, waveriding, crazy golf, meet & greets, fire making or circus skills workshops (and many more) there will certainly be happy faces all round when holidaying here.  There's even our own mile-long beach giving all the family a chance to dip their toes!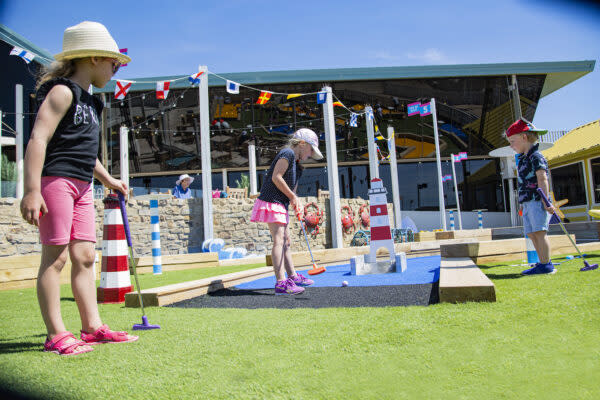 Then when the children have tired themselves out with all that fun, they can settle down to watch the park's award-winning entertainment. The resort is most certainly not one where you'll hear any child announce: 'I'm bored!'. It really does have everything covered when it comes to building wonderful memories which is why so many come back time and time again.
And there's always a new reason to return too, with annual events throughout the year, you can come back to experience many a themed event.  Check out Oktoberfest, Scream Bay, November Nights and Christmas at Seal Bay to name a few!
So if you have yet to book your summer holiday for 2022, don't put it to chance…stay in the UK and reap the benefits at Seal Bay!