Sussex offers some of the best seaside holidays in the UK. We have world-class water sports, white sandy beaches, long sunny days and beachside accommodation to suit every budget. Sounds like the perfect recipe for a seaside holiday? Well, to get you started, here's our pick of the best: holiday rentals, B&Bs, hotels, and camping and glamping by the sea. All accommodation is either on the seafront or a short walk from the water.

Best Sussex Holiday Rentals by the Sea
Best Holiday Rental for Families or Groups: Rox, West Wittering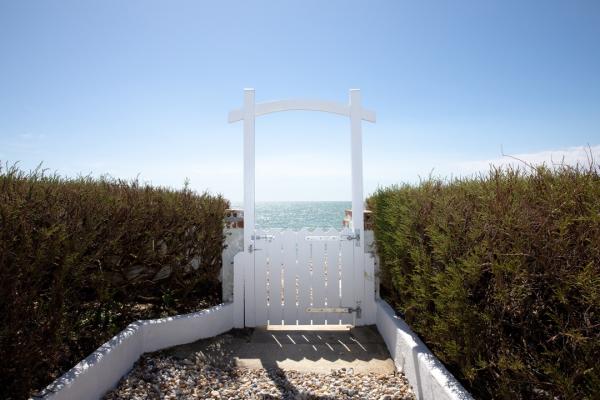 Seeking sumptuous seaside glamour? You'll find exactly that at Rox - dubbed by Wellies and Windbreaks as "without doubt one of the finest holiday rentals on the Wittering beach front".

While those who drive to the ever-popular West Wittering Beach are encouraged to pre-book their parking especially during the busy summer months, you'll have easy access to the beach from the lavish five-bedroom beachfront property. With plush interiors and spectacular views of the sea from nearly every room, plus a newly built private beach deck and garden, Rox offers relaxation and luxury in equal measures. Sleeps 12.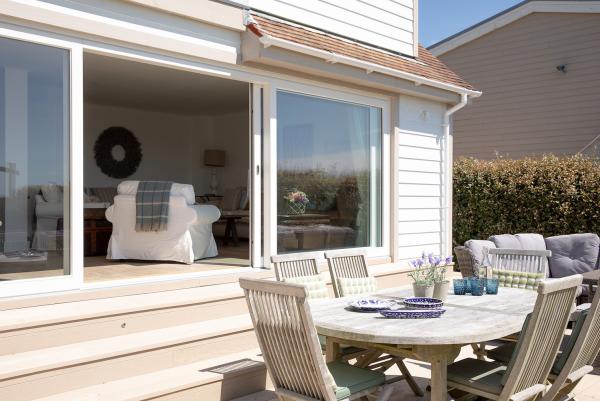 Continue the indulgent theme by sampling the great food on offer at East Wittering's Rosario's. Just a 13-minute walk from Rox, the Mediterranean tapas and wine bar - whilst modest from outside – is guaranteed to delight, with great food, generous portions and rave reviews.
Best Holiday Rental for Families: Pirates Point, Selsey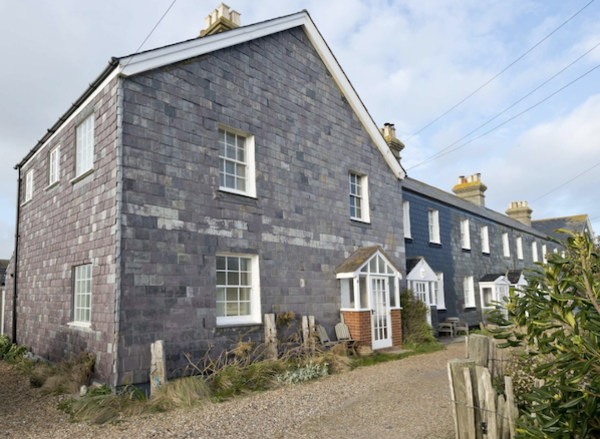 Offering a unique glimpse into history, the newly furnished Grade II listed Pirates Point is situated on the beachfront of Selsey.  This 18th century two-bedroom holiday cottage boasts unrivalled access to both the beach and the bustling town of Selsey where you'll find a host of independent shops, cafés and pubs.
Pick up fresh seafood direct from the fishing hut at Julies, sample the delights on offer at the Village Bakery or follow Selsey's Seal Art Trail. Everything you'll find along the way is family friendly and perfect for all ages.  
Back at Pirates Point you'll find a small enclosed garden, large kitchen area, cosy sitting room, and outside shower room for washing off the sea and sand from your days out. Families with young children will have it all. Sleeps 4.
Best Sussex B&Bs by the Sea
Best B&B for Couples: The Beach House B&B, West Wittering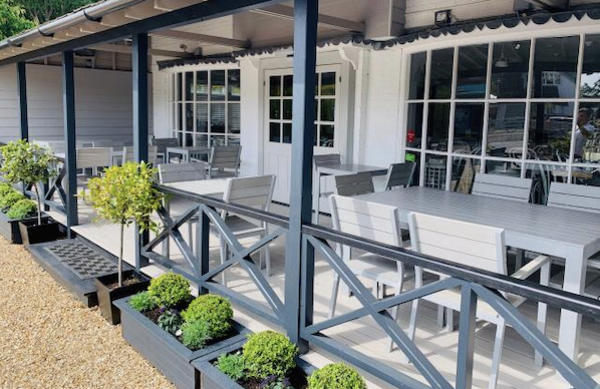 The Beach House B&B, located in the heart of West Wittering Village, is one of the closest B&Bs to West Wittering Beach, with a 15-minute scenic walk to the shores. You'll have unrivalled access to both the beach and 2XS; the water sports tuition and rental company based there. The National Trust site of East Head is located at the tip of West Wittering Beach too, meaning you'll have miles of beach to explore. 
At the B&B itself, you'll find seven individually styled rooms designed to help you both relax as much as possible during your stay, with comfortable beds, quality linen and a freshly cooked breakfast every morning. Dog friendly rooms are available for couples with a four-legged friend.  
Best B&B for families: The Coast Yard at St Andrews Lodge, Selsey
A 10-minute walk down Selsey's eclectic High Street will take to you from The Coast Yard at St Andrews Lodge to Selsey Beach. While it's not quite beachfront, it is still a great location for families who will find all they need on the way to the beach. Whether it's buckets and spades from Allsorts, gifts from Seal Island Wools, snacks from Country Garden Selsey or even brunch at Pennys American Diner. 
Back at the B&B, every member of the family will be catered for. From Damon and Celia's friendly welcome when you arrive, to breakfast with views over the gardens, a well-stocked bar, sun patio and cosy rooms, The Coast Yard at St Andrews Lodge has everything you need. What's more, it's just a short walk from Pagham Harbour and Medmerry Nature Reserves too.
Best Sussex Hotels by the Sea
Best Hotel for Couples: Crouchers Hotel, Chichester Harbour
Offering a truly unique stay, Crouchers - a boutique hotel overlooking Chichester Harbour AONB - combines relaxation and comfort with a touch of luxury. As would be expected from a hotel overlooking an Area of Outstanding Natural Beauty, you'll have walks with unrivalled and ample opportunities for wildlife viewing.
The hotel is conveniently located with a 15 minute walk to Dell Quay, where you'll find the Dell Quay Sailing Club, The Crown and Anchor pub as well as the beginning of many other walks exploring the harbour. You're also just a 15 minute walk from Birdham, another of the pretty waterside villages within Chichester Harbour AONB.
Best Hotel for Families: The Millstream Hotel, Bosham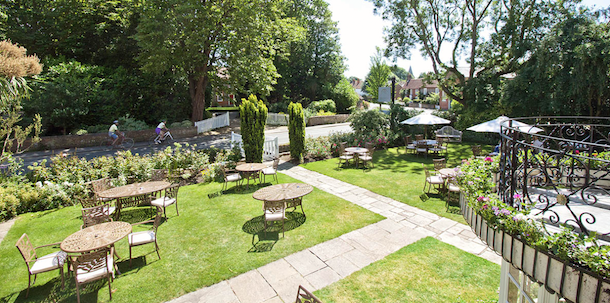 If it's the water more than beach that floats your boat, check out the quintessentially beautiful Millstream Hotel in Bosham, also part of Chichester Harbour AONB. Here, you'll find a traditional British retreat set within its own gardens, and home to the Sea School Restaurant where talented chefs prepare delicious modern British cuisine.
Located just a five-minute walk from the charming quayside, families can enjoy a wealth of activities here. Take to the water by kayak or paddleboard, jump on the Itchenor Ferry to explore another of Chichester Harbour's waterside villages, spot unique wildlife with Chichester Harbour Water Tours, take local walks and cycles, or simply explore the pebble shores close by. If you do want to take it easy for a minute or two, head to The Anchor Bleu for impressive harbourside views.
Top Tip for Families: if you love the sound of this, get in there quick. While the Millstream offers 31 lovely bedrooms, just one set of rooms are interconnecting and therefore suitable for young families (sleeps five across two rooms).
Best Sussex Camp and Glamp Sites by the Sea
Best All-Round Value Campsite: Seal Bay, Selsey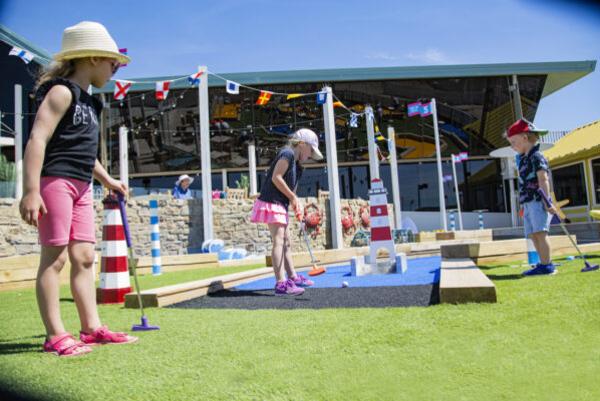 Seeking great value for all the family? Seal Bay Resort offers something for all ages and budgets. What's more, it's located right on West Sands Beach in Selsey. The wide pebble beach offers buckets of entertainment and is the perfect location for seaside strolls at any time of the day.
At Seal Bay you'll find a range of camping and glamping accommodation to choose from including standard pitches, luxury lodges and beach pads, ideal for those who rely on creature comforts. As if the beach doesn't offer enough entertainment, you'll also find a host of restaurants, bars and evening entertainment on site, as well as a huge range of facilities and activities including a pool, gym, spa, wave rider, bowling and crazy golf.
Best Campsite for Couples/Groups: Gees Camp Site, East Wittering
If you're planning on holidaying in Sussex with friends, this is the campsite for you.
Gees Camp Site is located just three-minutes by foot from the family-friendly East Wittering Beach. Here, you'll find shelving shingle, grass covered dunes, bumpy waves and expansive sand flats as the tide goes out. Whether its sandcastles or surfing that's attracting your group to the beach, there's plenty to keep you there all day. Especially with local gems including Calamity's and Witts End Café just a stone's throw from the beach.
While the site doesn't cater for tents; caravans, campervans and motorhomes are all welcome, with shower blocks and electric hook up available.
Best Campsite for Families: Stubcroft Farm Campsite, East Wittering 
Last but not least, and also located within walking distance from East Wittering Beach, is Stubcroft Farm Campsite.
Environmentally conscious families will love every minute of their holiday at this award-winning, eco-friendly site. Many of the facilities at the site have been carefully designed to ensure minimal to no impact on the environment you're holidaying in.
Being surrounded by a wealth of wildlife (including over 72 species of bird, deer, hedgehogs, foxes, rabbits and rare butterflies), a short walk from the quiet lanes of Chichester Harbour, and just 25-minute by foot from the beach and Drift-In Surf Café, you'll have all you need.
More accommodation in West Sussex
If we're got you thinking about a holiday to West Sussex, get inspiration with more great accommodation here.