Great walking doesn't have to mean enduring great distances. Whether you're short on time, have young children in tow or are simply looking for a taster of Sussex and the South Down's walking delights, we have a wide range of short walks to choose from.
Here's our pick of 10 great walks suitable for all the family lasting under than two hours:
Arundel and Swanbourne Lake Circular
Length: 3.1 miles
Terrain: Chalk paths and tarmac, one stile.
Difficulty: Easy
If you can't decide between town or countryside, this is the walk for you. Beginning and ending in Arundel Park, this 3.1 mile loop combines valleys, sprawling countryside and Arundel's popular Swanbourne boating lake, with the bustling historic market town of Arundel itself.
Bringing you the best of both worlds this is a great option for families, with a playground, Swanbourne Lodge Café and public toilets on route. With a huge range of additional cafes and shops to be found in Arundel town centre, there's every chance you may loose track of your two-hour time limit.
Download the route here
Chanctonbury Ring Circular, Worthing
Length: 4 miles
Terrain: Grass, rough underfoot, ascents can be slippery when wet
Difficulty: Moderate
Discover an early Iron Age hill fort on this walk beginning and ending close to Storrington, at the foot of the South Downs.
Standing at a height of 238 metres, Chanctonbury Hill offers unrivalled views over the surrounding countryside and out to sea. Home to important flora and fauna including the protected Great Crested Newt which can be found in the dew pond on the hill, Chanctonbury Hill is a must-visit for nature lovers keen to explore the very best of the South Downs National Park.
This moderately graded route takes you uphill through woodland, along part of the famous South Downs Way, down through Chalkpit Wood and along the Wiston Bostal track. Ticking off many of the areas 'must walk' walks, this is an easy-win for those short on time.
Download the route here
Windmill Trail to Halnaker Windmill, Chichester
Length: 5 miles
Terrain: Grass, rough underfoot, kissing gates on route
Difficulty: Moderate
If you're looking to take in iconic Sussex views, this is the walk for you.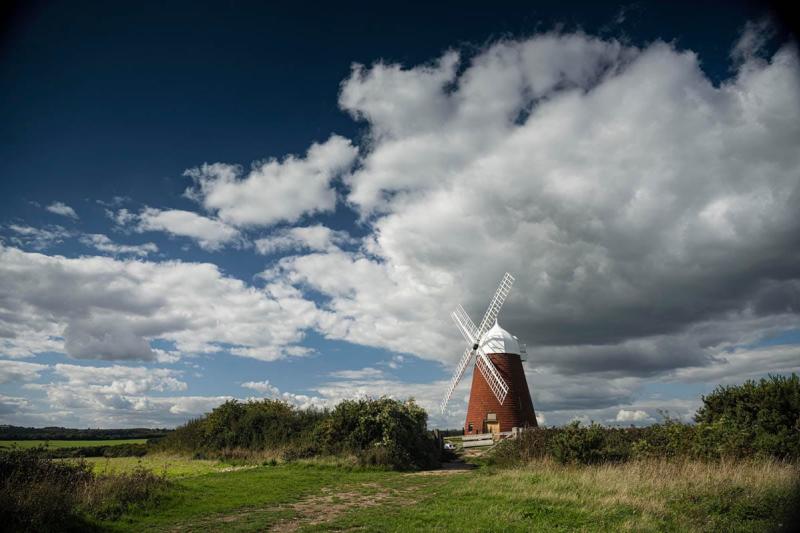 Halnaker Windmill – Jon Nicholson
The striking image of the Halnaker Windmill is a prominent part of the scenery around Chichester. See it for yourself on the Windmill Trail, starting and ending in the village of Boxgrove, close to Chichester.
This fully sign-posted trail leads you through the lanes of Boxgrove, onto Halnaker, along footpaths skirting the Tinwood Estate (a must-vist vineyard if you have time to spare), before entering the 'Tunnel of Trees'. You'll then climb 128 metres up Halnaker Hill to the windmill, where you can take in some of the best views in the county.
As if that's not enough to entice you and the children, refreshments can be sourced on the way back courtesy of the conveniently placed Anglesey Arms pub in Boxgrove. What better way to end a great walk?
Download the route here
Length: 2 miles
Terrain: Flat, tarmac
Difficulty: Easy
Great walks don't have to involve hills. In fact, some of the very best are flat and easy. Just like the Selsey Bill Walking Route.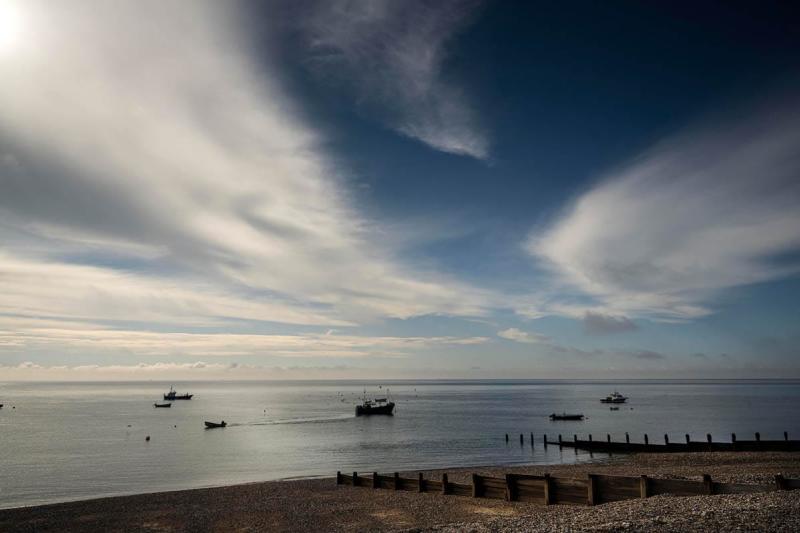 Taking in breathtaking views out to sea and along the coast, this walk showcases the very best of the historic seaside town of Selsey. With more sunlight hours than anywhere in the UK, and bathing water rated as excellent, you may just be tempted to take a dip en route too. Whether swimming's on the agenda or not, there's plenty to see.
Admire the fishing fleet moored offshore and see Selsey's Lifeboat Station (open to visitors Tuesday to Sunday 10.30am to 4pm). You'll soon get a sense of the town's strong cultural connection to the sea.
If you're walking in the late afternoon, be sure to stick around for the famous Selsey sunset and admire the impressive dark skies made famous by the late Sir Patrick Moore who lived in the town. The perfect way to end the perfect walk.
Download the route here
Length: 2 miles
Terrain: Rough underfoot, uneven paths and tree routes
Difficulty: Moderate
Follow in the footsteps of English poet Alfred Lord Tennyson – famous for "Timbuktu", "Claribel" and "Mariana" amongst other works – at Black Down. Close to the historic market town of Haslemere, Black Down was much loved by Tennyson who, wrapped in his cloak, would stride out amongst the heather pondering his works.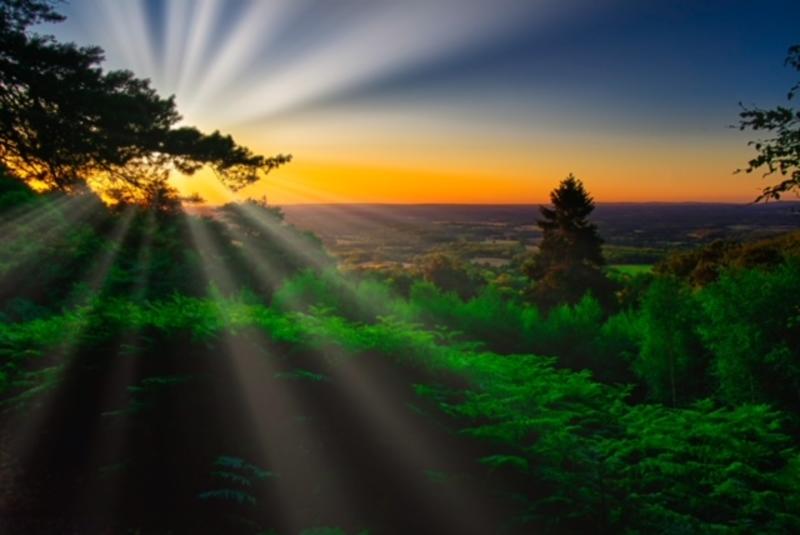 Home to the Temple of the Winds, named after a Bronze Age circular bank, as well as being the highest point in Sussex and the South Downs, it'll come as no surprise that the National Trust's Black Down offers some of the best views around.
After trekking through majestic woodland and rural heathland, you'll stumble across the perfect spot for a photo – a charming curved seat which has become a famed resting spot and viewpoint for Black Down trekkers.
If you're seeking a post-walk treat, head into the historic market town of Haslemere where you'll be greeted with a variety traditional and independent cafes and restaurants.
Download the route here
The Taxidermist's Daughter: A walk around Fishbourne and Chichester Harbour, taking in the sights from Kate Mosse's bestselling novel
Length: 3 miles
Terrain: Mostly flat, gates and bridges on route
Difficulty: Easy
Transport yourself back to 1912 as you follow in the footsteps of the secrets and plot twists of bestselling novel and play adaptation, The Taxidermist's Daughter.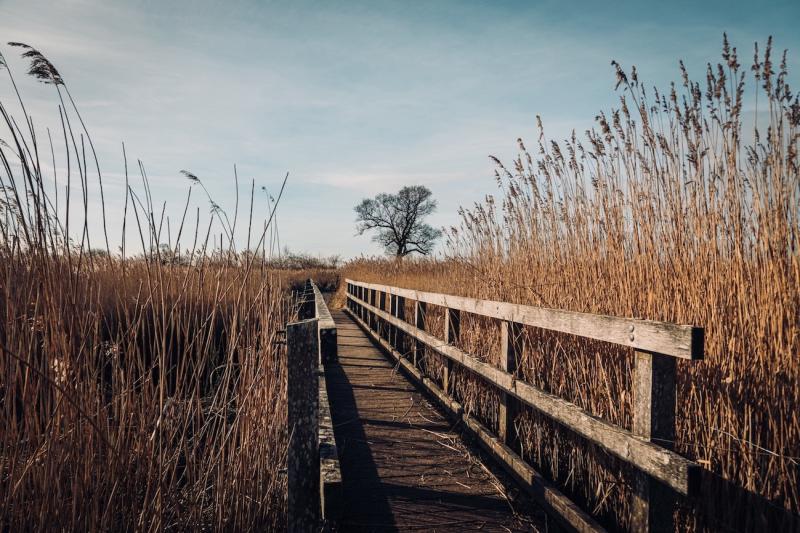 Just like the book, the trail begins in the churchyard of St Peter and St Mary in the harbourside village of Fishbourne. Before you get going, you'll have the chance to see medieval graffiti carved into the brickwork of the historic building, thought to be left by pilgrims on their way to the Shrine of St Richard in Chichester Cathedral.
You'll stumble across many other nuggets of history and highlights from The Taxidermist's Daughter on this 3-mile route. Trek alongside Fishbourne's duck pond at Mill Lane, see the names of properties mentioned in the book including Pendrills and Salt Mill House, marvel at Fishbourne's marshes, find the lone oak tree by which Connie and Gifford's home is situated and pass The Bull's Head Pub which was one of Gifford's most visited places in the book.
If you've yet to read The Taxidermist's Daughter, the trail won't be lost on you and offers itself as a perfect introduction to the area. Showcasing the best of Fishbourne and Chichester Harbour (an Area of Outstanding Natural Beauty), the trail makes for the perfect morning out on a bright and crisp day.
Download the route here 
Length: 2 miles
Terrain: Mostly flat, suitable for all including wheelchairs and pushchairs. No stiles or steps
Difficulty: Easy
If you're looking for a short, easy walk taking in the natural beauty of Sussex, this is the one for you. Beginning and ending at Pagham Harbour Visitor Centre, this two-mile route has no barriers, stiles or steps meaning you can simply enjoy it without worrying about any hurdles along the way.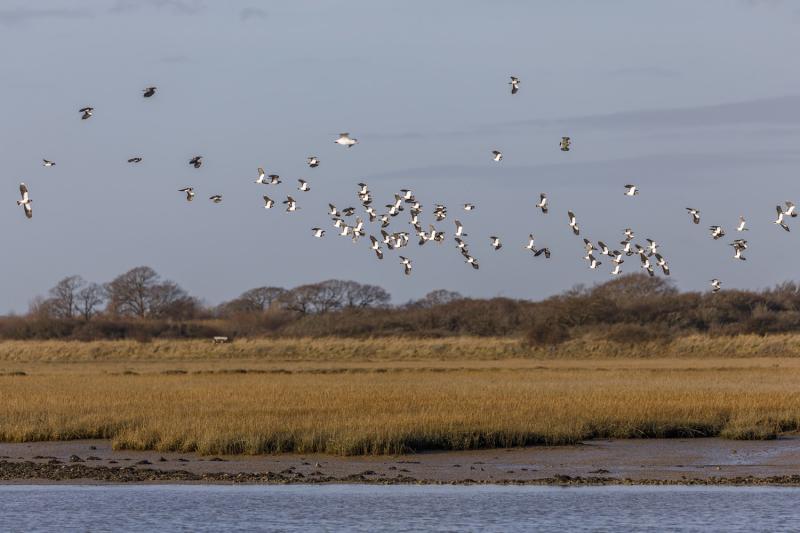 Pagham Harbour is a wetland of international importance and is of interest in all seasons for flowering plants, butterflies, summer breeding birds and the winter visiting seabirds.
At the beginning of the route, you'll find a bird hide which keen birdwatchers recognise as one of the best spots in Sussex to see birds resting on their autumn migration. You'll also follow the track of the old light railway known as the 'Selsey Tram', which ran between Chichester and Selsey until 1935. With excellent views across the harbour and a selection of seats along the way, you may just find yourself here all day.
If you do choose to carry on, you'll pass the little hamlet of Sidlesham Quay, hard to believe it was once a busy commercial port.
For those with mobility issues undertaking this walk, we highly recommend doing it in an anti-clockwise direction (as described) as it is easier to get through the gates.
Download the route here
Length: 3.5 miles
Terrain: Steady long gradients, steeper short slopes, slippery when wet, stiles on route
Difficulty: Easy
Another great mix of town and country, this 3.5 mile figure of eight loop brings together the historic market town of Petworth with the beauty and solitude of the Shimmings Valley.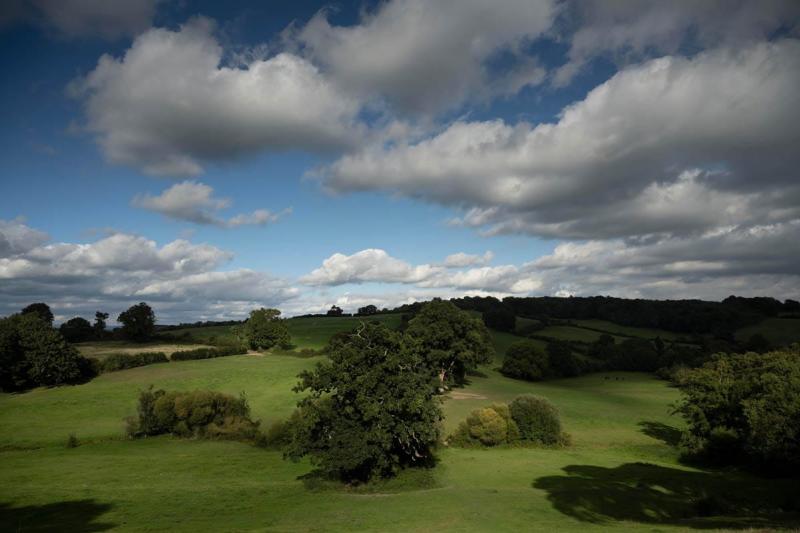 A view of the Shimmings Valley: Jon Nicholson
You'll begin and end the walk in Petworth, a haven for antique and art collectors and famous as the home of the National Trust's Petworth House. Within Petworth itself you'll find a myriad of pubs, cafés and restaurants to fuel you pre or post walk, including the Hungry Guest Café for take-away delicacies, the Angel Inn for top notch pub breakfasts and E.Street Bar & Grill if you're looking for a sit-down meal following your walk.
Once you've explored all the town has to offer (you may be there all day if you're not on a strict time limit), you'll head out across the beautiful Shimmings Valley to reach the village of Byworth. Don't be surprised if you don't see anyone but horses here! This is the perfect walk for space and solitude, offering incredible views across the South Downs countryside.
You'll eventually return to Petworth via a small meandering river. What could be better than that?
Download the route here
The Serpent Trail, Lavington Common
Length: 5.6 miles
Terrain: Mainly flat with one short hill and two stiles
Difficulty: Easy to moderate
You couldn't ask for more from a walking route than the Serpent Trail. Designed to highlight the outstanding landscape, wildlife and history of the greensand hills, the Serpent Trail passes through green woods, golden valleys and luscious purple heather. At 65 miles long however, even the fastest walkers couldn't complete this in under two hours.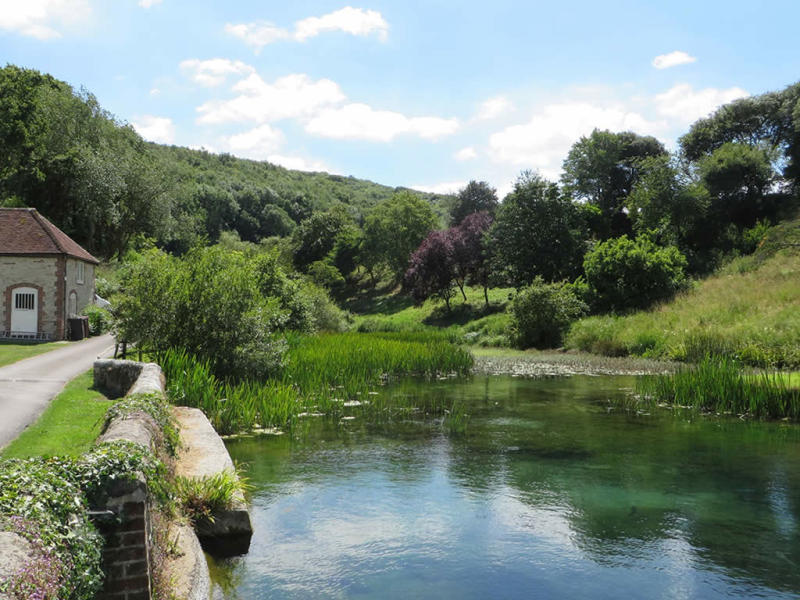 A view of Duncton Mill pond - South Downs National Park Authority
But that's not to say some of the best bits can't be seen in that time.
Located south of Petworth, Lavington Common is a beautiful and rare patch of heathland, nestled in the heart of the South Downs. The route takes you along some of the most beautiful parts of the Serpent Trail and past the scenic Mill at Duncton.
With much to be seen along the way, including the occasional lizard, this is a must-do walk for nature lovers.
Download the route here
New Lipchis Way, Woolbeding Common to Midhurst
Length: 2 – 3 miles
Terrain: Mixture of ascents and descents. Rough underfoot and tarmac
Difficulty: Easy
Another of West Sussex's long-distance walking routes, New Lipchis Way is a 39-mile footpath stretching from Liphook in Hampshire to renowned Chichester Harbour, at the foot of West Sussex.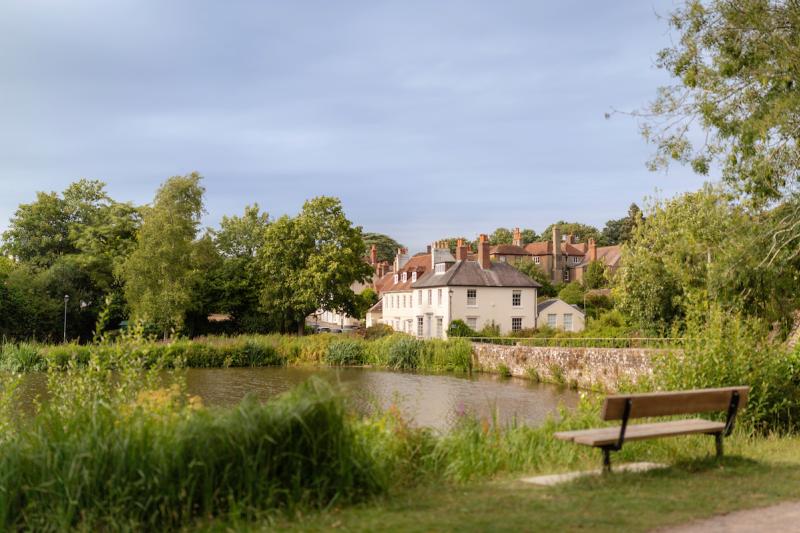 While, of course, the route can't be completed in less than two hours, you can certainly sample some of the best parts.
Being a linear route, you can make the walk as long or as short as you like. For a scenic route, we suggest tackling the Woolbeding Common to Midhurst segment, taking on approximately two to three miles depending where within the town you choose to end.
Take in beautiful views of the South Downs as you follow the River Rother from Woolbeding Common to Midhurst. Once arriving in Midhurst, make the most of your trip with a visit to Cowdray Farm Shop Café or Fitzcanes, to sample some of the towns local produce. It'd be rude not to, right?!
Download the route here
Other great walks in Sussex
Hooked on walking and trekking in Sussex? Find out about other great walks in Sussex here.