Where is Chichester Harbour?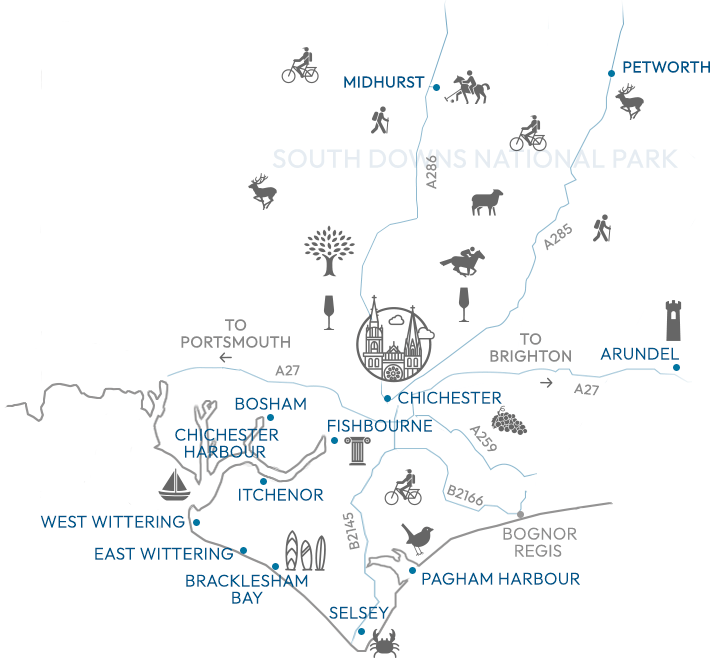 Chichester Harbour is one of the few remaining areas of undeveloped land on the south coast, yet is just four miles from historic city of Chichester.
What will I find in Chichester Harbour?
Chichester Harbour is shaped like a hand missing a thumb, with four finger-like estuaries stretching into the mainland. These provide wide expanses and pretty creeks with plenty of opportunity for coastal walks and bird-spotting. Picturesque harbourside villages are dotted around the area, each with their own unique identity; East Wittering & Bracklesham Bay & West Wittering (famous for their beaches), Fishbourne, Bosham, Chidham, Itchenor, Southbourne, Nutbourne, Prinsted, Birdham, Thorney Island, Dell Quay, Apuldram, Hunston and Emsworth.
Not only is Chichester Harbour a designated AONB (Area of Outstanding Natural Beauty) but it's also a SSSI (Site of Special Scientific Interest), thanks to its sheltered waters being home to a multitude of wildlife (further details below).
How big is Chichester Harbour?
At 74km2, Chichester Harbour is the largest natural estuary in South East England.
This AONB attracts plenty of sailing and wildlife enthusiasts. There are 14 sailing clubs, over 55,000 resident and visiting water fowl thriving on the mud flats and salt marshes, and an established seal colony within the harbour.
Not only this, but Chichester has also been named the sunniest place in the UK (Anchor Pumps league tables).
However, sailing and birding are not the only things you can to do in the area. Here are our top suggestions to make the most of your visit to  Chichester Harbour.
Pick your own Sussex Fare
Did you know that West Sussex food is fast gaining a reputation as some of the best in the country?
With organic, grass fed meat, locally grown fruit and veg, slow-roasted coffee and inspirational gin (try some of Chichester Harbour's own Chichester Harbour Gin), it should come as no surprise that so many of our farm shops, restaurants and vineyards are award-winning.
Pick some of West Sussex's highly applauded fruit and veg at Dell Quay Pick Your Own. Here you'll find family Easter events, strawberries and raspberries to pick in the summer, followed by an autumn pumpkin patch and Christmas festivities later in the year, at this all-weather coastal fruit farm.
As if that's not enough to tempt you, you're invited to indulge in a post-picking cup of tea, coffee, slice of homemade cake or Jersey cream ice-cream from the on-site traditional ice cream trailer at the farm.
Cycle Salterns Way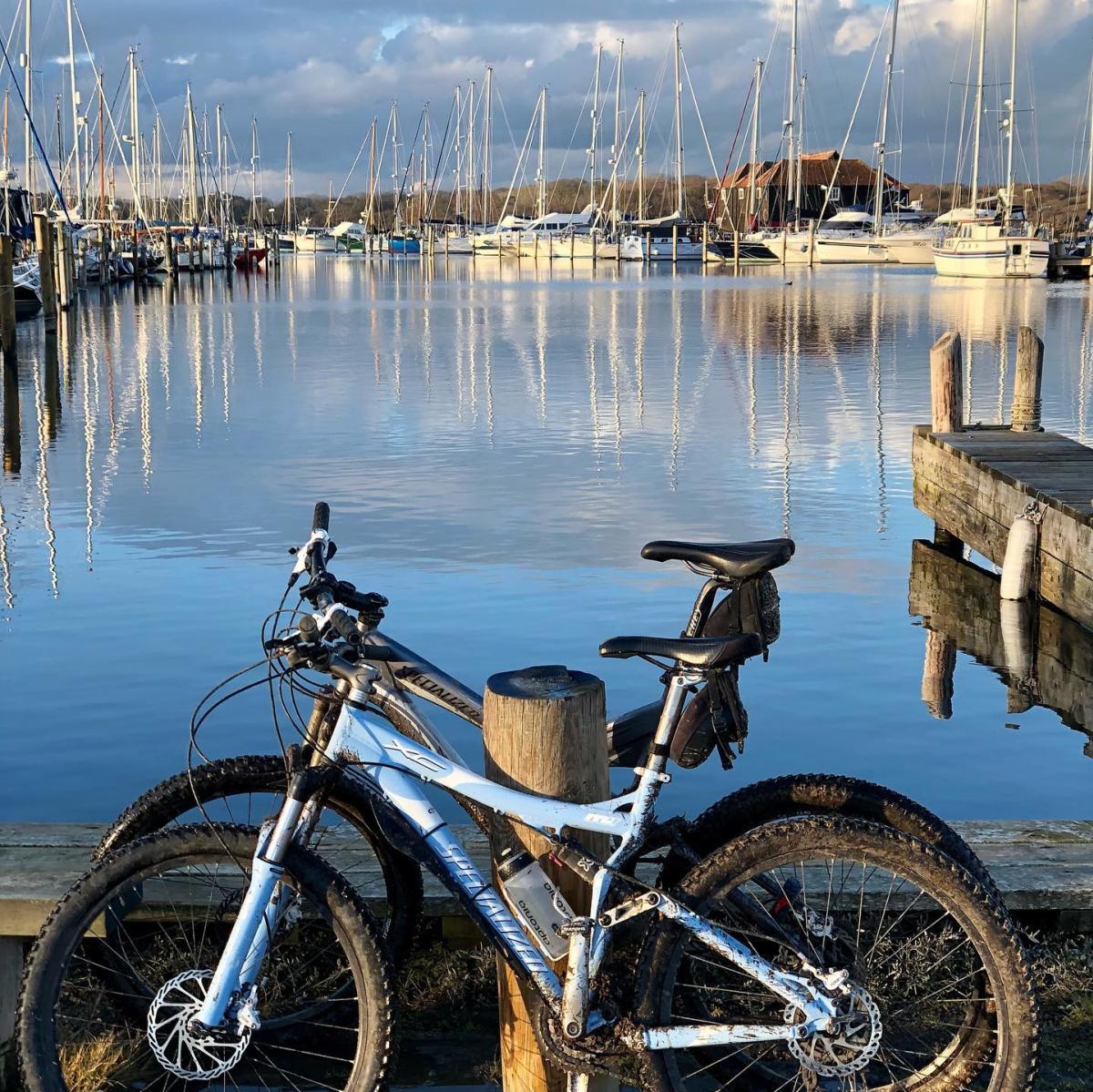 Possibly the best way to explore Chichester Harbour - and certainly the most sustainable - is by jumping on a bike. Whether you're a keen cyclist or a bit of a novice, the flat and easy 12-mile Salterns Way will get you up close to the best bits.
Starting in Chichester city centre and ending at the white sands of West Wittering Beach (where you'll find scrumptious sustenance at the Beach Café) the route runs along the length of the harbour on safe and mostly car-free paths. You'll also spend some time cycling quiet scenic lanes through harbourside villages, with little traffic.
Not only does this cycle path, which is managed by Chichester Harbour Conservancy, offer a fantastic insight into day to day life alongside the harbour, but it also offers unrivalled views of this Area of Outstanding Natural Beauty. What more could you ask for?
Download the route here  or for bike hire, check out Southern E-Bike Rentals.
Walk the best of Chichester Harbour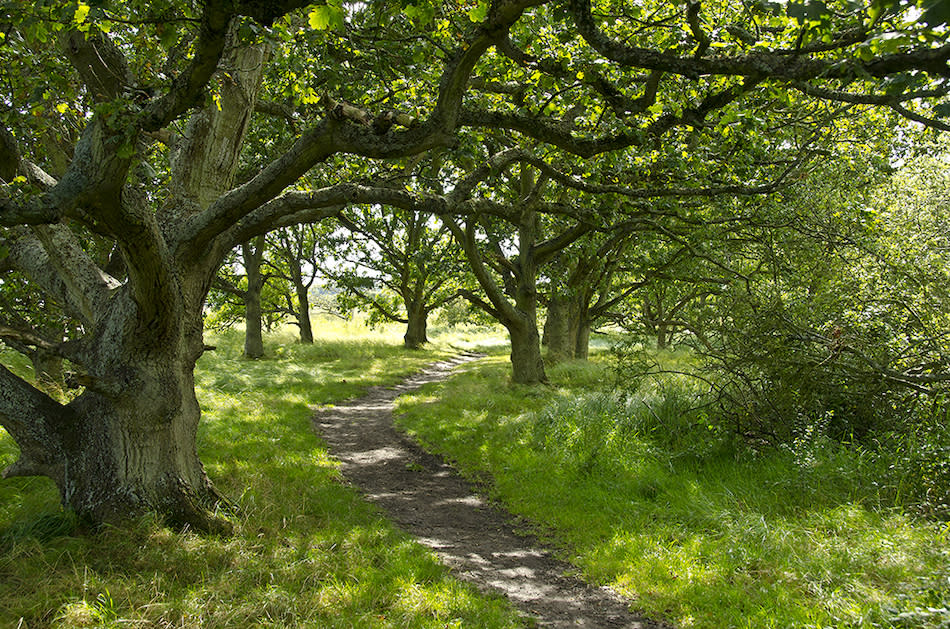 Photo Credit: Paul Adams
At first glance of a map, you may think Chichester Harbour is a little tricky to navigate on foot. But there's good news ahead. If you have five to six hours to spare, including a quick journey on the Itchenor Ferry, then it's more than possible. In fact, it's a great trek.
Starting in Itchenor, you'll take the foot ferry to Bosham where you'll begin the circular Six Harbour Villages Trek. As the name suggests, you'll pass through six villages of the harbour; Itchenor, Bosham, Fishbourne, Apuldram, Dell Quay and Birdham, covering a distance of 10-miles.
Of course, if you have longer to spare you can factor in a few of the attractions or eateries en route, including the historic Holy Trinity Church and Anchor Bleu at Bosham, Fishbourne Roman Palace (or just The Café at the Palace if you don't have time for a full visit) or Chichester Marina's Boathouse Café.
Sailing at Cobnor Activity Centre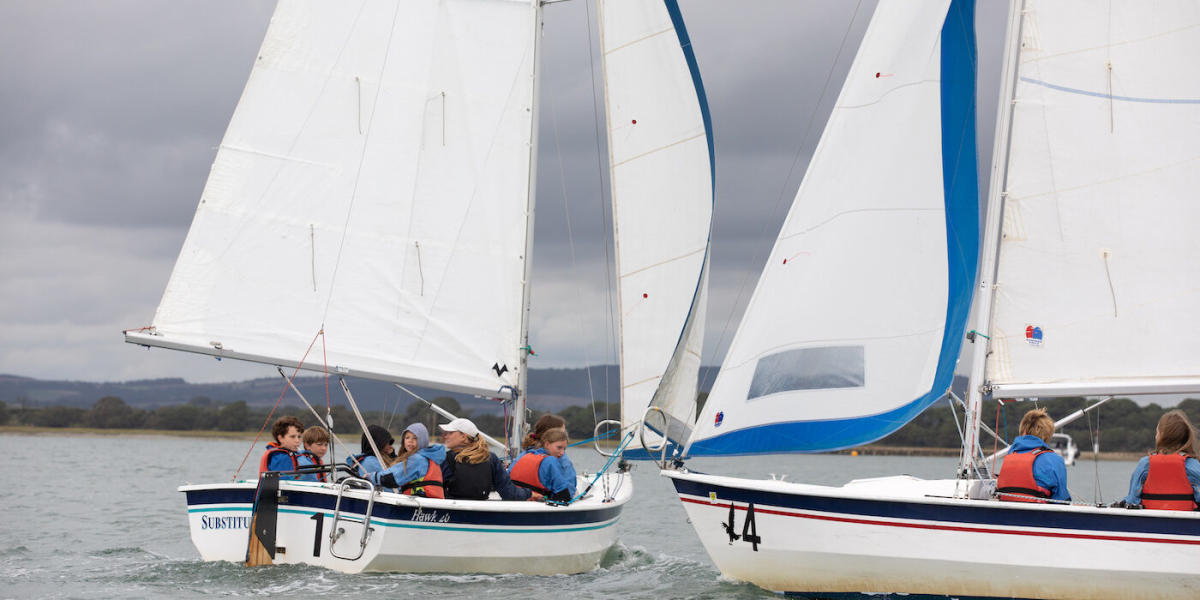 Situated right next to Chichester Harbour, with views up to the South Downs National Park, there's really no better setting to get to grips with sailing than Cobnor Activity Centre Trust.
What's now an independent charity, youth sailing first began at Cobnor in the mid 1950's. While it's now most well-known for providing sailing courses for young people from the age of eight, there are plenty of other courses on offer too - even for adults and families.
Whether you're seeking sailing summer camps for the kids, want to try your hand at canoeing, kayaking or powerboating in Chichester Harbour, or want to make the most of other outdoor pursuits including cycling, climbing and archery, you'll find it all at Cobnor.
Live it up in Luxury: Own or Learn to Powerboat
If you're visiting what is officially one of the country's most Outstanding Areas of Natural Beauty, you just as well do it in style.
While owning a luxury powerboat may remain as a pipedream for even the most glamorous of us, you can get a taster of what it could be like for a fraction of the cost thanks to Premier Agapi Boat Club Chichester.
Based at the swanky Chichester Marina club, you'll have access to a fleet of six luxury high performance boats to choose from, and will be perfectly located to explore the myriad of quiet anchorages and beautiful beaches making up Chichester Harbour. 
While you'll need to invest in a substantial monthly subscription, it could be worthwhile for those looking to add a touch of indulgence to their life. What's more, what better excuse is there to travel back to our patch of Sussex time and time again?
If monthly membership's too much of a stretch, or you're just here for a one-time visit, try Chichester Sea School, offering Royal Yachting Association recognised powerboat courses for all levels, including a one-day introduction to powerboating course.
Seal Spot at Chichester Harbour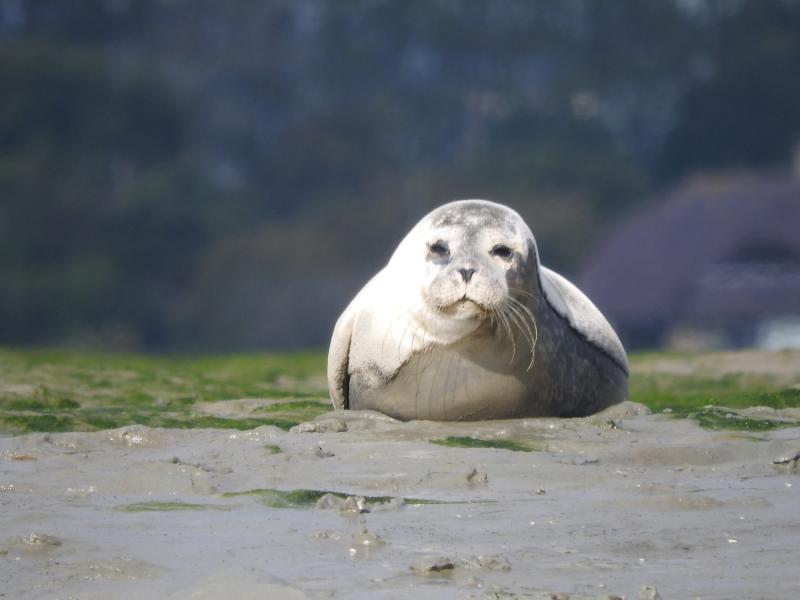 Photo Credit: Chichester Harbour Conservancy
Hitting the water doesn't have to be taxing. If you want to get out to sea but have a relaxing time doing so, you can do just that on a seal watching tour with Chichester Harbour Water Tours or a.board Chichester Harbour Conservancy's Solar Heritage.
The myriad wildlife that calls Chichester Harbour home (and is responsible for it being a Site of Special Scientific Interest too) includes a colony of around 46 mixed grey and harbour seals. With young pups often being spotted amongst the group, numbers are seemingly increasing year on year too.
While seeing seals can never be guaranteed your chances are pretty good! Be sure to keep to a safe distance to avoid disturbing the seals.
Birdwatching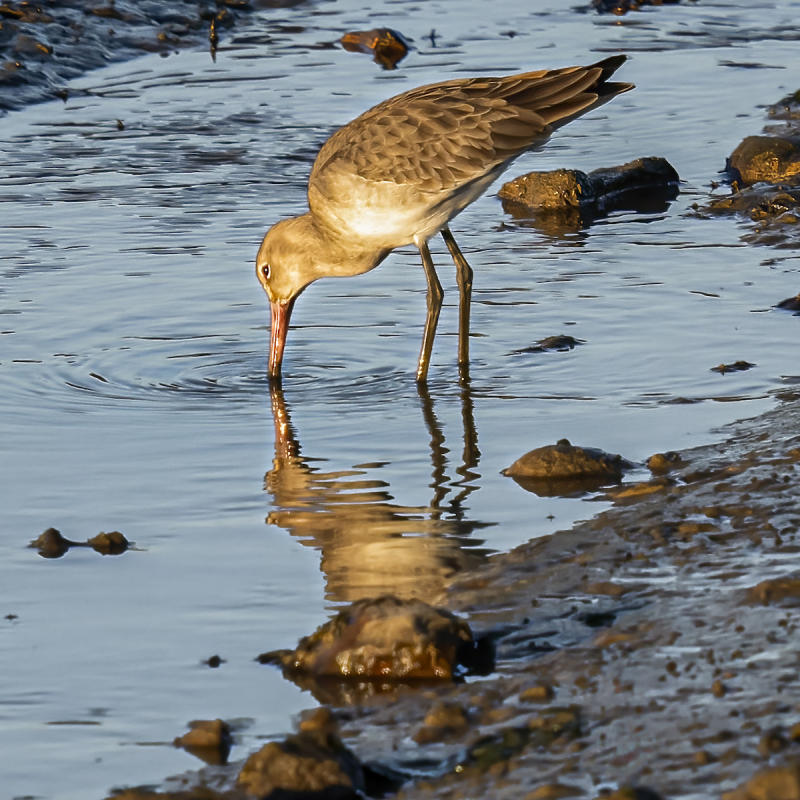 It's not just about the marine life at Chichester Harbour either; the harbour is also the most important site on the South Coast for waterfowl and wading birds.
The migrant waders arrive in Chichester Harbour during the autumn months and stay until early spring. Enjoy sights of Oyster Catchers, Dunline, Red Shank, Turn Stone, Green Plover, Curlew and more. The Harbour is also a temporary home to huge flocks of Brent Geese that descend on the area during the winter months. Occasionally, during early autumn and late spring, you might see an osprey stopping on their way north. You might also spot peregrine falcons hunting over the mud flats seeking out the smaller wading birds. It is likely that these birds are the same pair that nest on Chichester Cathedral.
One of the best places within the harbour to spot these birds is RSPB Medmerry - the result of one of Europe's largest managed coastal realignment schemes.
This haven for wildlife offers adventure for all ages. With footpaths, cycle tracks and bird hides all on offer, as well as the popular Bracklesham Beach and Billy's on the Beach just a 50-minute walk away, there's plenty to keep you busy all day.
Chichester Harbour Water Tours can offer charter tours for any type of bird watching trip within the Harbour. The main season is November to February.
Visit Fishbourne Roman Palace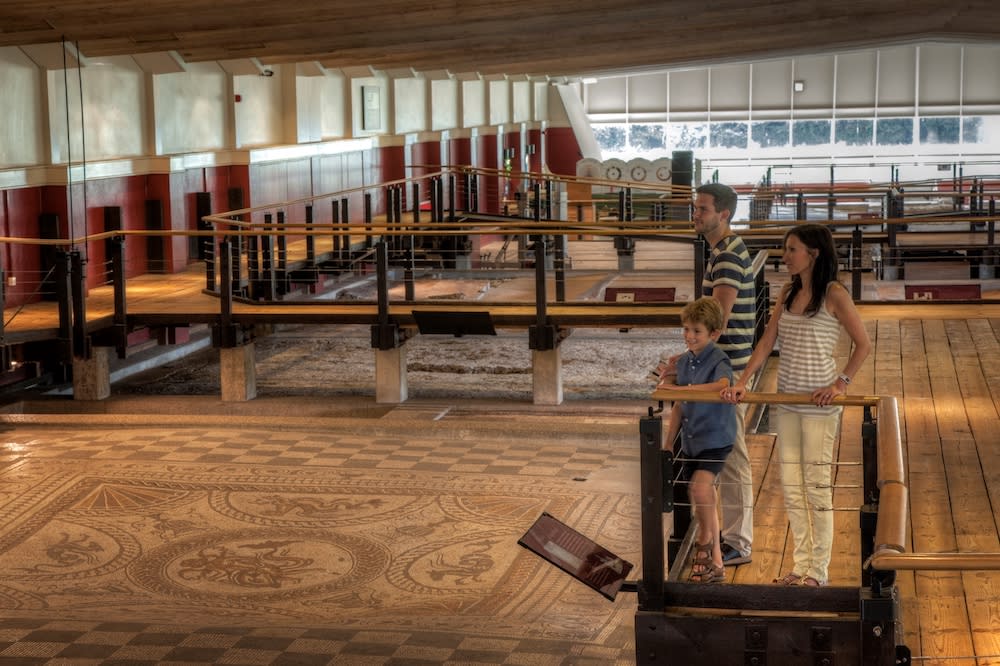 Proving Chichester Harbour really does have it all - from beaches and water sports, to wildlife and Romans - you'll have the opportunity for hands-on discovery at Fishbourne Roman Palace - the UK's oldest and largest Roman dwelling.
Home to the largest collection of early Roman mosaic floors in Britain (over 20, in fact) you'll be able to marvel at Roman objects including jewellery and a sculptured marble head that is believed to be a rare image of the Emperor Nero as a child, as well as the chance to explore the Roman gardens which have been carefully replanted to their original plan.
If you're travelling by bike, Fishbourne Roman Place is located on the South Coast cycle route which connects to the Centurion Way at Fishbourne. You'll also find the quaint 17th-century Bull's Head just a 10-minute walk from the Palace, with a great reputation for fine food, excellent real ale and warm hospitality.  
Unwind at the National Trust's East Head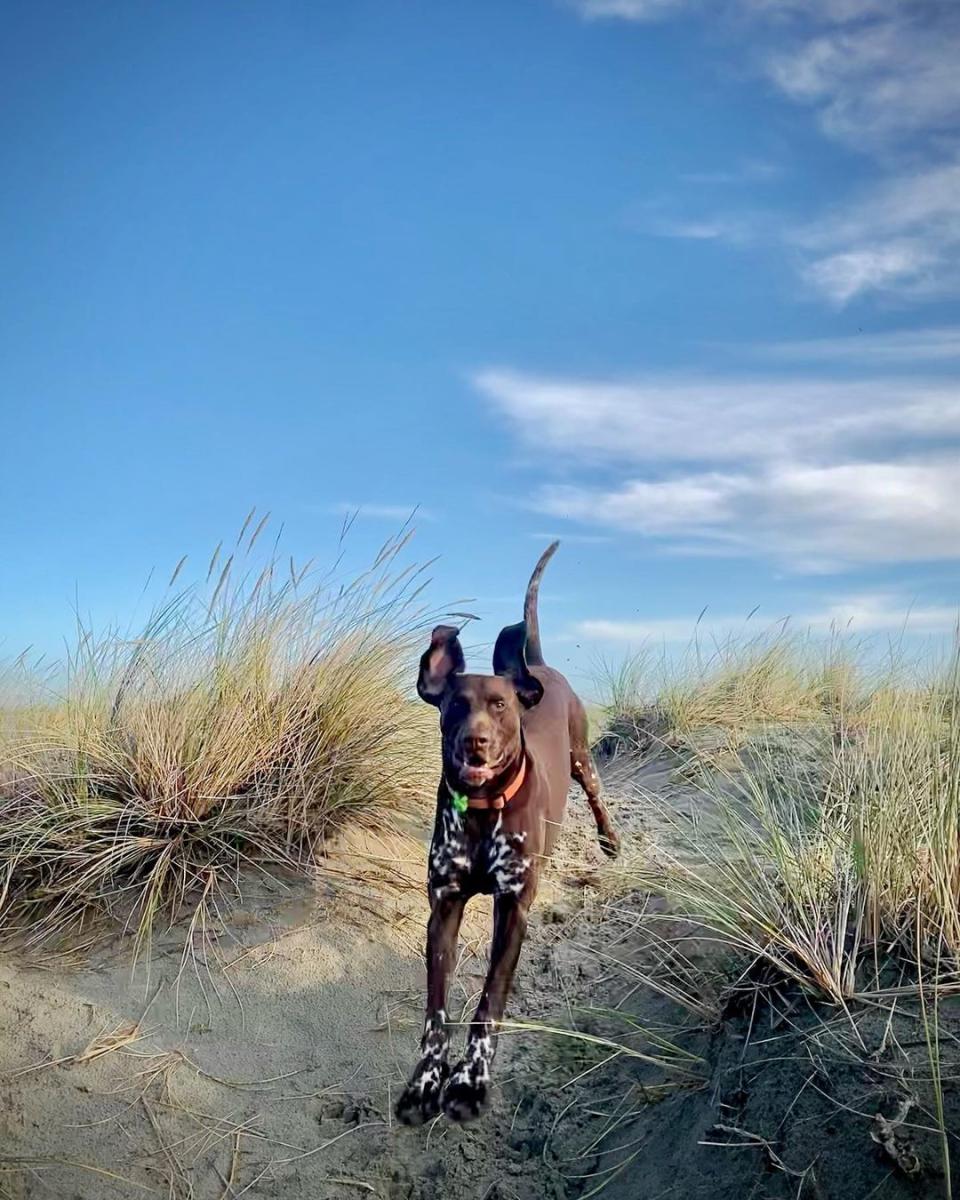 Image: Lee Farrant
A round-up of the best things to do in Chichester Harbour wouldn't be complete without the inclusion of Chichester Harbour's beaches.
While there are plenty of fantastic beaches to choose from within the harbour, the National Trust's East Head - one of the last surviving pieces of natural coastline in West Sussex - trumps them all when it comes to ecological importance. 
Located at the eastern side of the entrance to Chichester Harbour and joined to the incredibly popular West Wittering Beach, East Head is a 10-hectare sand dune split of great interest to environmentalists and ecologists. A unique example of a natural and dynamic coastal feature, East Head is prone to constant daily change as a result of wind direction and strength, the height of the tides and the resulting effect of the waves.
While East Head is a SSSI (Site of Special Scientific Interest) and a Ramsar site (a wetland site of international importance), that's not to mean it can't be enjoyed. With white sands, spots of shingle, dogs welcome and the West Wittering Beach Café close by, East Head offers the perfect beach day with a twist.
Please note, parking for East Head is at the West Wittering beach car park and advanced booking is recommended.
More great things to do in Chichester Harbour and West Sussex
Find more great things to do in Chichester Harbour here, and great things to do in the wider county of West Sussex here.