Taste of Sussex: Whet Your Appetite with Sussex's Greatest Foodie (and Drinkie) Delights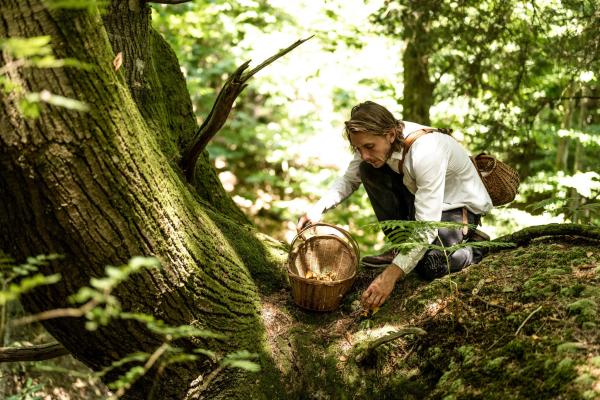 Cowdray's Estate Forager, George Linklater. Image: Matt Austin
Picture Sussex and you might think of Chichester, the South Downs National Park or even our historic towns of Midhurst, Petworth and Selsey. Certainly, the expansive rolling hills, quaint cobbled streets, breathtaking beaches and Instagrammable sunsets are on the list. But how about our sensational food? If it isn't yet, it soon will be.
Our food and wine is fast gaining a reputation as some of the best in the country. From award-winning farm shops, wines and restaurants, to highly applauded sustainable foods and unique artisanal produce, we have everything you could desire. So, get your skates on and come and see what all the fuss is about. 
Whether you're travelling alone, with friends, family or just the dog, our incredible vineyards, pubs, breweries and hotels have something for everyone. You'll find organic, slow-reared grass-fed meat and locally grown fruit and veg, slow-roasted coffee, inspirational gin and more in our patch of West Sussex. No need to worry about the food miles, when what we've got right here is this good! 
Chichester
Our historic City of Chichester may date back to the Romans and have a plethora of world-class attractions to explore (don't get us started on the medieval Cathedral, inspiring Pallant House Gallery and award-winning Chichester Festival Theatre…) but its food offering really is something else.
Chichester has a great selection of unique independent restaurants. Visit The Ship at the four-star Chichester Harbour Hotel for local dishes prepared by multi-award-winning Chef Patron Alex Aitken, or combine Mediterranean flavours with the comfort of an English kitchen at The Fat Fig. Don't miss a visit to Montezuma's Chocolates on East street either. While it's a brand you may be familiar with, it's actually Chichester born, with its head office and factory just outside of the City Centre. Buy locally roasted coffee by HOST online or by heading to Serendipitous Bakery, Refilled, The Pavilion in Graylingwell Park, The Barn, Little London.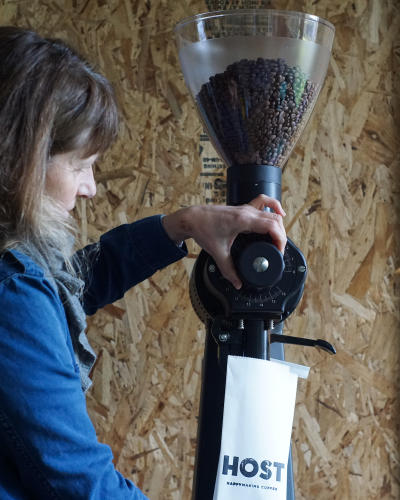 Becca Stisted, HOST Coffee
Gin
West Sussex makes some of the best artisan gins in the UK today.  Award-winning Brilliant Gin near Chichester uses botanicals including coriander from the first coriander farm in the UK, which also happens to be based near Chichester. You'll find their gin in The Barn, Little London, Hennings in Petworth and Pulborough, Cowdray Farm Shop, Fairview Wines and Crafty Pint in Midhurst, Birdham Stores and Sayas in West Wittering. The Pig at Madehurst and The Spread Eagle have Brilliant Gin available on their drinks menus as well. 

Graham and Gail Woolston and the Brilliant Gin Chevy
The Nodding Donkey Distillery near Chichester produces the award-winning Jarrold's Gin using British grain (as does Brilliant Gin) and seven different botanicals. Chilgrove Gin is distilled using natural mineral water filtered through the chalk of the South Downs and Sussex-grown botanicals. There's every excuse to become a gin aficionado with so many inspirational gin makers on our doorstep.
Venison
Our area of the South Downs is dominated by estates and parks and with these comes deer and managed culling. Wild fallow and roe deer are both culled during the season to maintain healthy herds and protect the woodland from over-grazing. You can buy this venison and other game online at South Downs Venison and Game where Jack and Jessica Smallman are passionate advocates of the countryside, outdoor life and the finest quality game. Sky Park Farm rears red, white and sika deer. Visit the farm and buy their venison, other meat and local delicacies at the butcher, the Farm Shop and Deli or enjoy coffee and cake, light snacks or lunch at The Grazing Rooms. If you have the younger generation in tow, visit the adventure playground or get up close and personal with the deer following the Farm Trail.
Goodwood Home Farm
We can't talk food without talking Goodwood. While the Goodwood name is synonymous with the Revival and Festival of Speed, the estate's history far pre-dates its headline events.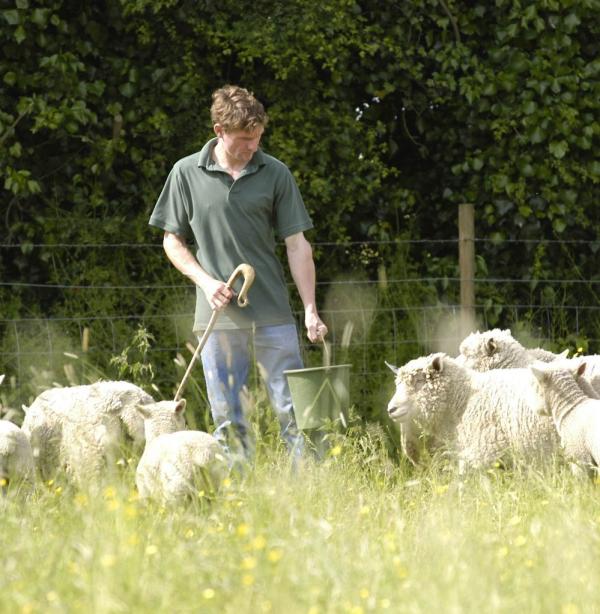 Shepherd and his flock, Goodwood Home Farm
Goodwood Home Farm has been providing food for the estate for over three hundred years and its organic produce - meat, dairy, beer and gin - are available to sample at Goodwood's Farm Shop. Locally roasted, HOST coffee is also available to buy here. Or, if you're looking for a classy affair, reserve yourself a table the estate's flagship restaurant. It's a sustainable one at that. Located just yards from Home Farm, Farmer, Butcher, Chef epitomises the field to fork ethos, ensuring most diners will have travelled farther than their food. We think that's worth applauding.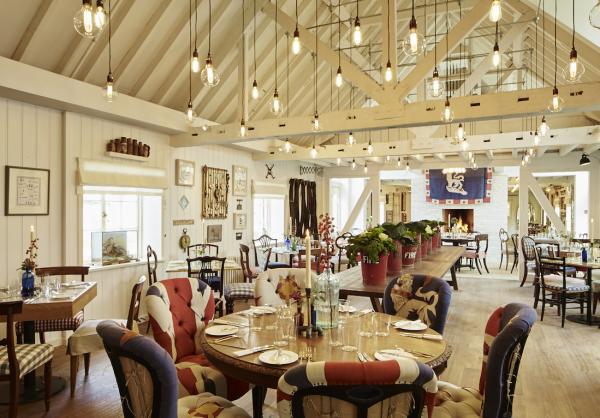 Farmer, Butcher, Chef
Ashling Park
A must-include on our must-visit foodie list is, of course, Ashling Park Estate. Chichester District is the UK's answer to Napa Valley and Ashling Park has it all. Rolling vineyards, a tempting restaurant, beautiful lodges, a gin school, vineyard tours and of course incredible award-winning wines.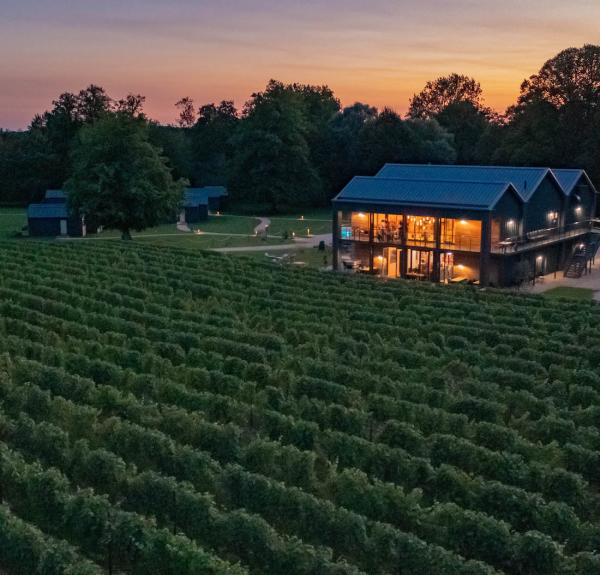 Ashling Park Estate, near Chichester
Inside Ashling's restaurant you'll find chefs preparing delectable dishes using locally sourced, seasonal ingredients. If this, alongside a glass of award-winning Sussex Wine (which now has its own PDO, don't you know) doesn't make your mouth water, we don't know what will. Nearby Tinwood Estate and Kinsbrook Vineyard also have cellar doors where you can pick up Tinwood's three sparkling wines and Kinsbrook's still wine after an enlightening vineyard tour. The recently opened Kinsbrook Farmhouse and Farm Shop supports local producers and suppliers and is worth checking out for the excellent coffee and some delicious local fare.
Petworth
You'll probably know the historic market town of Petworth for its world-famous antiques shops.
What you may not know however, is that Petworth's drawing quite a crowd for its food offering too. Find artisan breads, pastries, jams, chutneys, sauces, dips, cheeses, charcuterie and everything in-between at the Hungry Guest Artisan Food Shop. If you can't bear the wait, The Hungry Guest Café can be found inside Petworth Newland's House Gallery, allowing you to sample its delicious fare on the spot.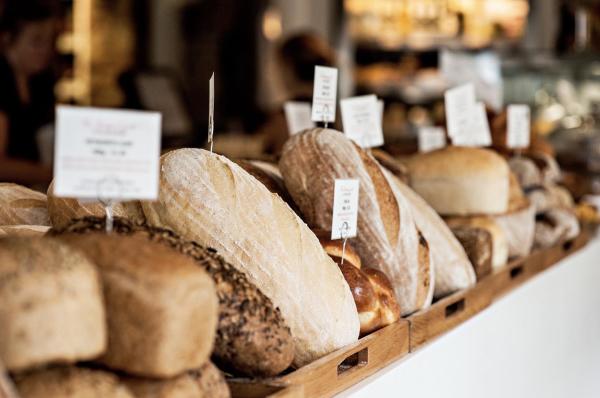 Artisan bread from The Hungry Guest Food Shop
Crafting local delights to an extremely high standard, Petworth's E. Street Bar & Grill offers fine dining in a historic setting, while the Angel Inn adds a special touch to traditional cuisine with elevated pub classics.
Langham Brewery
In between Midhurst and Petworth you'll find Langham's Brewery & Tap Room with its seven cask ales and four keg beers. Truly delicious locally made Faretti Pizza is also served here as well as tea and coffee and baked goods from SØDT – the Hygge bakery in Petworth.
Whilst we are on the subject of beer, Little Monster Brewing Company can be found between Chilgrove and Lavant. You can buy online or enjoy a glass of Little Monster Hot Roots, Hot Soots or Yul at The Taco Box in Draper's Yard, Chichester. In the warmer months, there's an outdoor tap room available where you can enjoy a summer evening sundowner.
Midhurst
The Crafty Pint offers cider, beer, wine and spirits from West Sussex producers like Brilliant Gin, beer from Langham's, Ballard's, Firebird and Garden Cider from just over the Surrey border in Chiddingfold. Comestibles not only offers great coffee, nourishing food and delicious freshly made sandwiches using Goodwood Farm produce but also stocks local producers like Montezuma chocolate and Horsham Gingerbread (actually made in Bosham). 
Located in the market town of Midhurst, the family-owned Cowdray Estate plays host to the British Open Polo Championships Gold Cup every summer. While, of course, it's gained quite a reputation in the sporting world, Cowdray is well-respected in the foodie world too. The estate has its own Deer Manager and sustainably stalked venison is available from the Farm Shop butcher within the Cowdray Farm Shop. You'll also find Hereford and Sussex beef at the butcher, reared at Cowdray Home Farm for 30 months and matured for four weeks for tenderness and flavour.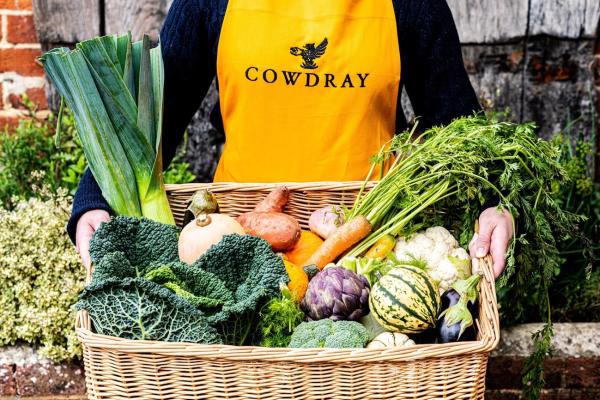 Veg box at Cowdray Farm Shop
Cowdray's award-winning Farm Shop (recently crowned National Winner of Muddy Stiletto's Best Farm Shop/Deli) also houses a large selection of artisan cheeses and charcuterie, in addition to a range of store cupboard and luxury items handpicked by Cowdray's knowledgeable team, including local chocolatier, Noble and Stace. Next door to the shop, you'll find the Cowdray Farm Shop Café serving a breakfast, lunch and afternoon tea menu that's been devised by Cowdray's own chefs, making use of delicious estate and local supplier produce to hand.
If you prefer to search out Cowdray's natural delights for yourself in the fresh air, why not take a Cowdray Foraging Walk where you'll be able to look for wild food on the estate under the guidance of the Estate Forager, George Linklater? The longer walks include a cooked element so you can try the food you have foraged.
The Pig in the South Downs
Set within the Downs at Madehurst, The Pig is committed to a 25-mile menu supporting and showcasing Sussex produce which is caught, grown and reared locally. Along with their own two acre kitchen garden, an orchard and a flock of South Downs sheep grazing their pastures you can be guaranteed a delicious plate of food that has barely travelled. With a recently planted vineyard, it won't be long before you'll be enjoying a glass of Le Chateau Cochon to go with it.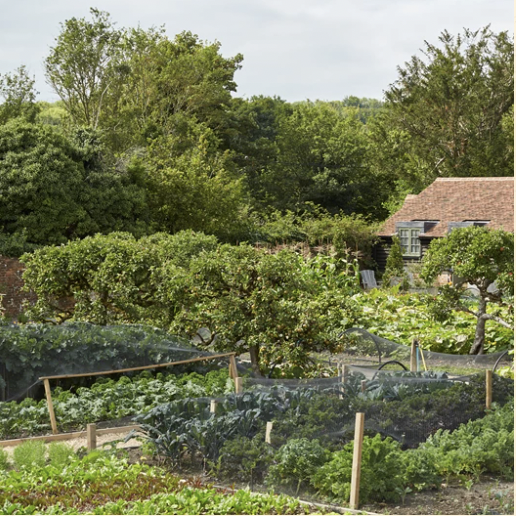 Kitchen Garden at The Pig in the South Downs
The Coast
The white sands of West Wittering may be alluring year round but, if you're a foodie, there's much more to draw you to this corner of the coast too.
The coast, or the Manhood Peninsula as it's officially known (the triangle of land from Chichester downwards) brings together a host of great foodie experiences. The area's home to the famous Selsey Crab which is lauded across the globe. While the Selsea Fish & Lobster Co. ensure the world gets to taste Selsey's catch, you'll be able to buy it directly from the fishermen's huts on East Beach while you're there.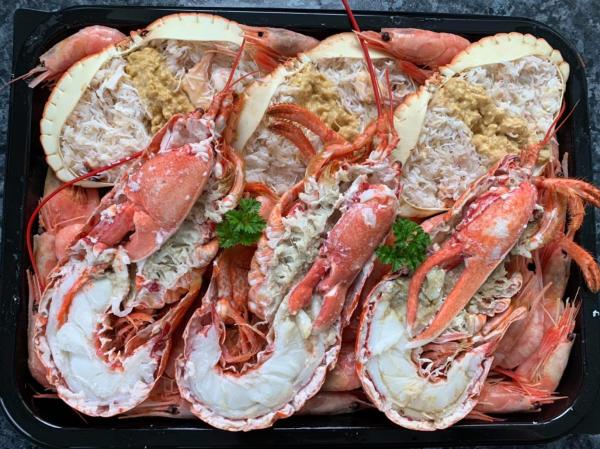 Crab & lobster can be bought from the Fishermens' Huts in Selsey
The Manhood Peninsula's also the home of Caroline's Dairy, an ice-cream brand you'll find stocked in many of our local shops and on Selsey seafront, as well as the Old Piggery Farm Shop and Tearoom. You'll find Bosham honey, dressed crab and possibly the largest selection of jams you've ever seen here, alongside a tearoom serving delicious lunches and crab brioche rolls.
Further along the coast at Chichester Harbour is the Crown and Anchor. Not only serving some of the best food around, but this pub's possibly in the best location around, sitting on the shores of an Area of Outstanding Natural Beauty (AONB). You can't get much better than that.
Sea School Restaurant at The Millstream Hotel, Bosham  
Last but by no means least is Bosham's Sea School Restaurant, located in the beautiful Millstream Hotel. The highly pictured and perfectly Instagrammable village of Bosham (you have to see it to believe it) is the perfect settling for our final foodie stop.
Recent winners of 2 AA Rosettes for Culinary Excellence, The Sea School brings you traditional British dishes with a side serving of an oriental theme, as Head Chef Neil Hiskey combines his passion for Asian cuisine with his talents for cooking - you'll be wanting to come back again and again.
Other places to eat in Sussex
We trust we've tempted your taste buds. If you're on the hunt for more great places to eat and drink in Sussex, let us help. Find out more about the great foodie offering in Sussex here.