Out-of-this-World Stargazing Spots in Chichester and West Sussex
There are only 19 International Dark Sky Reserves in the world and the South Downs National Park is one of them. With miles of pristine rolling hills, a collection of Dark Sky Discovery Sites, its own planetarium and an annual Dark Skies Festival, Sussex offers some of the best star-gazing opportunities around.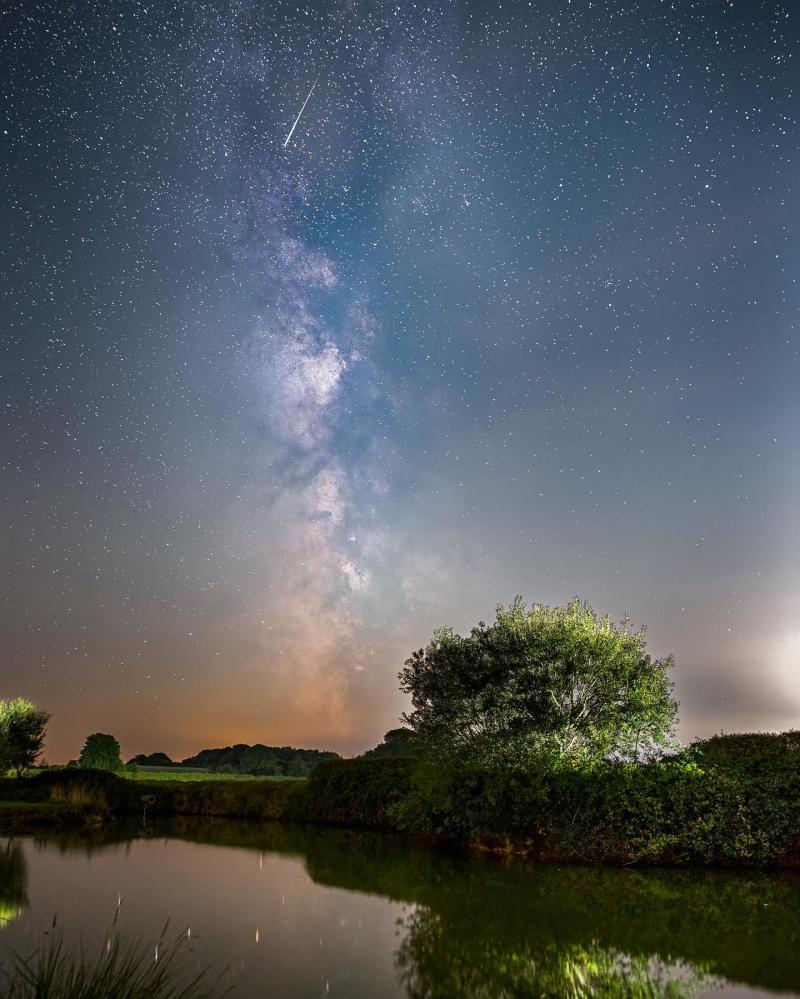 Sensational starry skies at Chidham, Chichester Harbour by @south_coast_droner
Black Down: An Area of Outstanding Natural Beauty Day and Night 
On the outskirts of Haslemere, Black Down is the highest point in the South Downs National Park, making it a prime star gazing spot.  Over 4,000 stars, including the Milky Way, can be seen from here on a clear night.
Stay local: Looking to make the most of your visit? Why not stay a few nights in The Halfway Bridge Inn, in Lodsworth, a 15 minute drive from Black Down. This rural retreat is flanked by our two historic market towns of Midhurst and Petworth, making it a great base for multiple stargazing trips.
Stargazing at Iping Common
Iping Common is just five-minutes by car from Midhurst. As a Dark Sky Discovery Site it officially welcomes all stargazers, big or small. Here you'll find over a hundred hectares of open heathland managed by Sussex Wildlife Trust and an endless dark sky above.
Stay local: Having stood under Midhurst's dark skies since 1430, you'll find character and charm in every nook and cranny of Midhurst's Spread Eagle Hotel and Spa. Based in the heart of the South Downs National Park, it's great for stargazing trips too.
Marvel at the Dark Skies from Harting Down
With dramatic views and secluded valleys, the renowned Nature Reserve and Site of Special Scientific Interest (SSSI) Harting Down, is also a National Trust Dark Sky Discovery Site. Just 15 minutes by car from Midhurst, you'll find spectacular views for astrophotography here, so don't forget your camera and tripod.
Stay local: You'll find the award-winning White Horse in Chilgrove, at the foot of Harting Down. This welcoming country dining pub is just a 15 minute hop by car to Chichester, perfect if you're planning a visit to the South Downs Planetarium.
Panoramic Skies at Duncton Hill Viewpoint
For panoramic views across the South Downs and Rother Valley, head to Duncton Hill viewpoint, just above Duncton village, close to Petworth. As you'd expect, on a clear night you'll be guaranteed an unrivalled view of the starry night sky - so much so, you might want to stay there all night.
Stay local: For the campers and glampers amongst you, retreat to the traditionally renovated gypsy wagons or bell tents at Oakwood West Glamping in Petworth. With fire pits, BBQs, kitchen and bathroom facilities, as well as being in the perfect location for yet more stargazing, you'll have everything you need.
Dark Sky Discovery Sites at Chichester Harbour
With three Dark Sky Discovery Sites in Chichester Harbour (an Area of Outstanding Natural Beauty in itself), you're spoilt for choice on where to go stargazing in this beautiful corner of the country. All three sites offer incredible views, the perfect level of darkness and most importantly, accessibility all year round.
You'll find the three sites at North of the John Q. Davis footpath in West Itchenor (PO20 7AY), Maybush Copse (PO18 8SP) in Chidham and Eames Farm on Thorney Island (PO10 8DE).
Stay local: Base yourself at the Millstream Hotel in Bosham, a picture-perfect waterside village in Chichester Harbour, which offers great stargazing in its own right. West Itchenor, Maybush Copse and Thorney Island are all less than 20-minutes by car from the Millstream Hotel.
Expert Insight: Bespoke stargazing with Dr John Mason
If you're visiting one of our stargazing spots why not book an expert to tour you through the night sky. Legendary local astronomer Dr John Mason is here to make your Sussex stargazing experience complete.  With a bespoke tour, Dr John Mason will join your dark sky visit and tailor your experience to your interests. You can choose to walk or explore with telescopes, it's your call.  Tours cost from £100 - £150 and can be booked via Chichester Planetarium.
Follow in Sir Patrick Moore's footsteps
The seaside town of Selsey was the home of iconic astronomer Sir Patrick Moore. Low light pollution and its location at the tip of the Manhood Peninsula make these huge skies perfect for studying the stars. If the conditions are right, spot the Milky Way or the Andromeda Galaxy. Close to Selsey, RSPB Pagham Harbour Nature Reserve runs seasonal Astronomy nights in conjunction with the South Downs Astronomical Society, where you can learn to spot constellations and understand more about the cosmos.  Find RSPB Pagham Harbour events here.
Top Star Gazing Tips
Regardless of which stargazing spot you choose to visit, we highly recommend choosing a day or weekend when there is either no moon or a crescent, or half-moon and a clear sky if possible. Wrap up warmly. Even a summer evening can be cold at 11pm.
The South Downs Dark Skies Festival
Celebrating being the home of some of the best stargazing on the planet, the South Downs National Park Dark Skies Festival takes place each February, with a series of one-off events including nocturnal wildlife walks and stargazing parties.  There are more than 15 events taking place over the course of the festival (4 – 17 February 2023), many of which are free to attend but require registration in advance. See the full schedule of events for the South Downs Dark Skies Festival here.
Events include learning how to get started with astrophotography with 'Dark Skies Dan' on Wednesday 8 February; join National Park staff and the South Downs Planetarium for a free event exploring the night sky at Goodwood on Sunday 12 February, or gather around the fire for 'Dark Skies & Storied Stars' at Butser Ancient Farm on Friday 17 February.
More things to do in West Sussex
Whether we've got you thinking about the stars, or inspired you to do more with your evenings, there's plenty to keep you entertained on both counts in West Sussex.
Find out more about the other great things to do in West Sussex here.