Whether it's the sound of birdsong or rolling waves you're hoping to wake up to on your camping trip this summer, the perfect pitch is waiting for you in West Sussex. From the rolling hills of the South Downs National Park to the sparkling seas of the beaches of West and East Wittering, one thing's for sure – you'll be spoilt for choice.
Pitch a tent, tow your caravan, or sleep in a yurt. Whatever your camping style, we have something for you.
Sustainability at its best: Woodfire at Westerlands, Petworth
Woodfire pride themselves on putting sustainability at the very heart of everything they do, so you can guarantee that your holiday will have as little impact on the land around you as possible. When you're staying on a small farm surrounded by the spectacular scenery of the South Downs, you'll want to keep it that way too.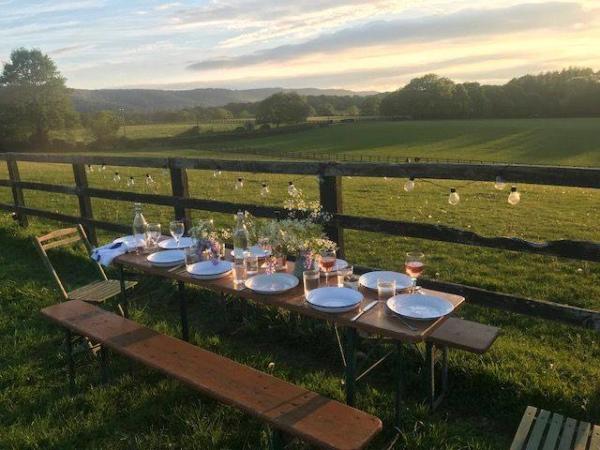 From compostable toilets and soakaways for the hot showers, to no lighting on-site at night (leaving you to make the most of the dark sky reserve), this is the ultimate sustainable getaway. What's more, Woodfire is a 'Gastro Campsite' not only offering home-cooked breakfasts and evening meals for their campers – all cooked over woodfire or charcoal - but their regular Feast events (often featuring  exclusive chefs) are absolute a must-visit for foodies.
The site is surrounded by a network of walks and cycle routes taking you through the very best of the South Downs National Park, and is located close to the historic market town of Petworth. For those who don't have their own tents, canvas tents are available to hire on-site.
Get close to nature: Wicks Farm Holiday Park, West Wittering
If you can't quite decide between countryside and coast, Wicks Farm offers the perfect compromise. Set in rural surroundings, the campsite is within easy reach of the South Downs National Park, yet only 1.5 miles from the white sands of West Wittering Beach and Chichester Harbour, an Area of Outstanding Natural Beauty.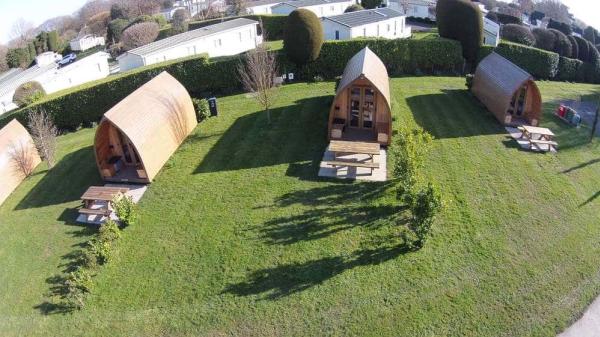 Wicks Farm Holiday Park (Image: Wicks Farm)
Jump on your bike and pedal along the public footpaths or Salterns Way cycle path which lead from the campsite to Chichester Harbour. Here, you can find dark-bellied brent geese, seals, black-tailed godwits and curlews to name just a few of the creatures who call this fascinating area of the country home. Back on-site, wildlife lovers will be keen to know that the site has been awarded a Gold David Bellamy Conservation Award to mark its commitment to preserving the rural habitat, creating a haven for wildlife.
With 73 pitches for tents and motorhomes on offer, along with camping pods for those wanting a few more home comforts, this five-star holiday park offers all you need for getting close to nature.
Round the clock entertainment: Seal Bay Resort, Selsey
For parents with hard to wear out children, Seal Bay Resort (formerly Bunn Leisure) will be just what you're looking for in a camping holiday. With an extensive range of on-site facilities included in the price of every pitch (and there's a pitch to suit every budget!) children will be hard pushed to find a spare second to complain about being bored.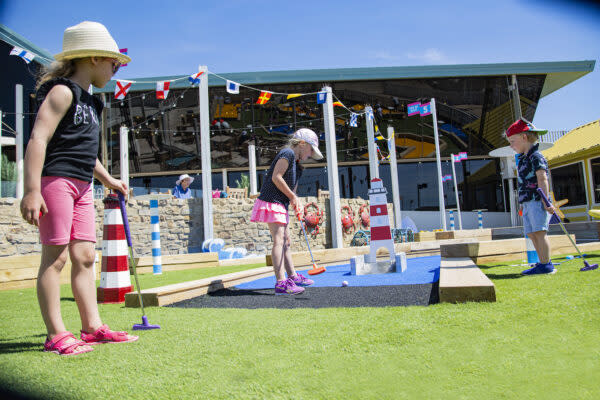 From indoor and outdoor swimming pools, wave simulators, paddleboats and jet skis, to nature treks, learning to light fires, axe throwing, sea safaris and pottery, you can have a camping holiday that's out of this world. For younger children, there are also pirate and princess adventures, chocolate parties, a funfair, arcade and tenpin bowling and for the adults, a much-needed wellness suite. By night, make the most of the evening entertainment suitable for all. You may just never want to leave.
With on-site camping facilities including shower cubicles, toilets and a laundry room to make your stay even better, as well as restaurants and take aways, Seal Bay offers a camping holiday like no other.
Sustainable Seaside holidays: Stubcroft Farm, East Wittering
Another campsite located conveniently close to the coast is the award-winning and family run Stubcroft Farm. The campsite, Gold award winner of Ethical, Responsible and Sustainable Tourism in the Beautiful South Regional Tourism Awards 2022/23, offers a sustainable beach break for all the family.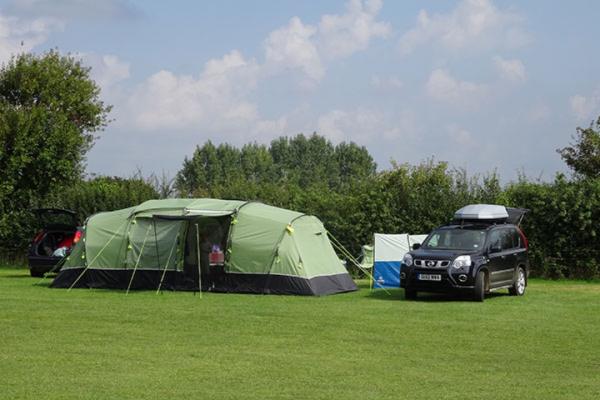 Stubcroft Farm Campsite
Located in level paddocks surrounded by arable fields and sheltered by attractive hedges and trees, there's a whole host of wildlife on the farm, with over 72 species of birds having been spotted, as well as deer, hedgehogs, foxes, rabbits, rare butterflies and much more. The site's facilities – which include an amenity block, on-site shop, electric hook-up and car and phone charging – feature solar hot water heating, an environmentally friendly biodigester, low energy LED lighting, heat pumps and an energy efficient building design. Thanks to the team at Stubcroft, you can unwind, safe in the knowledge that you're holidaying responsibly.
Although there's no need to venture far with so much on offer, the site is located just 1.5 miles from the glorious East Wittering Beach a favourite of watersports fans, including windsurfers and kite surfers.
A new kind of eco living: Plush Tents Yurt Village, Chichester
If camping in a tent or caravan sounds a bit too run of the mill, then Plush Tents Yurt Village, located just outside of Chichester may be just what you're looking for. Off-grid and proud to be the guardians of a beautiful oasis of calm, Plush Tents welcome guests looking to experience a new kind of eco-living, whilst having access to creature comforts.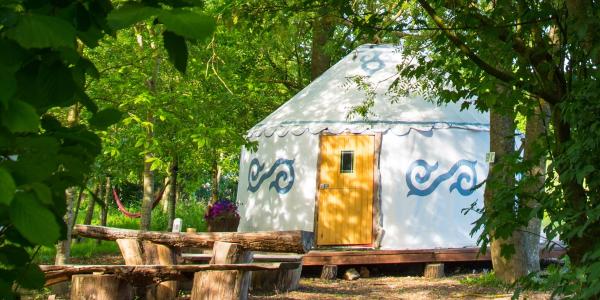 Recently voted one of Britain's 25 coolest campsites by The Telegraph, Plush Tents offer a rare opportunity to switch off, chill out and really appreciate some time together.  Hand-crafted Mongolian Yurts nestle within landscaped woodland, designed for both tranquillity and serenity as well as a sense of community. Communal areas such as the Home Yurt are a hub for a multitude of activities, including house cinema nights, yoga classes, children's workshops and family get togethers.
With a heated shower block, wood fired hot tub and private hammocks for each yurt adding a touch of luxury and comfort, this is one unforgettable outdoor experience for the whole family.
Seclusion (and beers!) in the South Downs: Graffham Camping and Caravanning Club Site, Petworth
Pitch up in secluded glades surrounded by trees and rhododendron bushes at the beautiful Graffham Camping and Caravanning Club Site.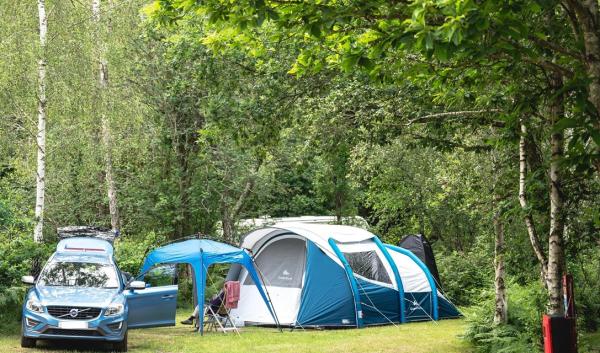 Graffham Camping & Caravanning Club site (Credit: Camping & Caravanning Club)
Also located close to the historic market town of Petworth, this tranquil 90-pitch site offers toilet and shower facilities, meaning you don't have to go too far back to basics on your wilderness holiday. Bring your four-legged friend and wander the many paths and tracks leading from the campsite onto the surrounding heaths and downs. The 90-mile South Downs Way passes close to the campsite, perfect for those wanting to take on a bigger challenge.
Located just 20 minutes by bike or five minutes by car from the campsite, is the award-winning Langham Brewery. This must-visit microbrewery in the heart of the South Downs offers over 17 innovative, flavoursome real ales you can sample, made using traditional craft skills. If there's just one thing to tear you away from your tent, it's got to be Langhams!
Luxury camping: Concierge Camping, West Ashling
Situated at the foot of the South Downs National Park and Chichester Harbour, Concierge Camping brings together a distinctive mix of luxury, history and the great outdoors.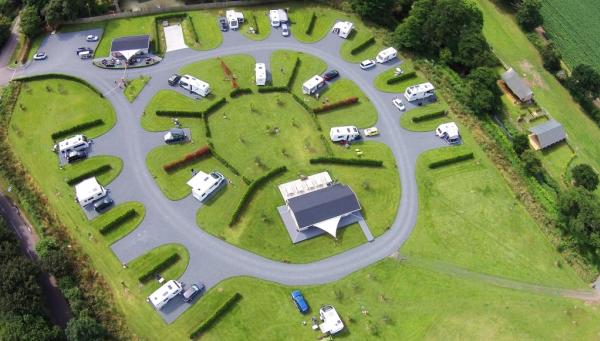 Having opened for business in 2015 and being awarded the AA South East Campsite of the Year in its very first year, continuous improvements and an obsessive attention to detail have led further awards including the prestigious AA 'Campsite of the Year' England and Overall Winner 2019.
The Ratham Estate is situated in West Ashling near Chichester. Steeped in history, it's mentioned in the Domesday Book and originates from the 15th century. A working farm until the 1990s, the estate has three Grade II listed properties on site which include a charming circular thatched chapel, the original water mill and farmhouse.
During your stay, take advantage of the 27 spacious and fully serviced, hardstanding pitches tastefully landscaped into the rural surroundings. There are also four luxury self-contained safari lodges which include underfloor heating, en-suite facilities, fully fitted kitchen with range cooker, dishwasher, and fridge/freezers for the ultimate camping experience.
Waterside camping: Wild Combe Camping
Step away from the everyday on a camping holiday with Wild Combe. This impressive site, located close to the historic market town of Midhurst in the heart of the South Downs National Park, is surrounded by miles of spectacular countryside and has two private reservoirs for campers to swim and paddle board in.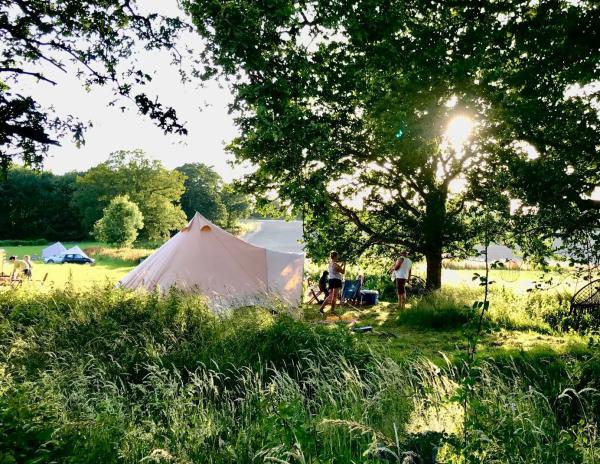 As "wild" as the name suggests, this campsite has no electricity or running water, with the only light at night being from the moons and stars. There really is no better place to admire the South Downs Dark Sky Reserve.  Pitch your tent or stay in one of Wild Combe Camping's fully-furnished bell tents. The site has three grass pitch fields, each with its own fire pit, and there are portable toilets in each field.
As if that wasn't enough, the site is based within a family-run arable farm, there are lots of wild animals about if you're quick enough to spot them! Deer, herons, hares, kites and buzzards to name just a few. On top of all that, the site has two working reservoirs which guests are welcome to use.
New kid on the block: Southwood Park 
Southwood Park Estate glamping is an authentic Luna Belle Tent village nestled in West Sussex countryside. Comfortable yurts equipped with cosy double beds and log burners are set amid quiet, magical wooded location with communal BBQ area,  a pizza oven, bar and restaurant and large children's play area, plus plush toilets and hot showers. Just a 20 minute drive to Goodwood makes it a great base for Festival of Speed or Revival goers. Just 5 minutes away, Ashling Park Estate offers outstanding Sussex wine experiences, plus the beaches at East and West Wittering are within easy reach too.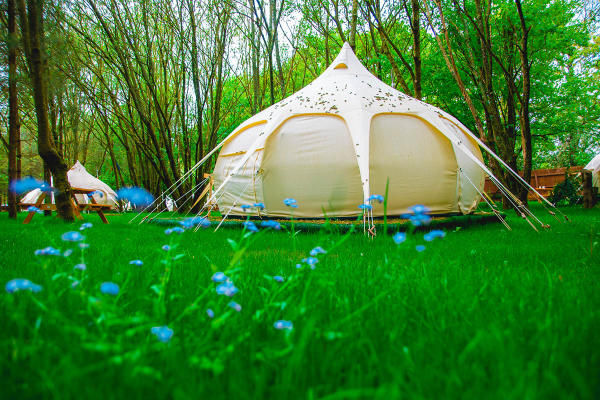 Still need more inspiration? Find out about other great accommodation in the Chichester District here.