Royal Sussex: Walking in the footsteps of royalty
Sussex's attractions are truly world-class. With grand country estates, leading art galleries, renowned theatre and stunning coastline it's no surprise that the royal family have been enjoying Sussex's prestigious pursuits for centuries. So, kick off those trainers, don a hat and take our Royal Tour of West Sussex.
1500's: Henry VIII, Edward VI and Elizabeth I visit Cowdray House (now Cowdray Ruins)
Wind the clock back to the 1500s and you'd find an impressive Tudor mansion standing where the romantically distressed Cowdray Ruins can now be found. Back then, the home was owned by one of the most powerful families at the courts of Henry VIII and Elizabeth I, before it burned down in 1793.
With royal visits spanning an impressive 50 plus years, the house was visited by Henry VIII not just once but three times in 1538, 1539 and 1545. A young Edward VI visited in 1552, and Elizabeth I in 1591 too.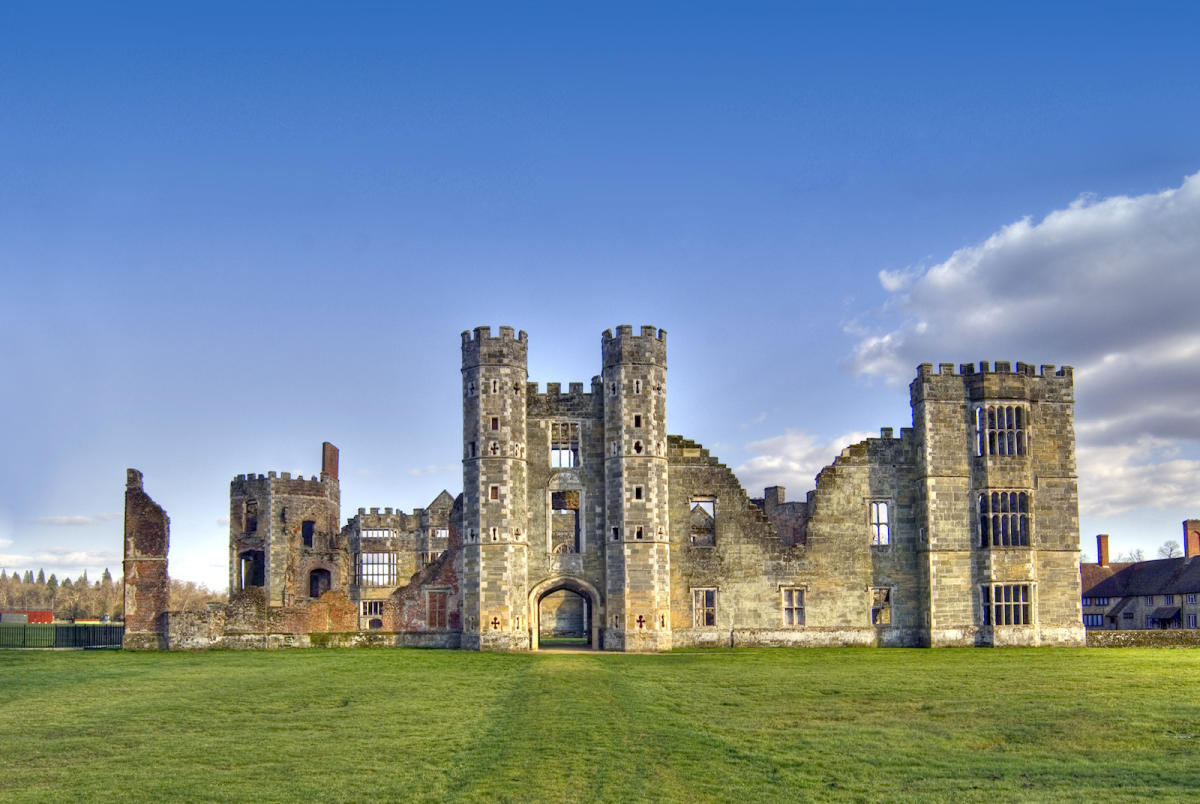 See it for yourself: Cowdray Ruins, or as it's officially known, Cowdray Heritage is part of the Cowdray Estate in Midhurst. Enjoy a walk to the ruins followed by a bite to eat in the Cowdray Farm Shop Café, where local produce is king.
Back in the town centre, you'll also find great food at Fitzcanes Café, Tilly's and Gartons Coffee House, among others. The town is also home to a myriad of independent shops and jewellers, delightful Tudor buildings as well as Georgian, Victorian and Edwardian architecture. 
1591: Elizabeth I Visits Cowdray Oak
The Queen Elizabeth I Oak, a huge, squat, hollow tree which is estimated to be between 800 and 1,000 years old, can be found in one of the 16,000 acres of land owned by the Cowdray Estate. Not only is it one of the largest trees in Britain, but it's rumoured to have been visited by Queen Elizabeth I herself in 1591. It's believed she sheltered under the tree and was impressed by its girth, which at 41 feet (these days), is quite some size.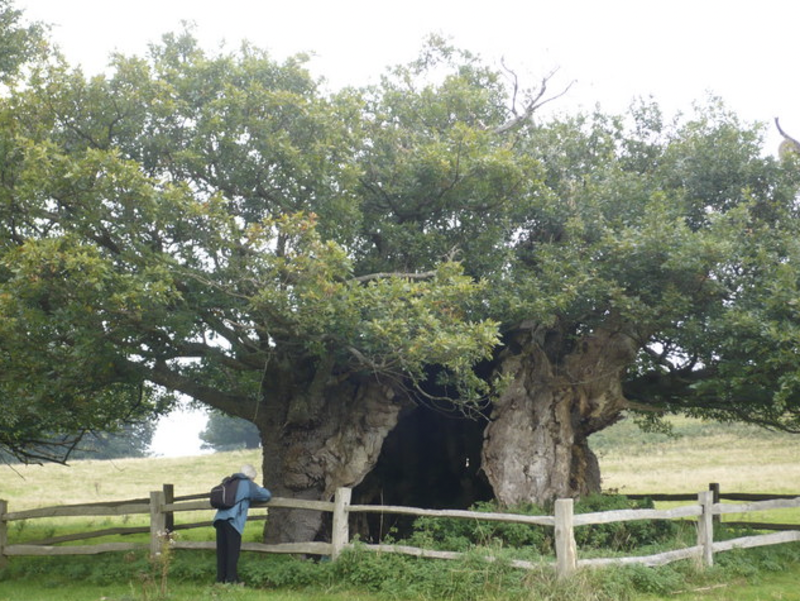 Image: Wiki Commons
See if for yourself: If travelling by car, park at Benbow Pond for the one-mile circular walk. Head towards Stewards Pond and find the Queen Elizabeth I Oak close by. Following on from there, you'll pass through an avenue of lime trees planted to commemorate the Diamond Jubilee of Queen Elizabeth II, before arriving back at the start.
If you're hungry, take a three-minute drive to The White Horse of Easebourne, a traditional English country pub serving fresh Napoletana Pizza and great pub grub.
Late 19th and early 20th century: Edward VII visits West Dean House
The idyllic setting of West Dean House, a 19th century flint mansion, hosted Edward as Prince of Wales in 1894 and 1899, and later in 1906, 1909 and 1910 as King. A close friend of owners Evelyn and William James, he came to West Dean to shoot on the estate and attend the races at Goodwood. 
This portrait of King Edward VII standing outside the entrance of West Dean House is by Frank Swaine. Swaine is more widely known for is portrait photography so he may well have painted this portrait from one of his photographs.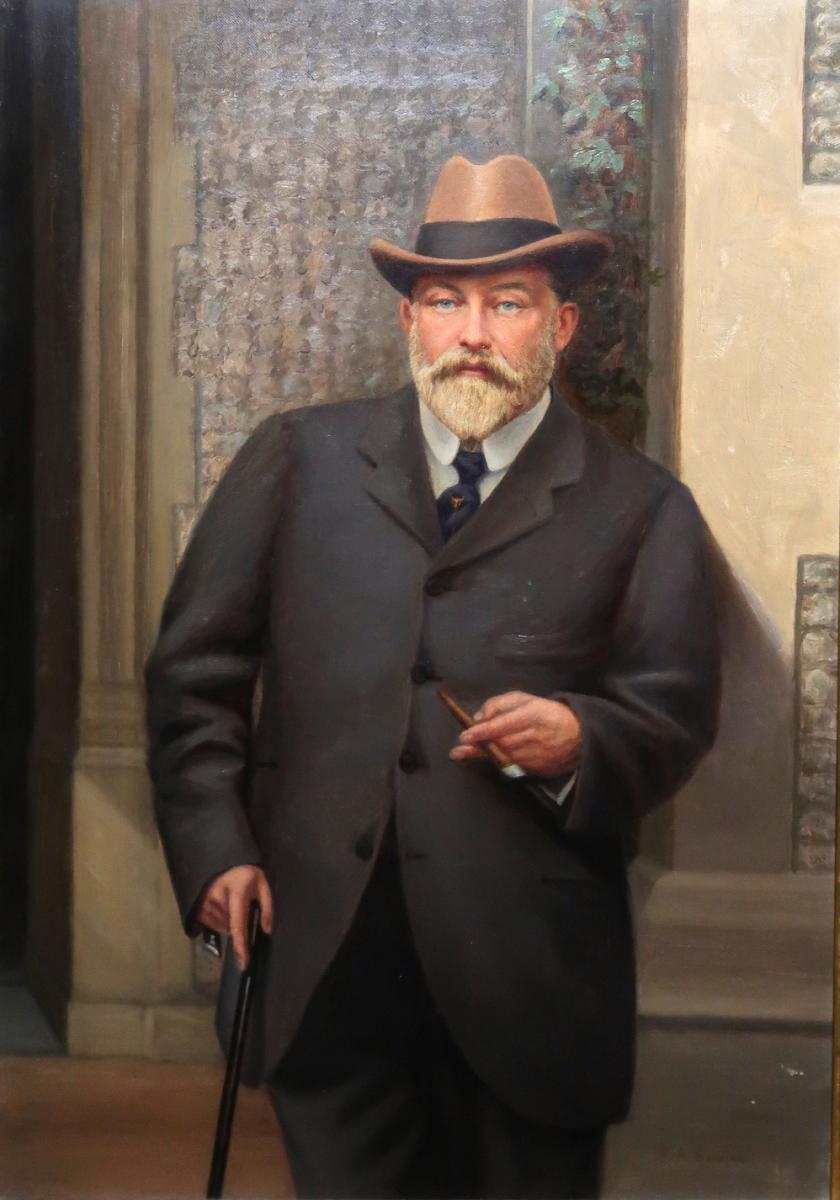 Image: Edward VII at West Dean by Frank A. Swaine (b.1871 d.1952) by kind permission of West Dean College of Arts and Conservation
See it for yourself: Today, West Dean College of Arts and Conservation is an internationally recognised centre of creativity with a strong craft ethos offering over 800 short courses from contemporary to traditional crafts. From beginner to advanced level and ranging from a day, a weekend or an entire week, this is a great opportunity to develop new skills in beautiful surroundings.
West Dean House, in the stunning setting of the South Downs with award-winning Gardens, also offers Bed & Breakfast accommodation for an unforgettable creative escape. There are a number of options available, where guests can stay in one of the characterful rooms in the main house, or the adjacent charming Old Vicarage, and enjoy a delicious breakfast in the college dining hall. Bed and breakfast is from £95 per room per night. 
1960s: Queen Elizabeth II Visits Goodwood
Perhaps unsurprisingly, due to her love of horses, Elizabeth II was a frequent visitor to the horse racing at Goodwood during the 1960s. So much so, in fact, that the racing at Goodwood began to be known as 'the sport of Queens'. She had several winners including Apprentice in 1965 and Gaulois in 1966, both of whom won the Goodwood Cup.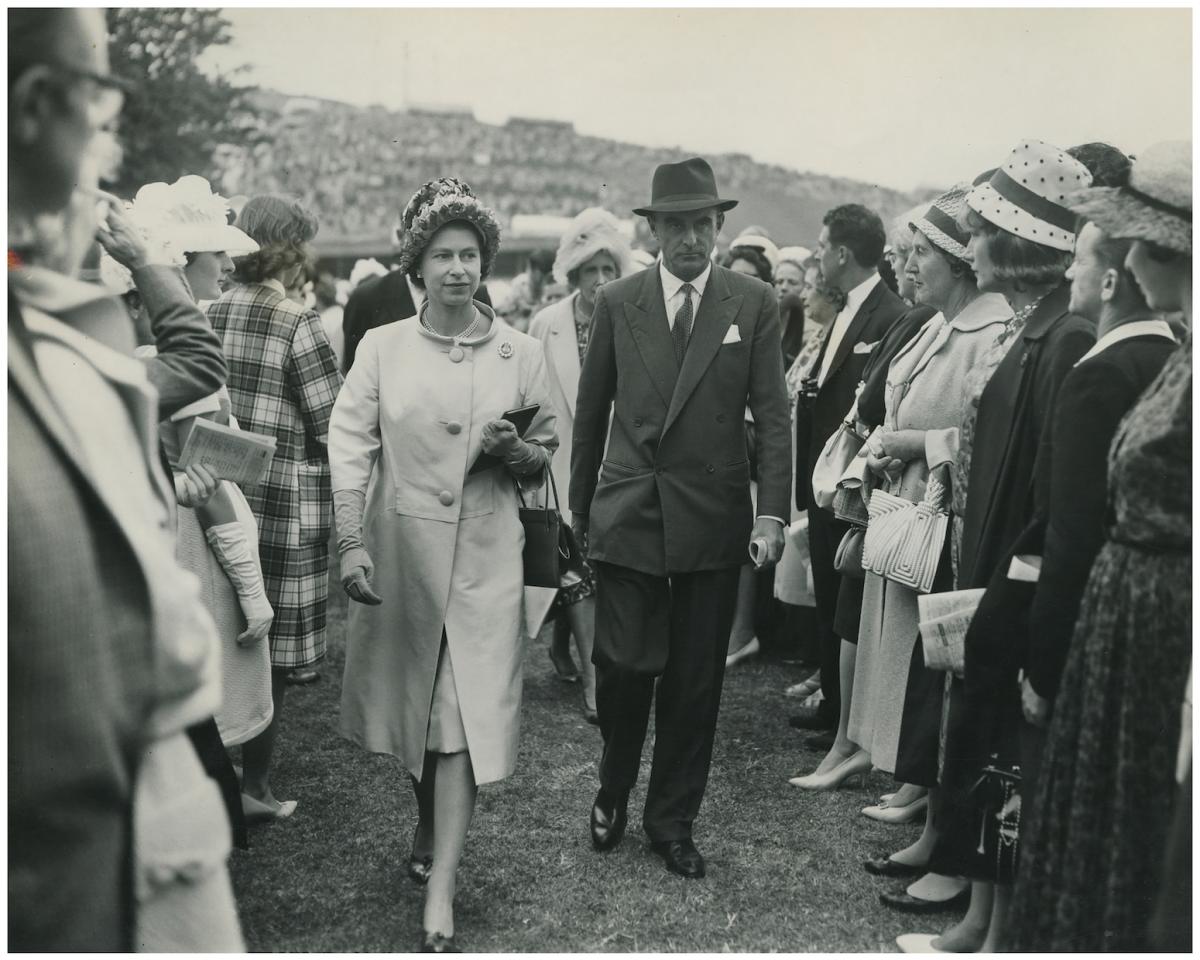 Elizabeth II visiting Goodwood Racecourse in 1961, accompanied by the 9th Duke of Richmond by kind permission of Goodwood Estate
See if for yourself: It's renowned as being one of the most exciting and beautiful racecourses in the world, so it's no surprise that Elizabeth II loved it at Goodwood. With 19 days of racing taking place between May and October every year, there are ample opportunities for you to live like a Queen, even if it is just for one day. 
Enjoy a special day of fun and celebrations at Goodwood Racecourse on Saturday, 6 May, where you can experience the thrill of the races and indulge in a jovial street party in honour of The Coronation. Tickets start from £12, under 18's go free. Explore and book here.
Further into the season, the prestigious Qatar Goodwood Festival, takes place from Tuesday 1 to Saturday 5 August 2023. But you'll also find family fixtures taking place during June and August, as well as Goodwood's Three Friday Nights (a unique combination of racing and music) on 9, 16 and 23 June 2023. While you're here, be sure to check out Goodwood's Farmer, Butcher, Chef sustainable restaurant, as well as the Goodwood Hotel and Spa.
November 2017: Elizabeth II Visits Chichester Festival Theatre
In November 2017, Elizabeth II visited Sussex once again, this time to visit Chichester Festival Theatre. While she was there, she learnt about the theatre and its work, unveiled a commemorative plaque and was treated to a special performance by the celebrated Chichester Festival Youth Theatre.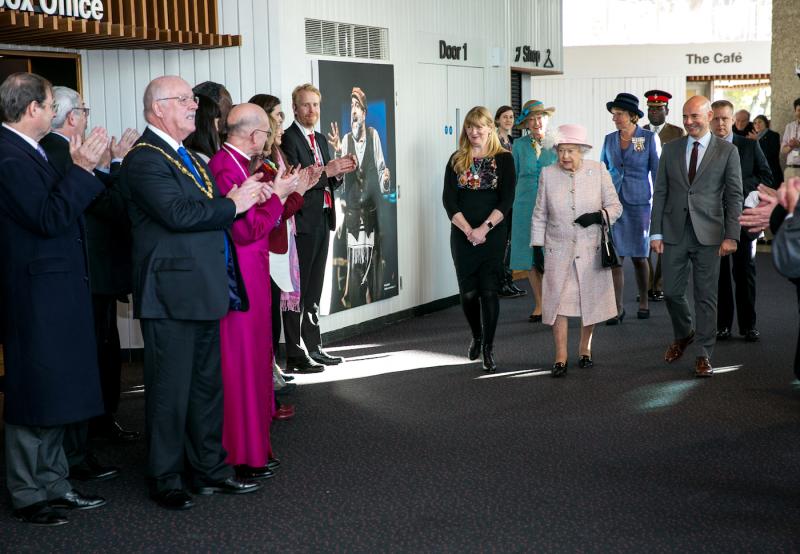 Elizabeth II at Chichester Festival Theatre. Image: Pete Jones
See it for yourself: As one of the UK's flagship regional theatres, many of Chichester Festival Theatre's productions have transferred to the West End or been taken on tour nationally and internationally. This, in addition to its bold thrust stage design and great location (in the heart of Chichester city centre) means you're in for a royally good treat too.
Take in one of 2023's productions including The Sound of Music, Assassins, Never Have I Ever or The Jungle Book; walk in Elizabeth II's footsteps on a backstage tour, or dine like a queen at the theatre's very own Minerva Bar & Grill. In less than a 10-minute walk from the theatre, you could also be meandering through the corridors of one of Britain's leading art galleries at Pallant House Gallery, exploring the medieval Chichester Cathedral or enjoying afternoon tea in The Ivy Chichester. It can't get more majestic than that.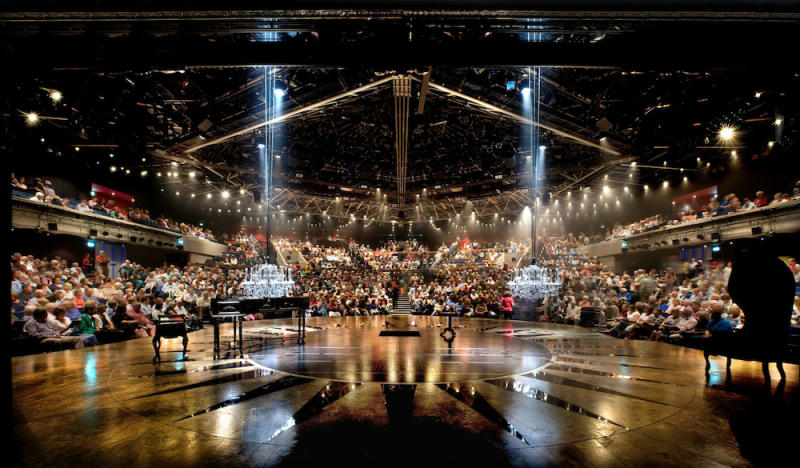 Image: Chichester Festival Theatre
May 2018: Prince Edward Visits Petworth House
While Petworth House is famous in its own right, it (or more precisely, its tennis courts) played host to Prince Edward back in May 2018. Prince Edward, now Duke of Edinburgh, visited as part of a fundraising bid to play real tennis at every club in the world in aid of the Duke of Edinburgh Award Scheme. As part of his visit - which also included a game of real tennis - Prince Edward also unveiled a ten-foot panel by local sculptor Philip Jackson.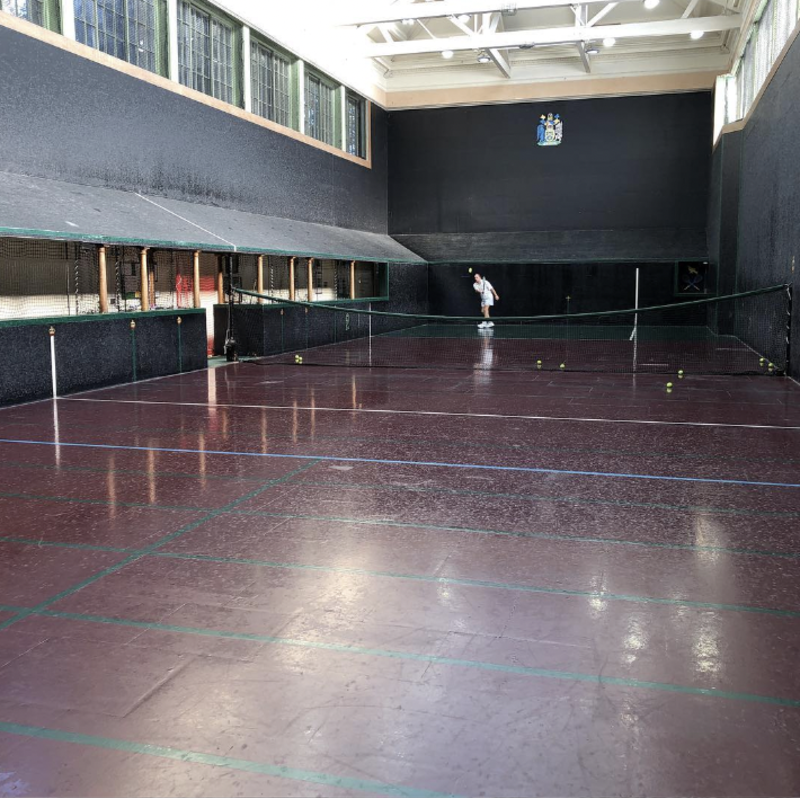 Petworth Real Tennis Court Image: Wiki Commons
See it for yourself: The National Trust's magnificent 17th-century Petworth House draws in crowds from afar thanks to its extraordinary collection of art, sculptures and stunning state rooms; in addition to Pleasure Grounds designed by Lancelot 'Capability' Brown. The indoor and centuries-old Petworth House Tennis Court (the very court visited by Prince Edward) can also be booked to play on, if you fancy a spot of real tennis too.
Back outside, the wider 700-acre Deer Park - which is attached to the house and grounds - is free to visit. While exploring this expansive parkland and admiring the far-reaching views, you'll likely catch glimpses of the park's historic herd of fallow deer. They too have links with royalty, as it's believed they were hunted by King Henry VIII during the 1500s.
The historic market town of Petworth is home to a host of royally great establishments within walking distance from Petworth House including the Hungry Guest artisan food shop, E.Street Bar & Grill, Newlands House Gallery and many world-class antique shops. 
October 2018: Harry and Meghan visit Edes House
In the heart of Chichester City Centre lies the Grade 1 listed Georgian mansion, Edes House. The house, which dates back to 1696, tends to welcome wedding and function guests these days but had two special visitors in October 2018; newly-weds Harry and Meghan.
There to see a rare Sussex copy of the American Declaration of Independence, Harry and Meghan then spent time with crowds who had gathered to see them along West Street.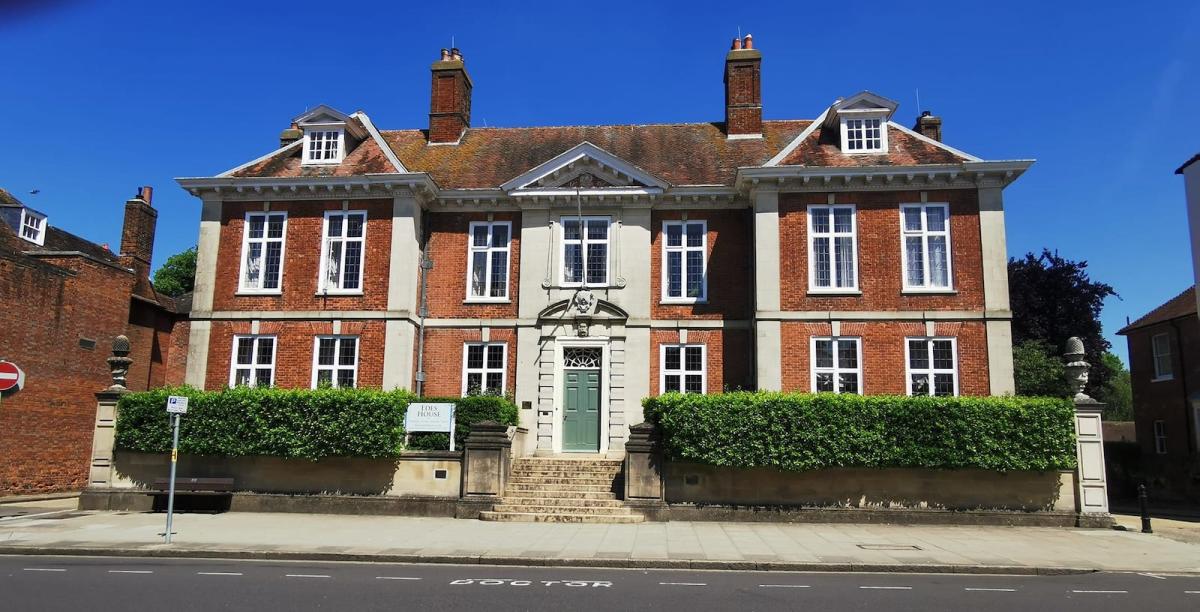 Duke and Duchess of Sussex, Edes House Image: Edes House
See it for yourself: You too can visit Edes House and you don't have to book a wedding to get through the door either! If you're keen to take a peek inside, book yourself on a 'If Walls Could Talk' public tour of Edes House, taking place on a selection of Sundays throughout the year. Please note, the American Declaration of Independence was on display for the royal visit only.
If you're happy with admiring the house from the outside, and are want to combine it with the many of the other delights the city has to offer, Chichester Tour Guides' Chichester City Highlights Tour will take you to everything you need to see, and tell you everything you need to know too. Why do it yourself when you can be shown around like the royals? Tours take place most Sundays.
May 2021: Princess Anne Visits Chichester Harbour
It's not every day that you get to visit an Area of Outstanding Natural Beauty (AONB), and that must be the case for royals too.
In May 2021 keen sailor, Princess Anne, had the pleasure of visiting our very own Area of Outstanding Natural Beauty here in Sussex. Hosted by the Chichester Harbour Trust, the Princess Royal learnt about the wildlife, conservation, education, recreation and, of course, sailing on offer in Chichester Harbour, our very own AONB.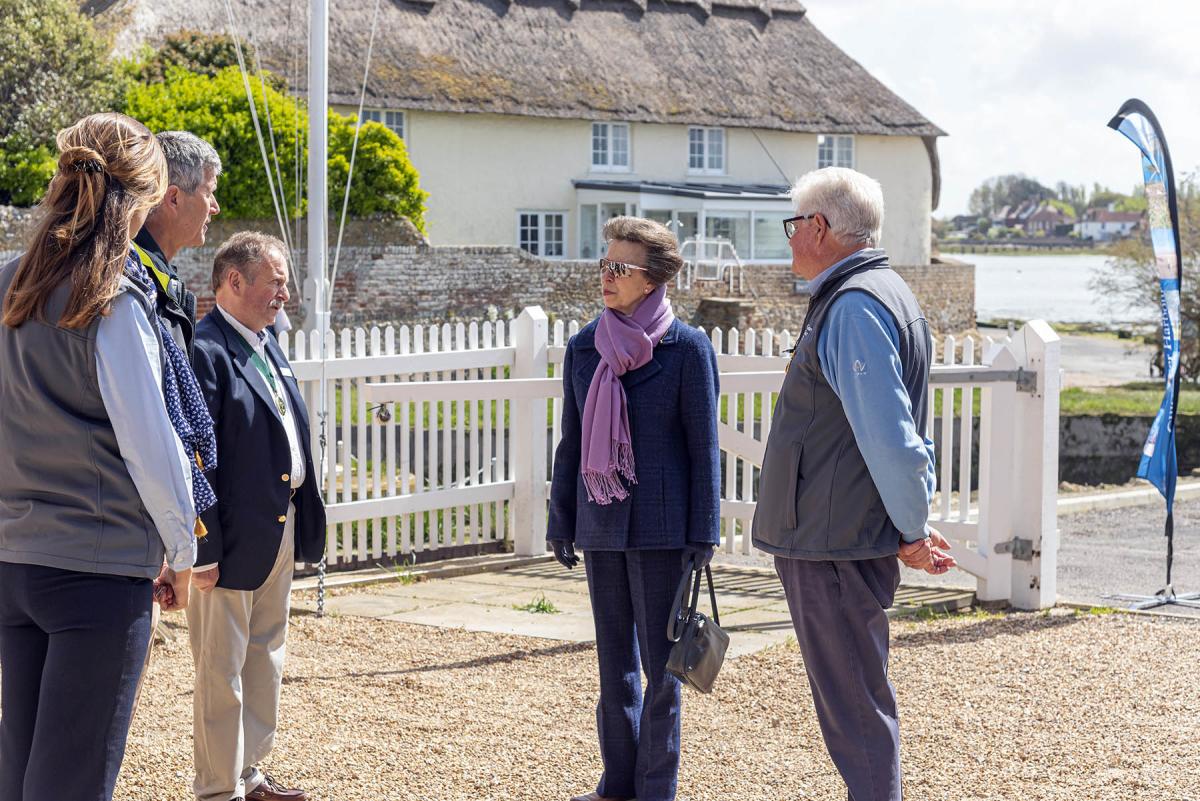 Princess Anne, Chichester Harbour Image: Paul Adams
See it for yourself: Being one of Britain's most popular and picturesque sailing destinations, Chichester Harbour really is fit for a queen. Or princess, as the case may be. During the summer, the Chichester Harbour Conservancy, the organisation which looks after the harbour, operates harbour discovery boat trips on its solar powered catamaran. There are also guided walks and activities on offer throughout the year for those with less willing sea legs.
Alternatively, take a seal watching trip with Chichester Harbour Water Tours. While seeing seals can never be guaranteed, there's a seal spotting success rate of 100% so far on these one-and-a-half hour trips, so odds are you'll be in luck!
2010 & 2022: King Charles Visits The Weald & Downland Living Museum
Ending on one of the most iconic royal trips to Sussex is King Charles' visit to the Weald & Downland Living Museum where The Repair Shop is filmed.
In October 2022, viewers across the country tuned into the BBC to watch King Charles - who was Prince of Wales at the time - feature in a special episode of The Repair Shop: A Royal Visit. The episode was part of the BBC's centenary celebrations. King Charles, who has a keen interest in heritage craft and conservation (skills which are embodied at the Weald & Downland Museum), brought along an 18th century bracket clock and a Wemyss Ware piece made for Queen Victoria's Diamond Jubilee.
The museum first welcomed Prince Charles in November 2010 as part of its 40th anniversary celebrations.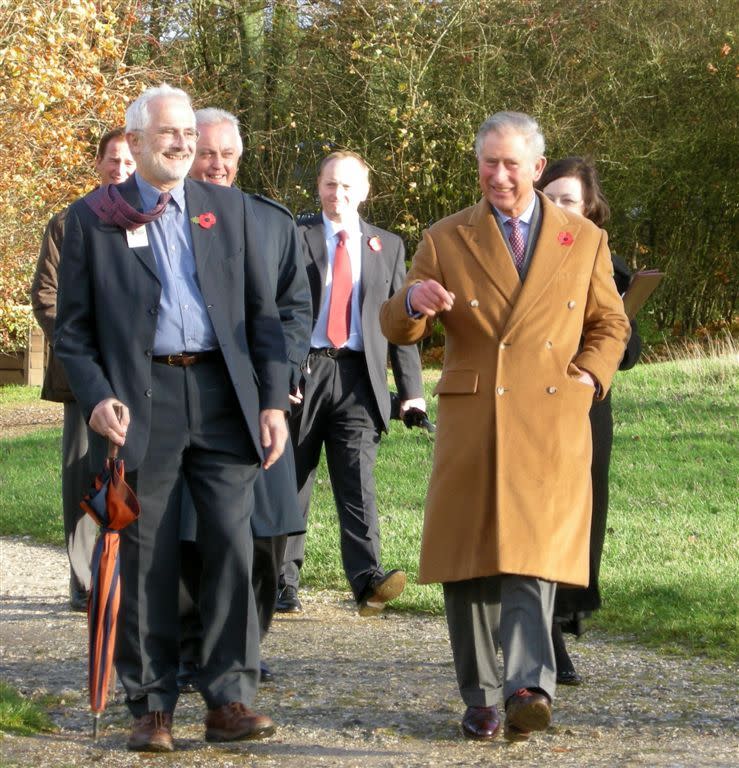 Image: Prince Charles visits The Weald & Downland Living Museum in 2010
See it for yourself:  If you'd like to follow in the footsteps of a King, you can do just that at the Weald & Downland Living Museum.
You'll recognise the museum's Court Barn from The Repair Shop, and while it's closed to the public during filming, there are selected days throughout the year when you can take a sneak peek inside. While you're there, make the most of the fascinating 40-acre site, which is home to 50 historic buildings including a working watermill, bakehouse and forge. You can also discover live demonstrations of heritage crafts and trades, see working farm animals and enjoy scenic woodland walks. With an on-site café, play area and gift shop stocking locally made gifts, you're sure to be impressed.
If we've inspired you to see more of our great attractions in Sussex, you can browse the full range of things to do here.