Explore our pick of the very best Christmas Markets in West Sussex this year. It certainly is beginning to look a lot like Christmas…!
The Rare Brand Market, Goodwood Racecourse
When: Thursday 17th – Saturday 19th November 2022
Tickets: Early bird tickets available online from £16 per person
Kick off your festivities with our first Christmas Market of the season at Goodwood Racecourse, brought to you by the popular Rare Brand Market.
Fast becoming a Christmas tradition in itself, the Rare Brand Market has been operating pop-up shopping and market events for 12 years now, with its flagship Christmas Market at the famous Goodwood Estate.
Bringing you small independent brands offering great artisan produce, this is the perfect place to make a dent in your Christmas shopping list. Find one-off and unique gifts that can't be sourced anywhere else, and have a great time whilst doing it.
We think Christmas has got off to a great start with the Rare Brand Market!
The Weald & Downland Living Museum's Christmas Experience & Market: LIMITED AVALIABILITY
When: Saturday 26th – Sunday 27th November 2022
Tickets: Limited availability. Tickets must be purchased in advance and cost from £15.50 per adult and £7.50 per child.
This Christmas, the Weald & Downland Living Museum will be putting on a host of events over the Christmas and New Year period, known collectively as the Advent Christmas Event.
In addition to the old favourites including the Weald & Downland's Tree Dressing and the return of Green Father Christmas, the much-awaited Christmas Experience and Market will take place across the weekend of 26 and 27 November. Of course, in typical Weald & Downland style, this is a not-to-be-missed event, with tickets already selling fast.
Great for families and those who love a Christmas Market with a twist, you'll be able to explore over 100 hand-selected stalls while at the same time, learning about Christmas through the ages.
There'll be choirs, hands-on demonstrations, and make and take activities on offer, alongside the museums existing collection of buildings and artefacts, which are of course available to explore.
With all stallholders having been chosen to represent the best in arts, crafts and foods from the weald region, you're guaranteed to find a gift with significance to treasure.
Christmas at Cowdray: After-dark Christmas Market
When: Thursday 1st – Saturday 31st December 2022
Tickets: Tickets available online from £20 per adult and £12.50 per child
There's something magical about the dark at Christmas, and that's certainly the case at the Cowdray Estate (Midhurst) this year.
For the second year running, Christmas at Cowdray – the illuminated, after-dark, festive light trail – will be coming back to West Sussex.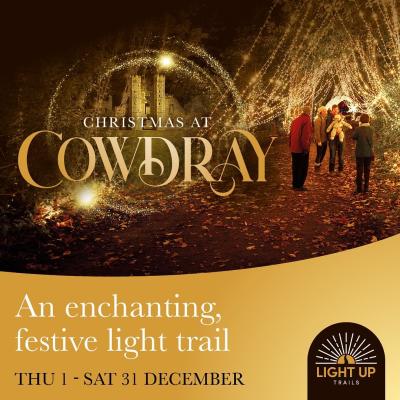 Follow the walking trail through Cowdray's grounds and admire the huge range of festive illuminations on display, accompanied by an inspiring soundtrack. You'll pass through a magical woodland walk, spot Santa and his reindeer and see the night sky lit up with millions of sparkling lights.
With a merchandise stall, pancake house, Santa's grotto, bar, German Bratwurst wooden chalet, ferris wheel and delectable Cowdray foodie delights on offer, this light-up trail offers a Christmas Market vibe like no other. Don't miss Midhurst's Christmas Street Party on Friday 2nd December 5pm-8pm, guaranteed to give you the festive feels, with entertainment, live music, late night shopping, an artisan market and of course, Santa's Grotto. Head to the market square for some jolly-old festive fun.
Seal Bay's Christmas Village
When: From Friday 2nd December 2022 – Sunday 1st January 2023
Tickets: Free entry but extra activities (as detailed below) are charged for. Pre-booking is essential
Get your festive fix at Seal Bay Resort, Selsey (formerly Bunn Leisure) this December.
Opening throughout the month to day visitors, Seal Bay's Christmas Village offers an unforgettable day for the whole family. And what's more, it's free to visit.
Transport yourself to a magical winter wonderland as you stroll around the festive market, Christmas treats in hand. You'll see stalls adorned with arts, crafts, produce and handmade goods – plenty to tempt you if you're in the mood to shop.
If you're keen to ramp up the Christmas spirit, Seal Bay have a host of pre-bookable and charged-for events to help you tick off the must-do Christmas traditions.
From skating around one of the South Coast's finest ice rinks complete with fairy lights and Christmas music, to meeting Santa in his grotto and watching Aladdin in the Panto, the whole family will be spoilt for choice at Seal Bay this Christmas.
The Kennels Christmas Market, Goodwood
When: Saturday 3rd – Sunday 4th December 2022
Tickets: No tickets required, free entry.
Looking to escape the bustle of the high street this Christmas? We have the Christmas market for you.
Based at the famous Goodwood Estate, The Kennels' Christmas Market is guaranteed to bring a touch of class to your Christmas proceedings. For those who don't know, Goodwood's Kennels is the central clubhouse for all of the estate's sporting members and is surrounded in miles of spectacular South Downs scenery.
Soak up the festive atmosphere as you explore the wide variety of handpicked stalls at the Kennels Christmas Market. You'll have the chance to buy artisan products, festive gifts and delicious food, while sampling mulled wine and mince pies – it is Christmas after all!
Admission is complimentary, with Goodwood members and non-members all very welcome.
Chichester Christmas Market
When: From Saturday 3rd December – Friday 23rd December 2022
Tickets: No tickets required, free entry
Chichester City Centre's East Street and North Street will come alive with an array of festive stands this December. With a handpicked selection of exhibitors selling high quality noteworthy products, this is the town centre Christmas event not to be missed.
From handmade ceramics, original artwork, seasonal gifts, glassware and unique jewellery to traditional toys, artisan cheeses, homemade chutney and seasonal decorations, you'll find gifts to be cherished for everyone, including yourself. On Thursday 15th and 22nd December the market will be open until 7pm for twilight shopping (usual closing time 5.30pm Monday to Saturday, 4.30pm Sundays).
The festivities don't end at the Chichester Christmas Market either. On Saturday 17 December Chichester will host a full line up of music and entertainment, including a giant snow globe on East Street, to keep the Christmas spirits high. With festive feels and decorations across Chichester's historic City Centre, you just as well make a long weekend of it.
Attractions including the historic Chichester Cathedral, leading art gallery Pallant House Gallery and renowned theatre – Chichester Festival Theatre – will be adding a festive twist to their proceedings. With some of the country's finest shops, cafes and restaurants also in the City Centre and waiting to be enjoyed (including newest addition, The Ivy Chichester) this really will be a Christmas to remember.
Petworth Christmas market
When: Saturday 3rd December 2022
Tickets: No tickets required, free entry.
You couldn't get more traditional when it comes to Christmas Markets than Petworth Christmas Market.
Set on the historic cobbled streets of Petworth – a traditional market town in the heart of West Sussex – the Petworth Christmas Market brings together over 70 stallholders, charities, entertainment and a warm community feel to get you in the festive mood.
Alongside the great array of stalls, you'll be surrounded by pubs, restaurants and cafes serving high-quality artisan food, as well as shops and antique shops that draw in crowds from afar.
With so much on offer, another visit to Petworth may be at the top of your Christmas list this year.
More shopping in West Sussex this Christmas
If Christmas Markets don't quite tick the box for your shopping requirements this festive season, there's no need to stress.
From independent boutiques and farm shops, to popular high street names and designer brands, our corner of West Sussex offers some of the best Christmas shopping around.
The list could go on and on…
For more shopping inspiration, see our full range of shops in West Sussex here.