The perfect preamble to an afternoon in a great pub is a great walk. And being surrounded in the beauty of the South Downs National Park, there's no better location for this great combination than our corner of Sussex.  Whether you're looking for welcoming pubs and scenic walks in the South Downs or Chichester Harbour, or in and around Chichester, Midhurst, Petworth, Selsey or the surrounding areas, we've got you covered.
With some of the best pub grub on offer in the country (we're proud producers of award-winning, home-grown and locally produced food here in Sussex, if you didn't already know) as well as world-famous walks, we really are spoiling you for choice.  Read on to discover The Great Sussex Way's hand selected pubs with excellent walks nearby in Sussex.  Allow a couple of hours for each walk, followed by a couple of hours for each pub visit and your Sunday is sorted! 
Best traditional pub: The Star and Garter in East Dean, Chichester


The pub: What better way to kick off our round-up than the Star and Garter in East Dean - nestled in the heart of the famous Goodwood Estate near Chichester.
This gorgeous flint and brick country pub, dating back to the 18th century, offers exactly what you'd expect from a traditional country pub and more. Not only has the Star and Garter won numerous awards and its outstanding menu strives to reduce food miles with a 'field to fork' approach, but it's also listed in the CAMRA Good Beer Guide 2023. Pretty impressive we think.
The walk: As if the great location, great food AND great drink isn't enough to tempt you, there's a great walk on offer too.
Just a stone throws from the Star and Garter is the beginning of a 6-mile circular walk, taking you from East Dean, up through Charlton Forest and back again. Along the way you'll take in parts of the Sussex Literary Trail and South Downs Way, pass Bronze Age Barrows and stumble across some of the area's best views. This moderate to challenging route takes approximately three hours to complete, so head out early to be back in time for lunch.
The pub: A historic blacksmith's shop come pub, the Horse and Groom located in East Ashling (just four miles west of Chichester) offers a surprise at every turn. 
Step inside this eccentric pub to find a striking metre-high bronze horse and jockey sculpture, an 1840 chestnut serving table from Andalusia in Southern Spain, and an apple green baker's counter bar from the Cognac region of France. 

The cultural journey continues into the dining room, where wholesome dishes are prepared with locally sourced produce against the backdrop of early 20th century paintings and contemporary art. Intrigued? So are we.
The walk: As if that doesn't lure you in, you can walk directly to Kingley Vale from the Horse and Groom too.
Holding an eclectic mix of titles to its own name, Kingley Vale is not only a must-visit National Nature Reserve, but is also a biological Site of Special Interest, Special Area of Conservation and a Nature Conservation Review site, Grade I.
You'll find ancient yew forests (one of the finest in Western Europe in fact), ancient monuments and astonishing views from the top. From the Horse and Groom, it's a 5.5 mile circular route to the top - which is of course steep in places - and we'd allow two-and-a-half hours to complete it.
Best for authentic Sussex experiences:  The Angel Inn in Petworth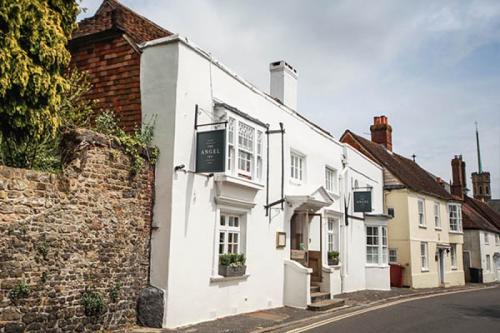 The pub: Voted as one of the Best English Country Hotels, The Angel Inn - located in the historic market town of Petworth - offers an authentic West Sussex experience. 
Located on the doorstep of one of our greatest walks (which we'll tell you about in a moment) The Angels Inn's medieval origins - including original beams, fireplace and quirky passageways - offer a glimpse of life in Petworth from a time gone by. Take a stroll through the large walled garden, which is heaving with magnolia blooms in the summer and horse chestnuts in the autumn, and enjoy a meal crafted from the finest offerings from local farms by the roaring fire. We think you'll be impressed.
The walk: Like what you read about the Angel Inn? Then you'll love the walk.
Taking you on a 3.5 mile figure-of-eight loop from the Angel Inn, this walk will take you out across the beautiful Shimmings Valley to reach the tiny village of Byworth, and back again. If you love space and solitude, this is the walk for you. While you'll see incredible views along the way, you may not see anyone but horses here. But we think that's just perfect.
The route ends back in the bustling market town of Petworth by which time we're sure you'll be ready to face civilization again. We hope so at least, because it's pub grub time.
Best pub serving local produce: The Crab & Lobster, Sidlesham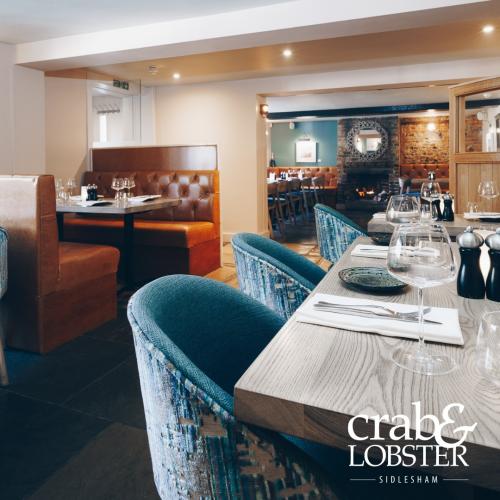 The pub: Nestling on the banks of Pagham Harbour Nature Reserve, the 350-year-old Crab & Lobster is one of the South Coasts greatest hideaways.
This award-winning pub, also listed in the Good Hotel Guide, prides itself on its emphasis on fish (as well as crab and lobster, of course!) with a menu sourced from local producers, Selsey fishermen and neighbouring dairy farmers.  With a fabulous wine list offering 17 classics by the glass as well, this is the perfect food and wine lovers location. The Crab and Lobster is home to a terrace and beer garden offering beautiful countryside views.  
The walk: Keeping with the coastal theme, this 2-mile walk takes you to one of the areas greatest Nature Reserves, RSPB Pagham Harbour.  A wetland of international importance and of interest in all seasons for flowering plants, butterflies, summer breeding birds and the winter visiting seabirds, Pagham Harbour has no barriers, stiles or steps, making it accessible for all.  You'll pass bird hides, follow the track of the old light railway known as the 'Selsey Tram', and take in excellent views across the harbour. We think it sounds just perfect.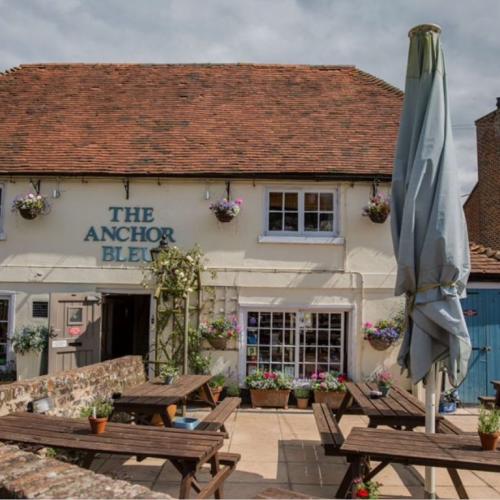 The pub: Looking for a great value option, with no compromise on location? Then look no further.
A traditional, family run harbour-side pub in the historic and picturesque heart of Bosham, the Anchor Bleu ticks every box.  Being popular with tourists and locals alike, the Anchor Bleu is steeped in history, much like the coastal village of Bosham itself. Serving great quality food made using the best sourced and local ingredients at affordable prices, the Anchor Bleu is a must-visit on our list - we recommend booking your table!
The walk: As if you're not tempted enough, we're sure this 5.5-mile circular walk around Bosham will sway you.  An easy route which is suitable for most abilities, this Bosham circular walk is the perfect preamble to your pub lunch. If you know Bosham, you won't be surprised to hear about the spectacular scenery en route. It is one of the most photographed villages in West Sussex after all!  After leaving the harbour you'll explore quiet lanes, admire beautiful houses and step away from the hustle and bustle of harbour-side life.
 
One thing to note. Keep an eye on tide times especially with the stretch around the Church. As much as you love it, you may not want to get stuck there too long! This walk should take about two hours to complete.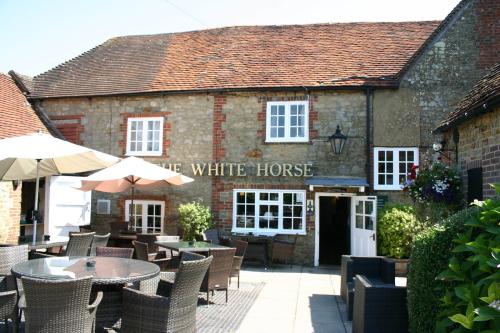 The pub: A traditional country pub which is great for families in the heart of Easebourne, Midhurst, the White Horse is home to a sunny courtyard that can be enjoyed all day long. Famous for its traditional Napoletana Pizza, prepared and cooked fresh by its own Pizza chef (available Friday to Saturday evenings) we think the White Horse is a great family friendly option for those seeking great walks and lazy pubs dinners.
Surrounded in spectacular countryside, offering great views of course, The White Horse is located just across the road from the popular Cowdray Estate, home to the Cowdray Ruins, Cowdray Farm Shop and Café, and Cowdray Polo Grounds. A location to be loved by all ages.
The Walk: A great walk for all the family, the 6-mile Midhurst Ancient Tree Walk follows footpaths and quiet lanes through the Weald, taking in the beautiful Cowdray Estate. Along the way, you'll come across great views, spectacular ancient trees and stunning colours no matter what time of year you walk.
With the ancient trees providing habitat to a wide range of species, including mosses and fungi, bats and birds such as Barn Owls, your walk could turn into quite the nature trek.
Best for sunny days: The Fox Goes Free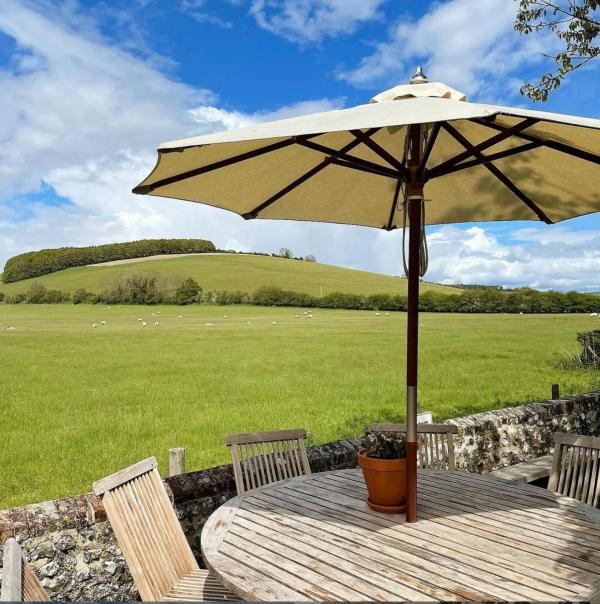 The Pub: Booking a table is advised at this much-loved pub, particularly on sunny days if you'd like to sit in the garden where you can relax amid glorious views of the Sussex countryside. The pub has a well deserved reputation for great quality homemade food using locally sourced ingredients where possible. You can enjoy a glass or two of Tinwood Sparkling wine at The Fox Goes Free too - you'd be pushed to get much more local with the vineyard located just a few miles away near Chichester.
The Walk: The perfect starting point for one of the most loved walks close to Chichester, The Trundle. This viewpoint offers some of the most expansive views as far as the solent on clear days - your reward for making the climb up St Roche's Hill (The Trundle's official name).  Find the walk here.
More great pubs in Sussex
If we've got you thinking about great pubs and great pub lunches in Sussex, there are plenty more to choose from - see more pubs in Sussex here