Sussex's hidden treasure troves house unusual crypts, medieval stained glass panels, gothic pews, rare 13th century paintings, herringbone stonework and over 120 species of plant (and that's in just one churchyard). Join us on a tour of 10 "must see" unique rural churches in Sussex. You'll discover all of the above and much more, including the church that King Canute's daughter is allegedly buried in.
Holy Trinity, Bosham
With Bosham being the oldest known place of worship in Sussex, it only seems right to start our tour here.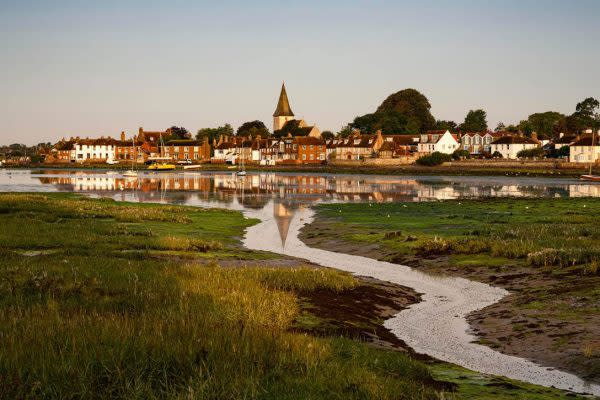 Bosham - Jon Nicholson
Bosham Church, which stands out proudly from the Bosham panorama (in case you didn't know, this harbour-side village is widely renowned as one of the most photogenic locations on the South Coast) and dates back to the early Saxon times.
Highlighting its importance in British history, Bosham Church is depicted in the Bayeux Tapestry, which shows events leaving up to the conquest of England in 1066 by Duke William of Normandy. It's also alleged that King Canut's daughter is buried here after a small coffin was discovered in 1865.
Don't miss: The unusual crypt. This 14th century simple but beautiful crypt is dedicated to the memory of the departed.
While you're here: Pop into the Sea School Restaurant at the Millstream Hotel for modern British cuisine straight from the sea.
St Boltoph's, Hardham
Amazing frescoes cover every wall of St Boltoph's Church, located in the hamlet of Hardman's just south of Pulborough. The church is believed to have been built on the eve of the Norman conquest in the 11th century.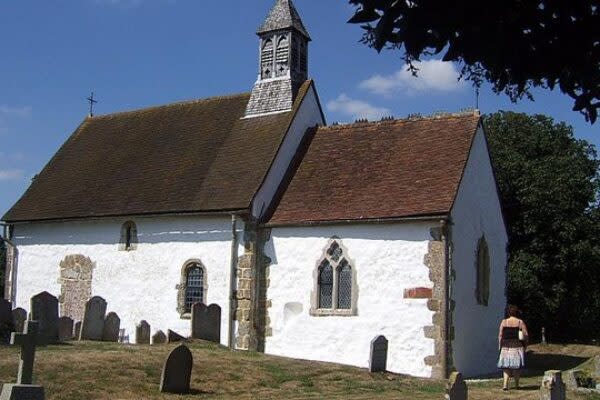 Inside, you'll find ancient wall paintings that depict bible stories for villagers who were unable to read. Painted by a group of travelling artists around 1100, the works were subsequently plastered over and unseen until they were rediscovered in 1866.
Don't miss: Images of Adam and Eve covering the west wall, including one of Adam watching Eve from a tree while she milks a huge cow.
While you're here: Take a 12-minute drive to the historic town of Petworth for not-to-be-missed seasonal, local fresh and artisanal food from the Hungry Guest.
Holy Trinity Chapel, Ebernoe
Built in 1867, Holy Trinity Chapel stands in woods by the side of a former school in the hamlet of Ebernoe just outside of Petworth, and is beautifully maintained with quixotic brickwork and a pure white interior.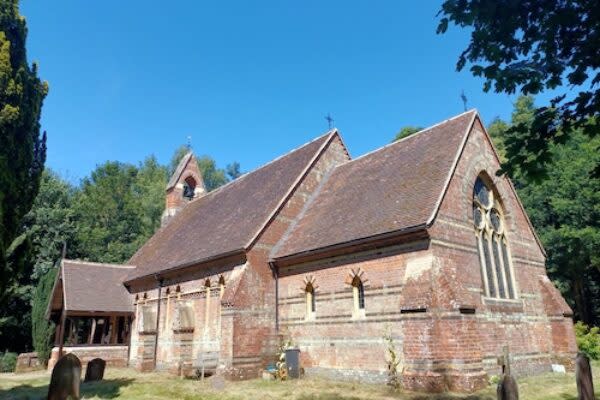 Holy Trinity Church was built under the instruction of W R Peachey, lord of the manor, whose initials were on the foundation stone at the west end, though it is now illegible. It's a great example of a modest country church that could have been built for £1,200 in the 1800s.
Get lost along the paths of Ebernoe Common after visiting the church. But be careful not to get hit by a flying cricket ball – the lane leading to the church bisects a cricket pitch!
Don't miss: The churchyard. Holy Trinity Churchyard is famous for its surprisingly varied plant life – over 120 species in fact.
While you're here: Take an 8-minute drive to Petworth's historic Angel Inn for fine daytime dining and elevated pub classics.
St Wilfrid's Church, Church Norton
Located right next to Pagham Harbour Nature Reserve – one of the few undeveloped stretches of the Sussex Coast – St Wilfrid's Church appears modest at first glance, until you delve beneath the surface that is.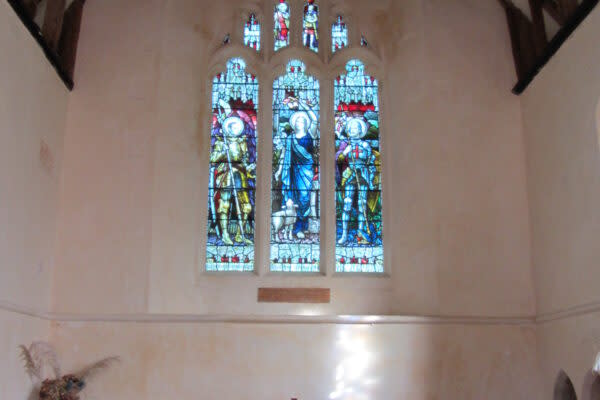 St Wilfrid's is, in fact, the thirteenth-century chancel of a large Norman church. The main part of the church was removed in 1864 and rebuilt in the centre of Selsey to serve the growing population of this seaside resort.
Don't miss: The captivating combination of ancient and modern. See a monument to John and Agas Lewis, dating back to 1537, alongside a modern stained glass window depicting the nature reserve.
While you're here: Make a day of it and explore the RSPB Pagham Harbour Nature Reserve, an internationally important wetland site for wildlife. At the reserve you'll find refreshments, picnic spots, binocular hire and toilets.
St George's, Trotton
Located in the quaint village of Trotton, just a 10-minute drive from historic market town of Midhurst, is the Grade I listed St George's Church.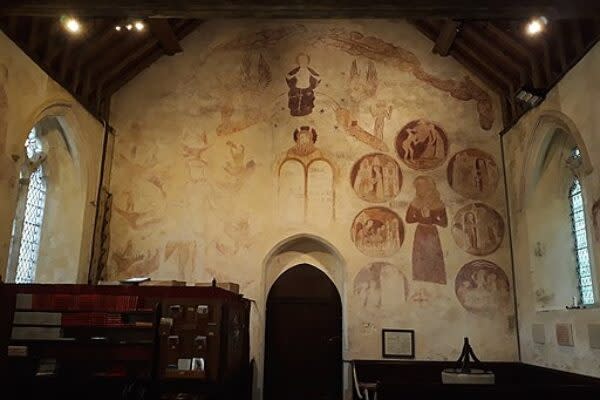 Offering a glimpse into its distinctive history, a church is listed in Trotton in the Domesday Book however the oldest existing part of St Georges, except the font, is early 14th century. With no aisles or a separate chancel (a rare find on both counts in Sussex) this church is unique as it is beautiful.
Don't miss: The unusual medieval wall paintings and impressive Camoy brasses
While you're here: Book a tour and tasting at Trotton Estate Vineyard. Or if you're just after a light snack, head to Cowdray Farm Shop Café to sample the fine local produce.
St Peter's Church, Parham
The medieval St Peter's Church at Parham is located within the expansive grounds of Parham House, a truly idyllic location. While the exact date it was built isn't known, much of the current building is Victorian, rebuilt by Cecil Bishopp, the 8th Baronet of Parham House.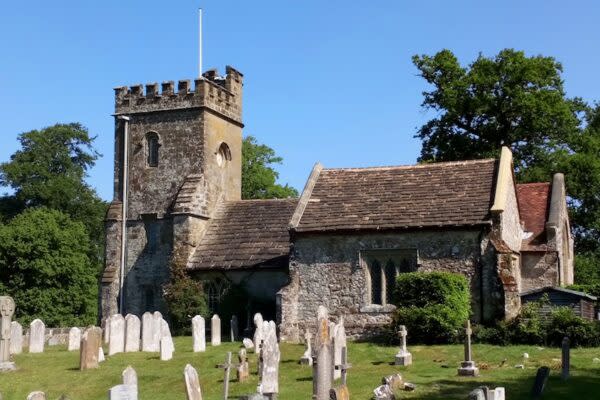 Inside, you'll find 19th-century box pews with a private family pew for the lords of Parham, complete with its own fireplace. The fireplace was installed to keep the family warm during services. If the squire started shovelling more coal on the fire, the rector knew his sermon was going on too long!
Don't miss: The pulpit. Although inconspicuous in itself, it's actually decorated with small carved plaques made of wood brought from the Mount of Olives in Jerusalem. They found their way here thanks to a soldier from the Sussex Yeomanry who served in Palestine during WWI.
While you're here: Explore the rest of the fascinating Parham House and pay a visit to its Mower Shed Café.
St Peter's Church, Lynchmere
Unusually for a Sussex Saxon church, St Peter's Church in Lynchmere is positioned on the top of a hill instead of by water.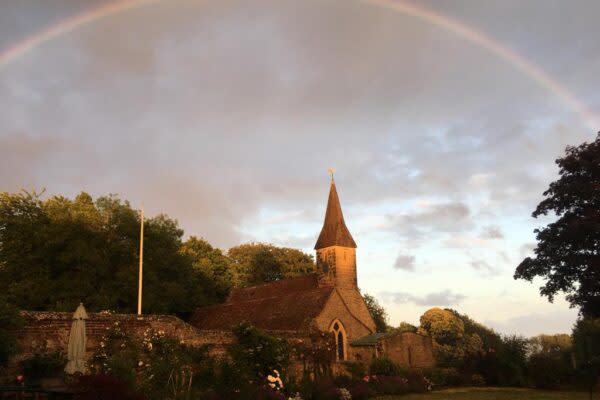 Visit for breath-taking views overlooking the South Downs from the churchyard, or through the beautiful glass south door.
Hubert Parry, composer of 'Jerusalem' stayed for extended periods at Shulbrede Priory at the bottom of the hill. Did he take inspiration from the 'mountains green' viewed from St Peter's when his came to write the music for this famous hymn? Visit and see for yourself.
Don't miss: The 13th century seven deadly sins frieze with realistic faces in alabaster, and the carved lamb by the font. The lamb was created in memory of a real lamb who took refuge in the church during a storm.
While you're here: Visit the The Mill Tavern in Shottermill or The Hub in Fernhurst.
St James' Church, Selham
You can't ask for a more beautiful setting than that from St James' Church in Selham, located half way between Midhurst and Petworth.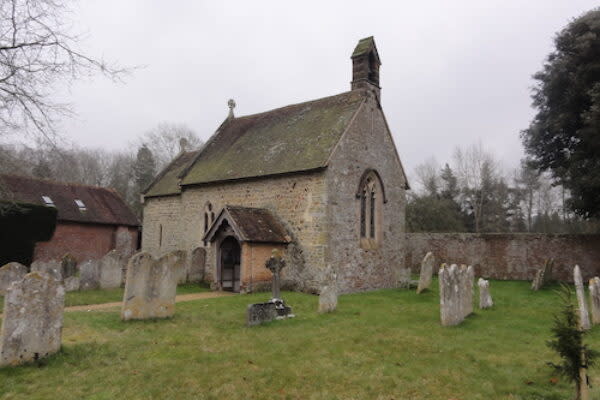 Located by the River Rother, the nave and chancel of St James' Church have been built with a herringbone stone pattern typical of the Saxon period. With a beautiful carved arch, south chapel and windows that were added at a later date, this is a great example of a church that has been developed over time.
Don't miss: The remarkable capitals on the carved chancel arch.
While you're here: Visit the Three Moles Pub for lunch, just a one-minute walk from the church. Or, take a 10-minute drive to the historic Spread Eagle Hotel in Midhurst, for lunch alongside an inglenook fireplace.
St Mary's Church, North Stoke
Located just outside of Arundel, St Mary's Church in North Stoke is the only church along the length of the Ridgeway Long Distance Path where the path actually runs through a churchyard.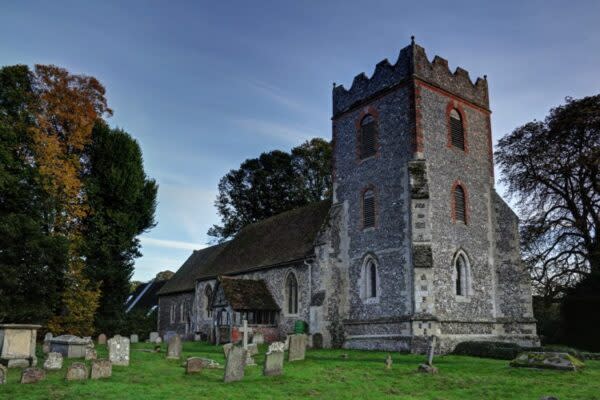 Walking and trekking aside, St Mary's Church is an excellent example of a simple country church in a charming rural setting by the River Arun. This fascinating cruciform building has essentially remained unaltered since the medieval period, meaning it's steeped in history inside and out, including fascinating 14th century wall paintings, painted with a more elaborate palette than that typical of the folk art of the time.
Don't miss: Captivating early medieval stained glass panels.
While you're here: Take the 12-minute drive to Arundel's 16th century Squire & Horse pub, for gastro-style food made using local produce.
St Michael's Church, Up Marden
One of the most hidden of the downland churches, St Michael's Church near Up Marden is found via a small lane above a steep slope and surrounded by trees. (If you're searching for it, you're best to pop PO18 9JR into a satnav).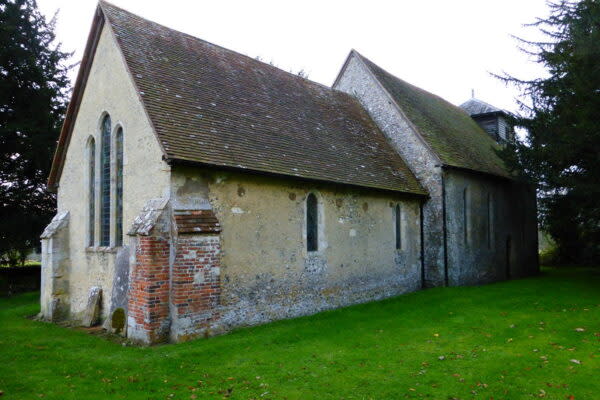 St Michael's, Up Marden church by Shazz
British architectural critic Ian Nairn once described St Michael's interior as 'one of the loveliest … in England' and nothing has changed since.
Built in the late 12th or early 13th century, much of the church inside and out has remained the same. With no village nearby however, it's thought that there must have been one of some size due to the size of the church when it was built.
Don't miss: Step inside to admire rare 13th century wall paintings.
While you're here: Continue admiring the striking scenery with a 15-minute drive to West Dean Gardens, home to an Edwardian pergola, Victorian glasshouses, walled kitchen garden and restaurant.