National Garden Scheme helps you shake off winter blues with gardens full of beautiful snowdrops and emerging spring bulbs.
By Kate Harrison West Sussex National Garden Scheme Publicity Officer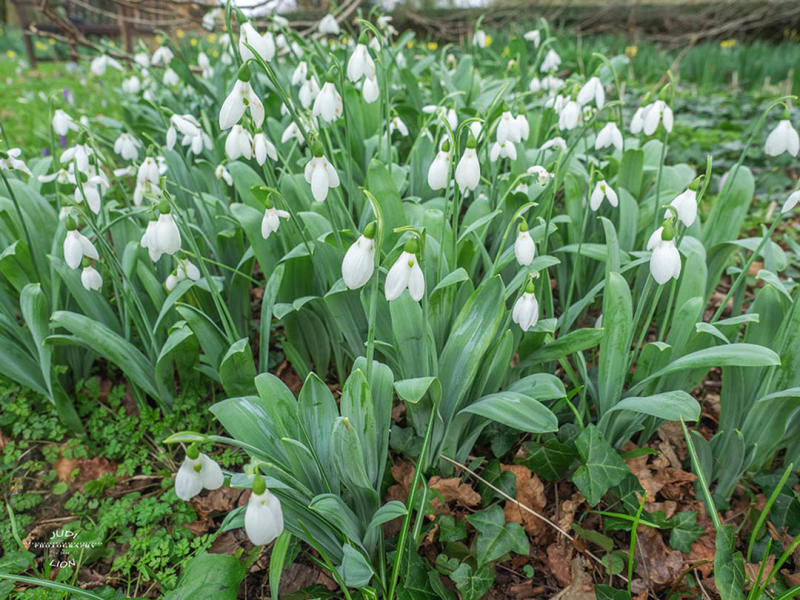 Fresh air and the beautiful, faithful first signs of spring epitomised by drifts of glorious snowdrops are a reminder of the changing seasons and the promise of what's to come. What better way to shake off the winter blues and to celebrate the gardening visiting year ahead than with the National Garden Scheme's 2023 Snowdrop Festival.  Over the coming weeks there are National Garden Scheme gardens opening in West Sussex, which will welcome you and enable you to enjoy one of our great garden-visiting treats.
The National Garden Scheme, which opens privately owned gardens to the public each year, was founded in 1927 by the Queen's Nursing Institute to raise funds for community nursing, meaning that gardens, health and community are at the heart of what we do. Every ticket bought, every garden visited, and every cake and cup of tea savoured translates into millions of pounds in donations not only to some of the UK's best loved nursing and health charities but to garden charities and community projects too.  In 2022 we made donations of 3.11 million. Beneficiaries include Marie Curie, Macmillan Cancer Support and Parkinson's UK.
You can now pick up or see online our new Sussex handbook for all garden openings for 2023.
Gardens opening this winter
The Old Vicarage, Washington has gardens of 3½ acres set around a Regency house. The front is formally laid out with topiary, wide lawn, mixed border and contemporary water sculpture. The rear features new and mature trees, herbaceous borders, water garden and stunning uninterrupted views of the North Downs. Open every Thursday from 9th February, 10.30am - 4.30pm. Admission £7. Pre-booking on the NGS website is essential. See the NGS website for more dates. 
https://findagarden.ngs.org.uk/garden/21793/the-old-vicarage
Sandhill Farm House, Rogate is owned by Rosemary Alexander, principle and owner of the English Gardening School. The garden has many different, contrasting and inspirational areas including a small woodland area, planted with early spring flowering shrubs, ferns and bulbs. There is a terraced area, a white and green garden, a large leaf border, rose borders, a small decorative vegetable garden, a red border and a grasses border. Snowdrop Day Sunday 12th February 12am – 4pm. Admission £5, children free. Pay on the day. Home-made teas.  See the NGS website for more dates.https://findagarden.ngs.org.uk/garden/19183/sandhill-farm-house
Highdown Gardens, Worthing is home to rare plants and trees. A fully equipped glasshouse enables the propagation of this National Plant Collection. There is a visitor centre and a new accessible path leads to a sensory garden with a secret sea view. Open for the National Garden Scheme 15th February 10am - 4.30pm. Admission by donation, see the NGS website for more opening dates. https://findagarden.ngs.org.uk/garden/6351/highdown-gardens
The Manor of Dean, Tillington is a traditional English garden with herbaceous borders, early spring bulbs including a wonderful display of snowdrops, a bluebell woodland walk and a walled kitchen garden. Open Sunday 19th February 2pm - 4pm. Admission £5. Pay on the day or book on the NGS website.  See the NGS website for more dates.
https://findagarden.ngs.org.uk/garden/3616/manor-of-dean
Buddington Farm, Easebourne, near Midhurst is a working farm with a wonderful display of snowdrops and daffodils. Thursday 23rd and Saturday 25th February 2pm-4pm. Admission £5. Pay on the day or book on the NGS website.
https://findagarden.ngs.org.uk/garden/44655/buddington-farm
Denmans Garden, Fontwell Enjoy year-round colour, unusual plants, structure and fragrance in the gravel gardens, faux riverbeds, intimate walled garden, ponds and conservatory. Visitors will find inspiration and design ideas for gardeners of all skill levels and gardens sizes. Open for the National Garden Scheme 26th February.  Admission £9, pre-booking is essential. Please contact the garden owner Gwendolyn van Paasschen [email protected] 01243 278950. See the NGS website for more NGS dates.
https://findagarden.ngs.org.uk/garden/5576/denmans-garden
Mitchmere Farm Stoughton would be a good choice if you are a part of a group or a gardening club. The 1½ acre garden is set in a lovely downland position. Unusual trees and shrubs grow in dry gravel though this briefly becomes wet, each year, when the Winterbourne rises and flows through the garden. Coloured stems, catkins, drifts of snowdrops and crocuses provide a lovely display. There is also a small collection of special snowdrops. Open by arrangement with the owner from February to November. See the NGS website.
https://findagarden.ngs.org.uk/garden/16382/mitchmere-farm