Let's Go Fly a Kite!
The Kite Festival taking place at Seal Bay Resort on 18th-19th June is eagerly awaited as we look forward to seeing the skies filled with colourful kites of all kinds.
One of the people behind the awe-inspiring display is Dave Mitchell from the Bognor Regis Kite Fliers who was keen to explain why kite flying is not just for the kids!
Dave has been flying kites for 28 years and first founded the Bognor Regis Kite fliers (a Sussex based UK Kite group) 7 years ago as a result of the success of the very first Bognor Regis Kite Festival held in October 2015. This is now an annual event in Bognor Regis held each August Bank Holiday.
The group now consists of 80 members who have an array of experience (some more than Dave himself!) and are members of other groups from all corners of the UK such as the Avon, Kent, Northern Kite Group, Essex, Brighton and Midland Kite Fliers to name just a few and they can't wait to bring their kite-flying expertise to Seal Bay Resort!
Gone are the days of just having the choice of the classic diamond style kite, and Dave and his colleagues have experience in flying much more extravagant fliers such as sports dual line kites, power kites, quad line kites, competing with sports kites, and giant inflatable single line show kites all of which give the wow factor!
The team at Seal Bay Resort feel privileged to be able to bring the expertise of the Bognor Regis Kite Fliers to Selsey, the only other location in England where you can see this team fill the sky with a fantastic array of kite of all shapes, sizes and colours.
Dave explains "sadly UK kite festivals have dropped drastically over the last 10 or so years so a lot of our group travel abroad to attend the international festivals.  They've had amazing experiences in the likes of San Francisco, Niagara Falls Kite Festival, South Korea, India, Nigeria, Canada just to name a few.  So, if you get 'kite flying bug' there's more out there for you to explore!"
The team at Seal Bay Resort hope that in bringing this wealth of international flying experience to Selsey in their very own festival of the skies, they'll help reintroduce the love of flying kites to visitors and guests alike over the weekend.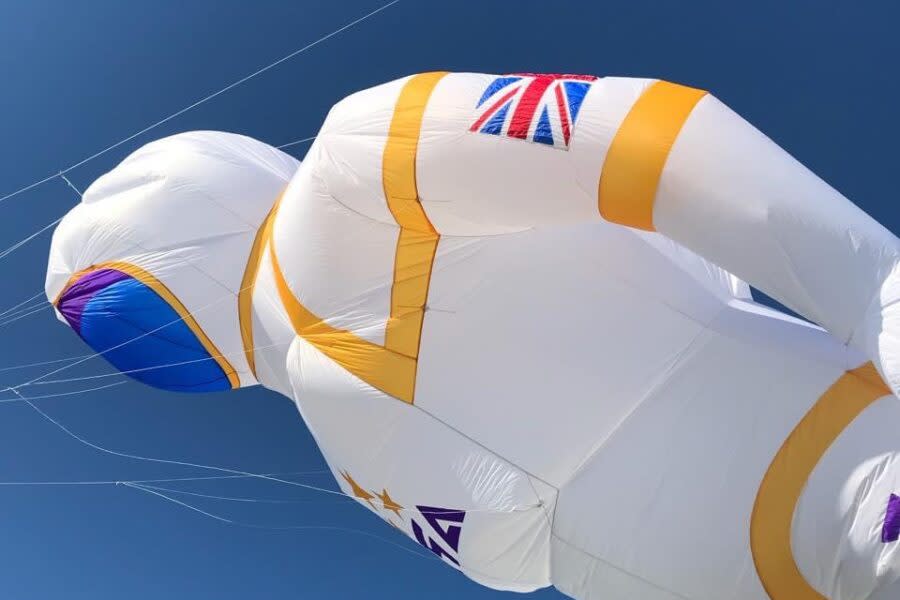 What can I see at the Seal Bay Kite Festival?
The weekend offers an impressive line-up of kite-flying fun, which you can see here. Come and be dazzled by at LED kites at dusk, synchronized kite flying to music with teams of 2, 4 and 6 producing amazing routines together, and Dave's current favourites; two giant inflatable kites. A 30-metre whale (the size of a fully grown blue whale) flying alongside an 8-metre version that is the size of a newly born calf is certainly a sight to behold.
Whether you already love flying kites, or have never flown one before, this is a spectacle to be seen, and Dave is keen to explain this is a really joyful hobby for the young and the young-at-heart alike, and Dave is eager to encourage everyone to take part, saying "it's never too early or late to enjoy and learn".
Top Tips for Kite Fliers
Whether this is a new hobby or you want to improve your skills, I recommend you join a UK kite club and get yourself tuition from experienced kite fliers, they are always more than willing to help and share their knowledge (we'll have them here at the Seal Bay Kite Festival).
Don't spend a fortune on your first Kite, the Easy Fly Delta Kite is perfect for beginners.
And finally make sure the wind is on your back, let out lots of line, pull the string and then smile!
We asked Dave what he loves most about Kite flying; "Mostly the friendships I have made over the many years, regardless of your wealth, status, all kite fliers treat each other exactly the same, whether in this country or somewhere on the other side of the world and that you really can't have a price placed upon!'
Keen to find out more? Get yourself either booked in for a weekend break at Seal Bay Resort to enjoy the whole lot of activities or simply pop along for the day (FREE ENTRY) with your loved ones (Father's Day on the 19th would be the perfect day out!)
Seal Bay Resort | Great Value Family Beach Holidays In Selsey (cove.co.uk)
Call: 01243 606080 for more information