Discover a West Sussex Wildlife winter wonderland
Dark moody skies and a chill breeze can be enough to prevent some from venturing outdoors in the bleakest of the seasons, but there are some wonderful sights and sounds to be experienced for those that do.
Drifting across the saltmarsh is a continuous babble and chatter, interspersed by excited exclamations. This is our winter soundtrack of honks, quacks, whistles and squeals, that lifts my soul in bleaker months. Thousands of wildfowl and waders arrive from their northern breeding grounds to feed and roost in the sheltered havens of Pagham Harbour and Medmerry nature reserves. The former reserve is particularly important for brent geese and pintail ducks, and as such, is internationally recognised.
Brent geese are small, dark, plump geese, similar in size to a mallard duck, with a small white neck patch and white undertail. They feed in flocks sometimes on the water upending like ducks to reach vegetation beneath the surface, sometimes grazing in the surrounding fields.
The pintail is one of the most elegant of our waterfowl. The males have a thin white stripe running down their long, graceful necks, chocolate-coloured heads and long thin tapering tail feathers that give them their name.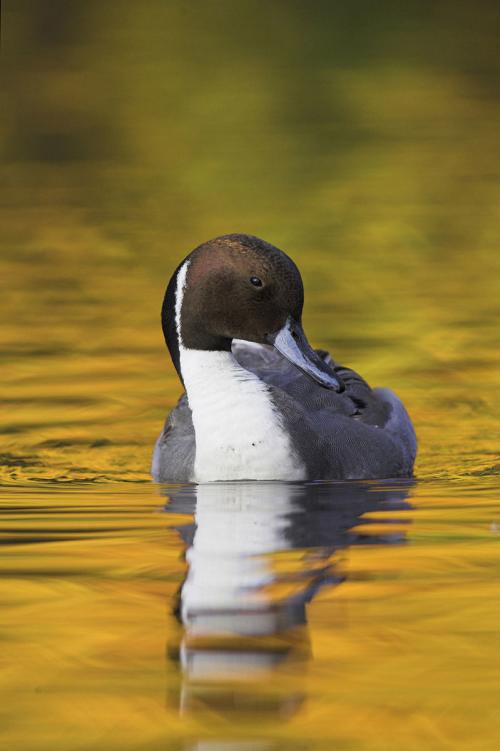 These most welcome visitors are joined by vast numbers wigeon and teal ducks. Male wigeon sport a very 'punk-like' yellow stripe across the top of their chestnut heads and a pink breast. A yellow bottom gives away the male teal, along with its green eye-patch that extends to the back of its chestnut head down to a grey body.
The brents constantly babble to one another, providing the soundtrack's low honking. This is punctuated by the shrill whistles of wigeon and squeals of teal, accompanied by the quacking of a myriad of overwintering ducks. Every now and again the shrill piping alarm of a nervous redshank cuts through the air as it takes flight, long red legs trailing behind. And of course, the curlew with its long down-curved bill, adds its most evocative and wistful of all calls. This is the unmistakable sound of the saltmarsh during winter.
Flocks of nervous lapwing rise together, in a cloud of flickering black and white, spooked by a passing raptor or possibly their own shadow! However, catch the 'peewit' in a good light and you will understand its alternative name, green plover, as its dark upper plumage turns an iridescent olive as the sun catches it. Grey and golden plovers, knot and dunlin gather in numbers, flocks flying in mesmerising twisting and turning synchronisation.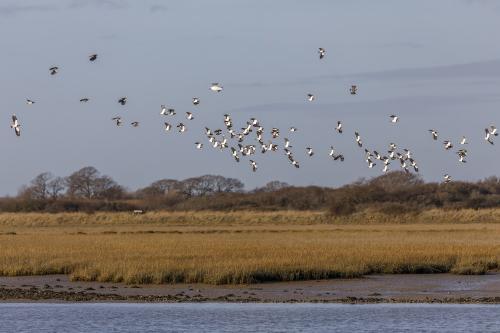 Just as the numbers of our winter wildfowl and waders build up at this time of year, large flocks of songbirds gather in the fields around Medmerry. These mixed flocks are typically made up of finches, pipits and buntings. Goldfinches are immediately recognisable with white cheeks, red face and yellow wing bars. Chaffinch have white shoulder patches and stripes on their wings. The males have a blue-grey head and pinkish breast. Linnets, a finch of open countryside and farmland, are typically brown but the males sport crimson chests and foreheads. Corn buntings, yellowhammers and meadow pipits usually make up the other species in these mass accumulations, which may number well in excess of a thousand birds. Like an explosion, the air erupts in a cloud of birds signifying the arrival of a hunting merlin hurtling onto the scene like a missile. Our smallest falcon, flying fast and low over the ground, the male is blue-grey above with a black band at the end of its tail while the larger female is brown with a barred tail. The sight of predator and prey locked in aerial pursuit is an experience to quicken the pulse and never be forgotten. This is nature in its rawest and most fundamental form, an intense life and death battle of agility, strength and guile. It may not be the Serengeti, but these natural spectacles can be just as exhilarating.
Meanwhile, floating more sedately short-eared owls quarter low over the ground. Barrel-shaped with a blunt face and fierce yellow rimmed eyes, they fly buoyant on long wings, often during the day. Medmerry is also a good place to scan the gorse bushes for Dartford warbler. Sporting a reddish-brown underside, upperparts, a long tail and red eye, they often move from their inland heath sites to the coast in winter.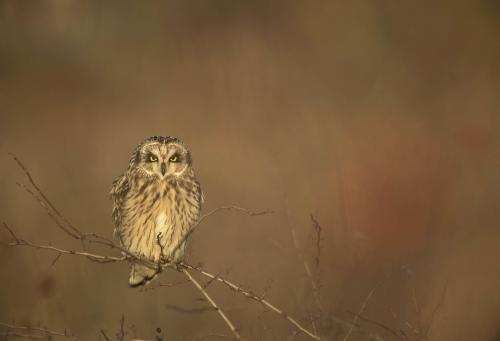 On the beaches, small waders run up and down the strandline like children playing 'catch me' with each wave that breaks on the shore. These are turnstones and as their name suggests, they flick and turn over the stones, seaweed and debris in search of the crustaceans and other invertebrates hidden amongst them. With a very dark brown head and back, a white belly and bright orange legs, they can be quite confiding and are a delight to watch as they scuttle to and fro. 
These are just some of the many delights to be found on our reserves at this time of year. If you would like help discovering and identifying some of these birds and others, why not join one of our guided walks. For more information check out our events – https://events.rspb.org.uk/paghamharbour
Roy Newnham, RSPB Pagham Harbour