Chichester Street Art Trail
As well as being the county capital of West Sussex, home to Roman ruins and cultural hotspots such as the Pallant House Gallery and Chichester Festival Theatre, Chichester also hosts an array of street art by internationally renowned artists.
In May 2013, Neil Lawson Baker and Street Art London organised jointly the Chichester Street Art Festival.  Curated by Richard Howard-Griffin of Street Art London, some of the leading street artists descended on the city to paint, including Stik, Liqen and Thierry Noir.
Most of their artwork is still there and in celebration of the 10th anniversary of the festival, we got the lowdown from local street art hunter Ali Richards, who shared her recommended route to see all the best pieces.
Although most Chichester street art can be accessed by walking around the city centre, our first stop is just outside it, on the corner of Spitalfield Lane and St Pancras at Cathedral Garage. 
Cathedral Garage
If you're driving then, you can park opposite for a couple of minutes to take in the large piece by Nunca, a Brazilian artist.  If you're walking then take care as it's right next to a busy roundabout.  It's not easy to see the entire mural usually, as it often has a queue of cars in front!
The paintwork is quite worn these days, slightly weather-beaten due to the nearby traffic.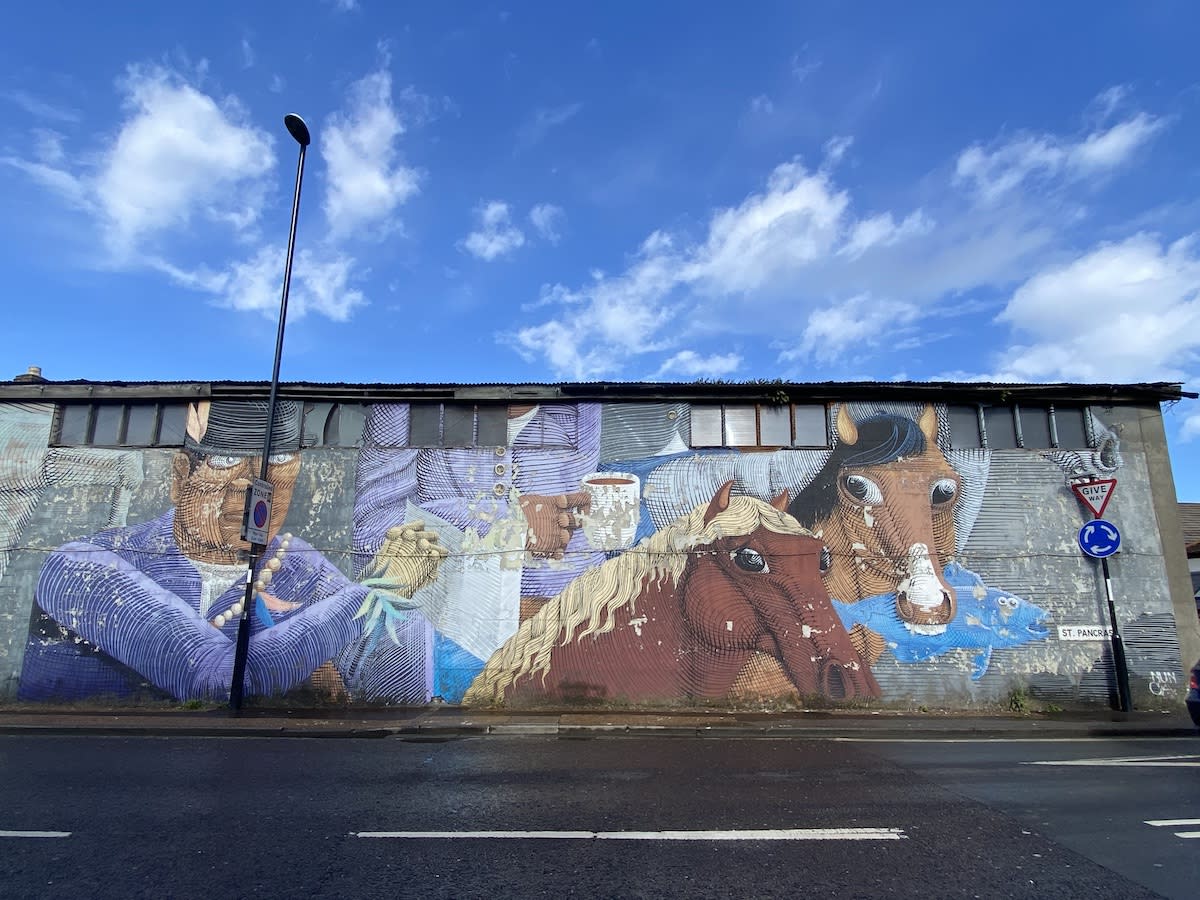 St Richard's Hospital
The next stop is at St Richard's Hospital, just a five-minute walk from Cathedral Garage, off Spitalfield Lane.  Worthing artist Horace painted a tribute to NHS nurses for their work during the pandemic, depicting them as angels in a series of stencilled street art.  You will find them at the entrance to Outpatients, alongside a rainbow heart mural.
Northgate Roundabout
Where to park to view Chichester street art: There are many car parks dotted around the city but if you're planning a walking tour of street art locations then we'd recommend parking at the Northgate car park next to the Chichester Festival Theatre.  It's a large, long stay car park and allows you to take a circular walk around the centre of town.
From your car it's a short hop to some large pieces which are located on the roundabout there, so do cross carefully over to Metro House.  Directly facing the Northgate car park is this piece by Giacomo Bufarini, aka Run.Metro House
The next large mural is on the side of Metro House, a skeleton painted by Welsh-born artist Phlegm, from Sheffield.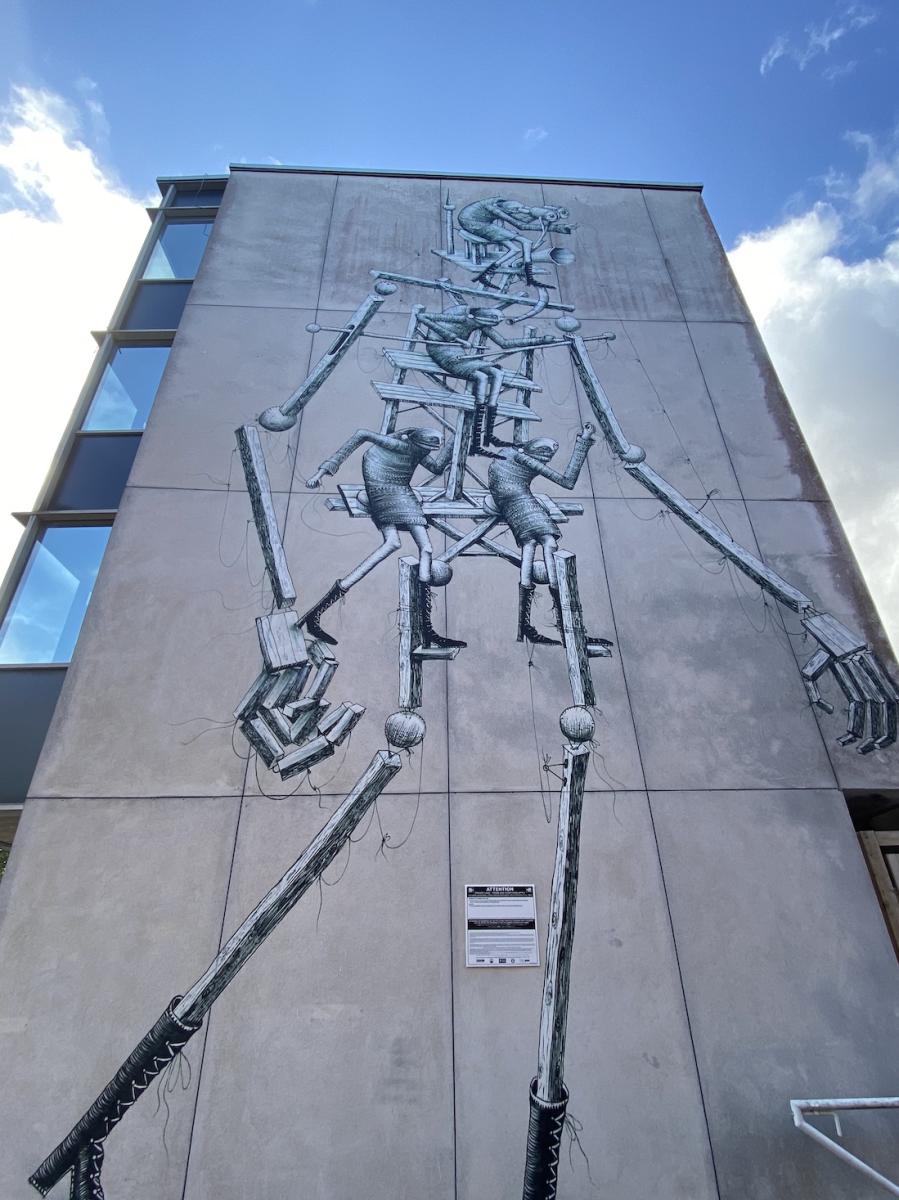 Inner Quadrangle of Metro House
Next, carry on past the skeleton into the inner quadrangle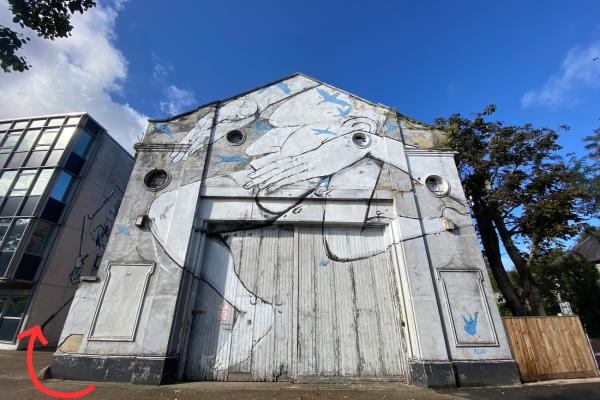 to find this cat mural by Hitnesio.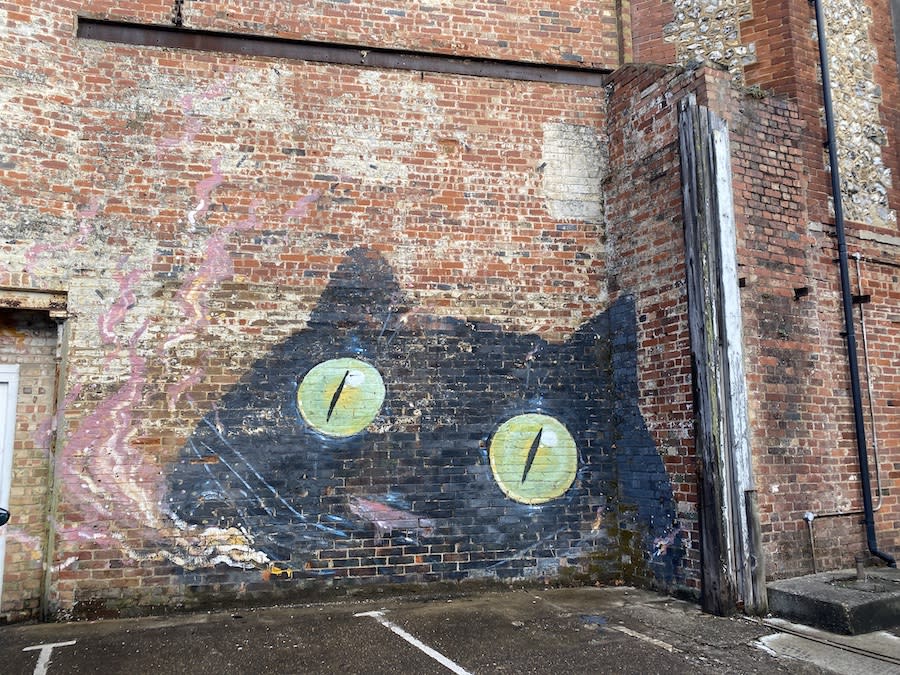 Top of North Street
Take a walk around the roundabout and facing the top of North Street is this classic piece by Thierry Noir featuring his iconic, colourful heads.  Depending on the season, you may only be able to see it from close-up as it is mostly obscured by trees for the summer.  Noir is French but has lived in Germany since 1982, and was the first artist to paint on the Berlin Wall.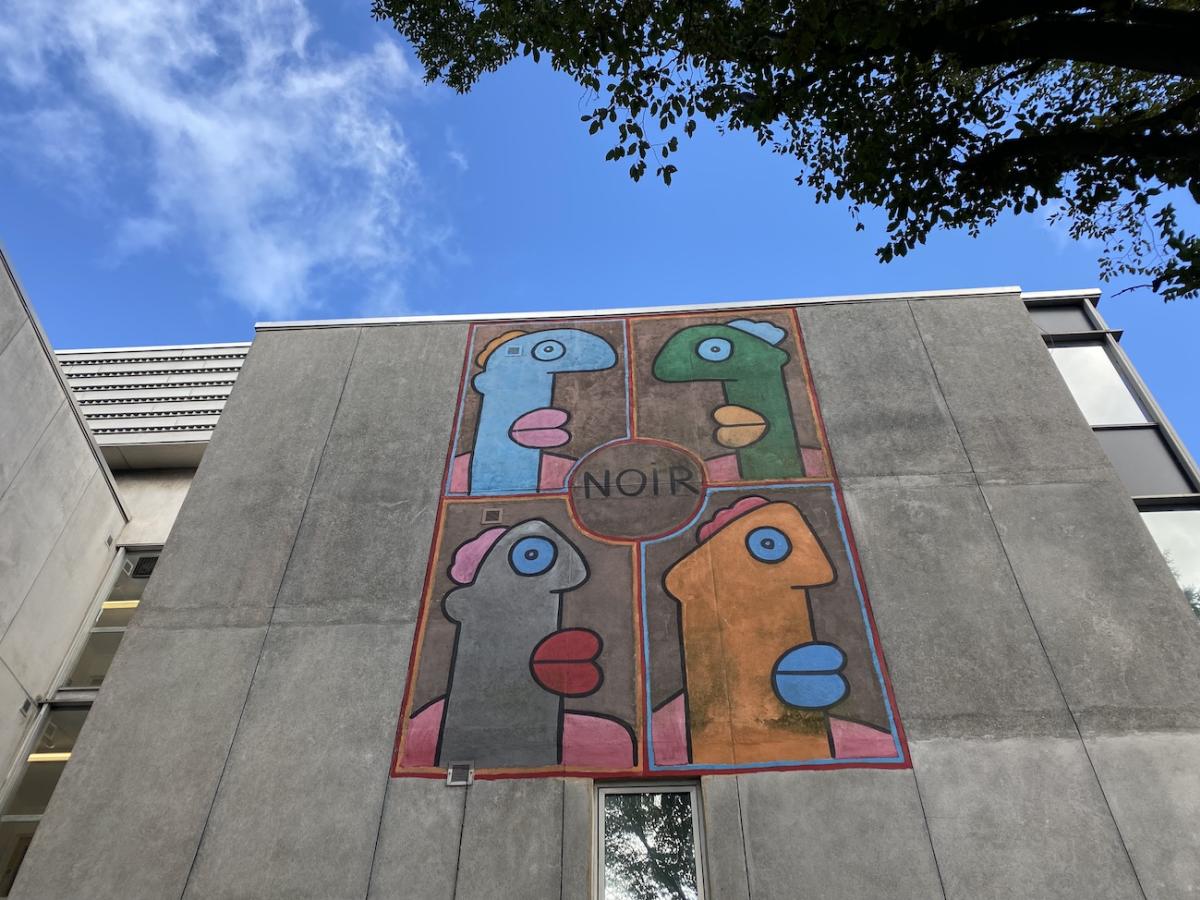 Western Wall of Metro House
Further around the corner, on the west-facing wall of Metro House is this complex piece by Liqen.  The detail is incredible and you really need to see it up close to appreciate the intricate nature of his art.
Once you've seen all the murals on the buildings inside the roundabout, it's time to cross back over the road (very carefully!) and head to North Street.
North Street and Priory Park
Along your route you'll find many places to take a pit stop for refreshments.  One of our favourites is near the top of North Street, Café Paradiso.  Although it's billed as a vegetarian café, we defy any carnivores not to enjoy one of their delicious lunches.  They serve a wide range of pastries and cakes too, to accompany a barista coffee.  If the weather is nice then you can grab a table in their secluded garden to enjoy an al fresco meal.
Head down Priory Lane towards Priory Park, where you'll find the next mural at one of its smaller entrances. 
It's a hummingbird, painted by Southsea street artist Samo.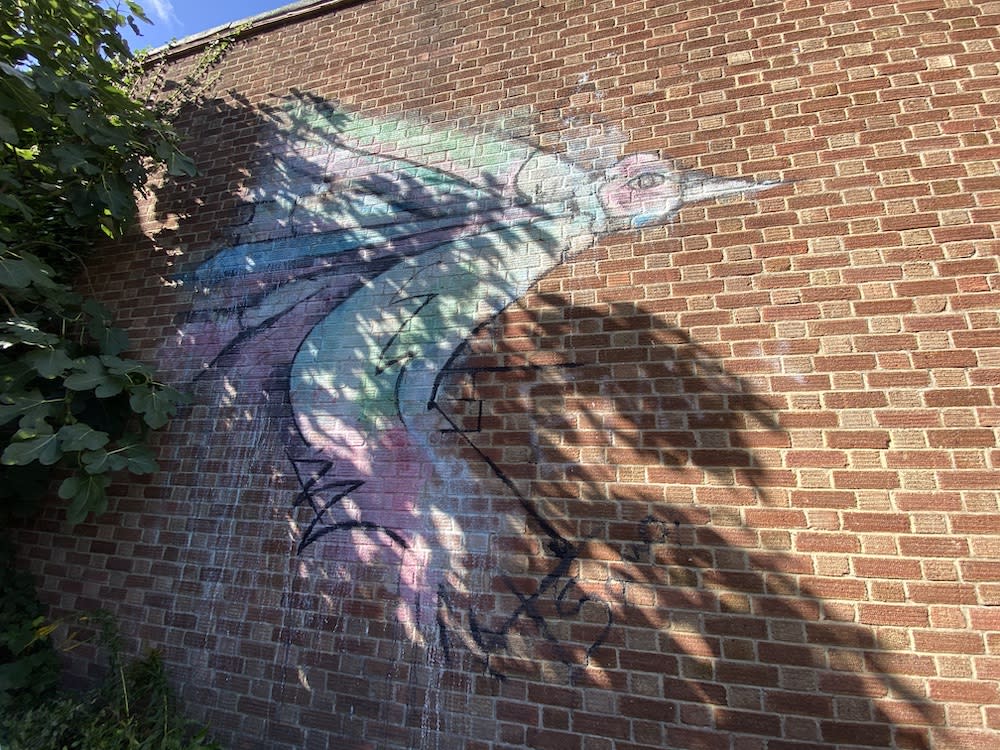 Priory Park is beautiful and you can walk around its perimeter on the city walls, and take in the views of the park's Guildhall and the cathedral in the distance.  Here you'll find Fenwicks Café which serves drinks, snacks and ice cream, perfect for a summer's day.
Once you leave the park, head towards Eastgate Square where you'll find another great independent café, Charlie Harpers.  Whether you're stopping for breakfast, lunch or a snack there are a great range of delicious meals and treats.
Another little gem at Eastgate is Turner's Pies – an award-winning local family business whose pies are stocked in Harrods' food hall!  Pick up a pie, sausage roll or delicious dessert to have later.
Baffins Lane Car Park
From Eastgate it's a short walk to Baffins Lane car park where you'll find a few murals, the first of which is this large mural of birds by ROA, a Belgian artist.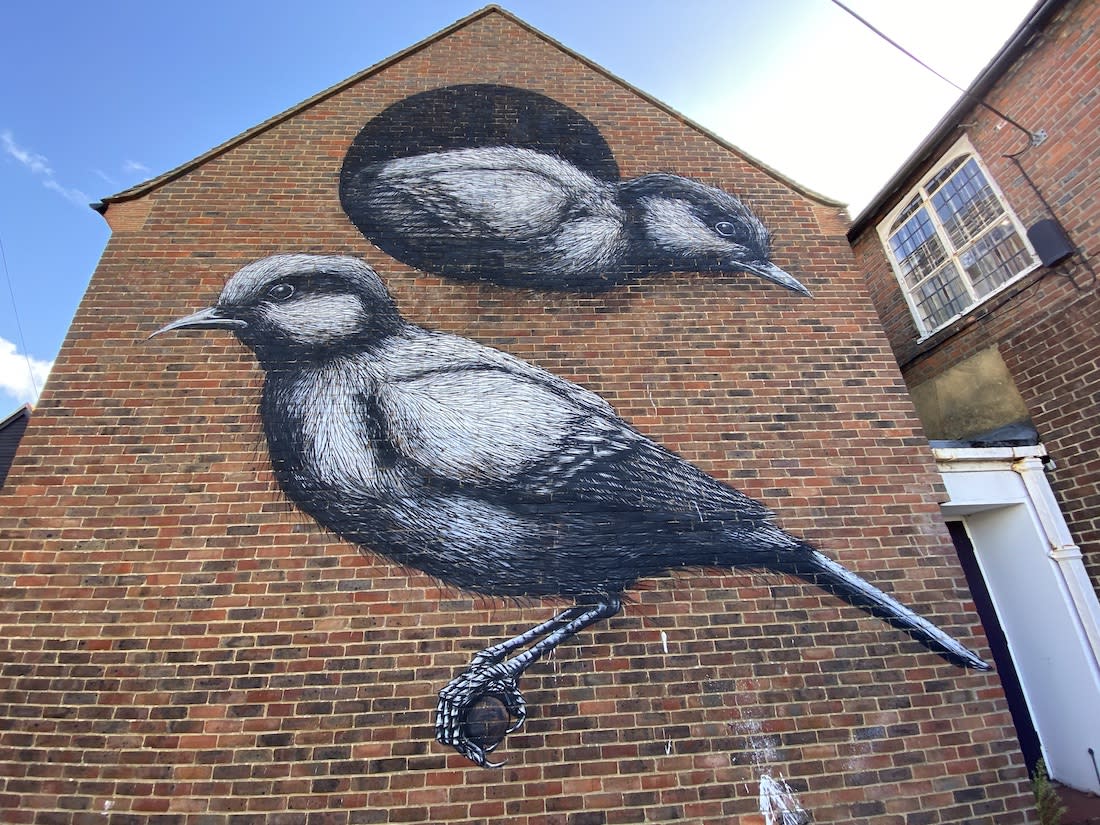 Then, see if you can spot this smaller piece on a gate nearby, an owl by Dscreet who has painted around the world for over 30 years and is featured in films, books and galleries.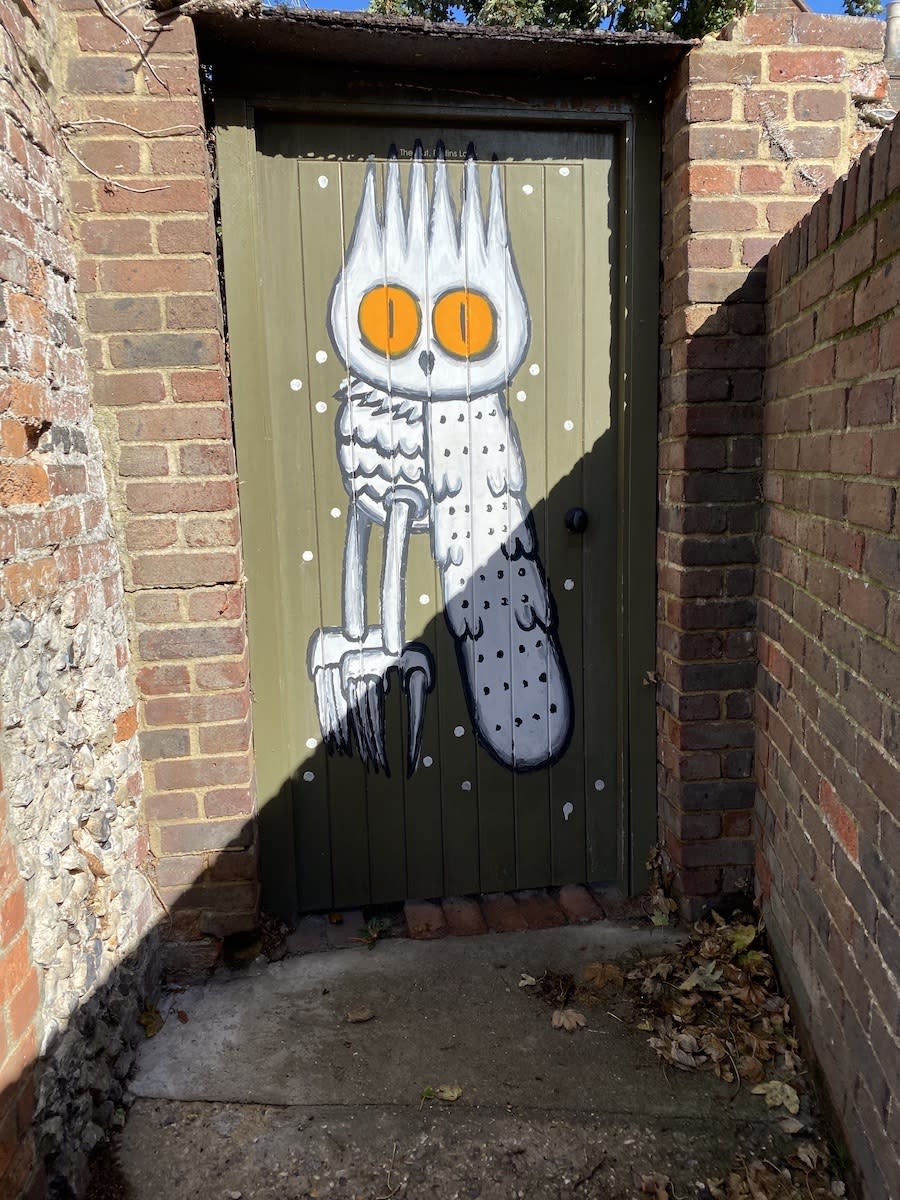 East Pallant
On the far side of the Baffins Lane car park is an archway, through which you can access East Pallant where there's another cluster of murals.
The first is this dog, by artist Joachim.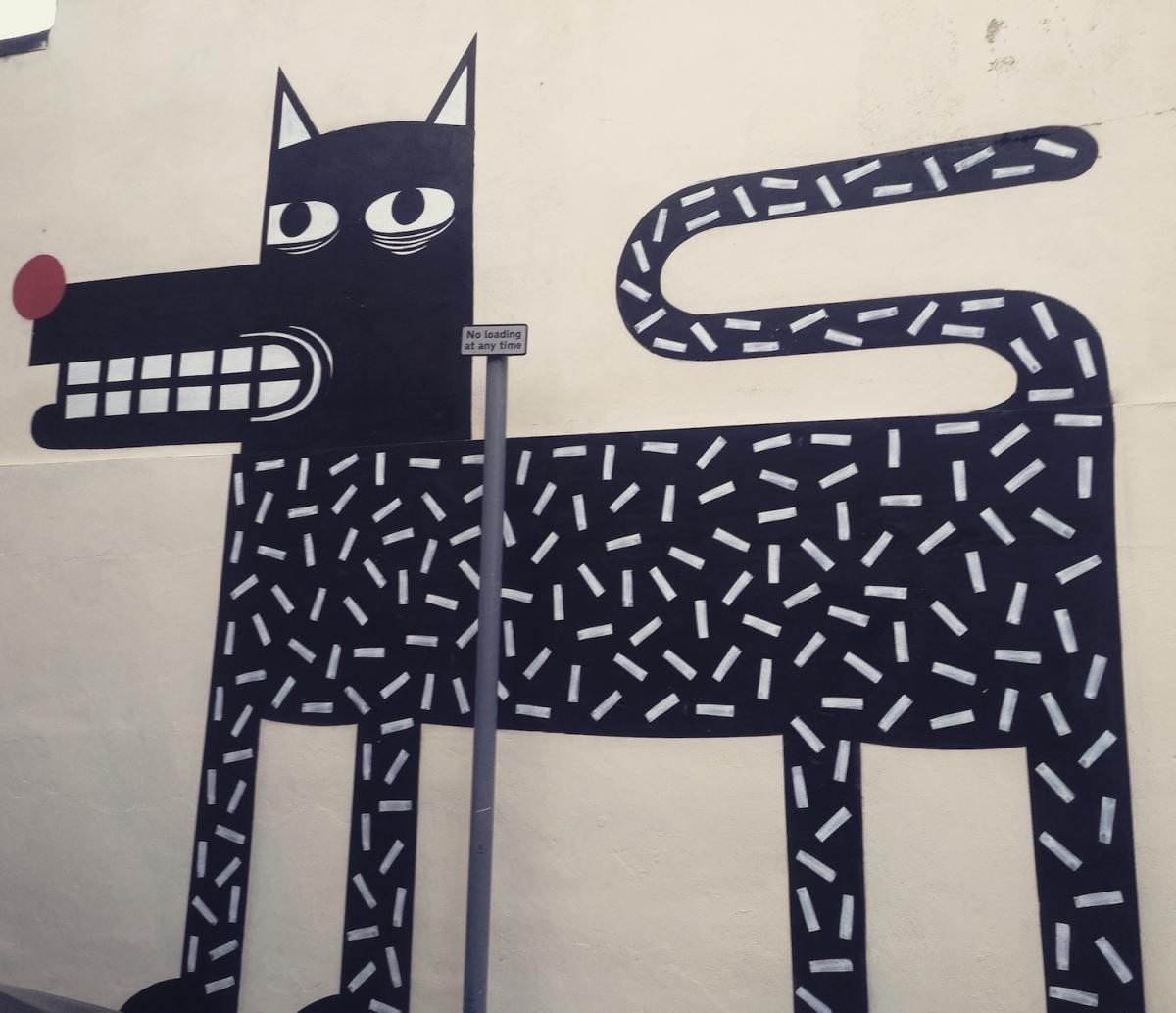 Next to the dog are some smaller pieces, this one is by JPS Artist, from Weston-Super-Mare.  Inspired by Banksy, he has painted around the world including in Norway and USA.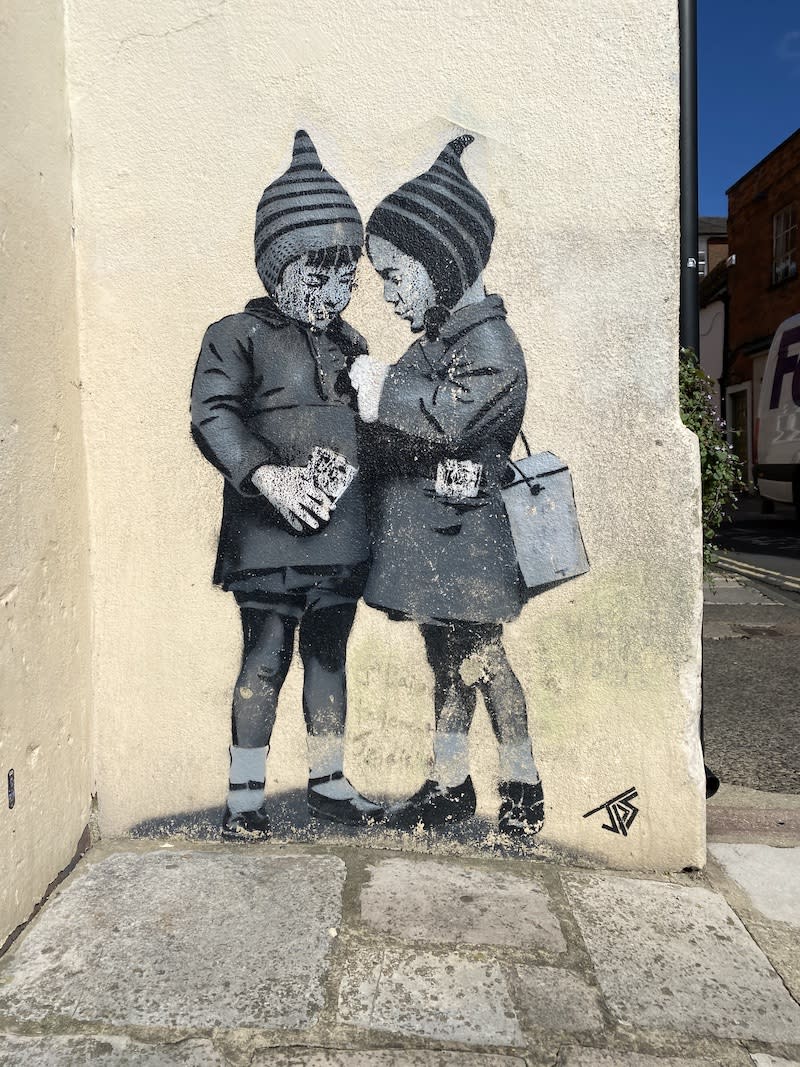 The next piece of art is a mystery as we aren't sure who painted it.  It's a young girl releasing an EU balloon and was painted around the time of the Brexit vote.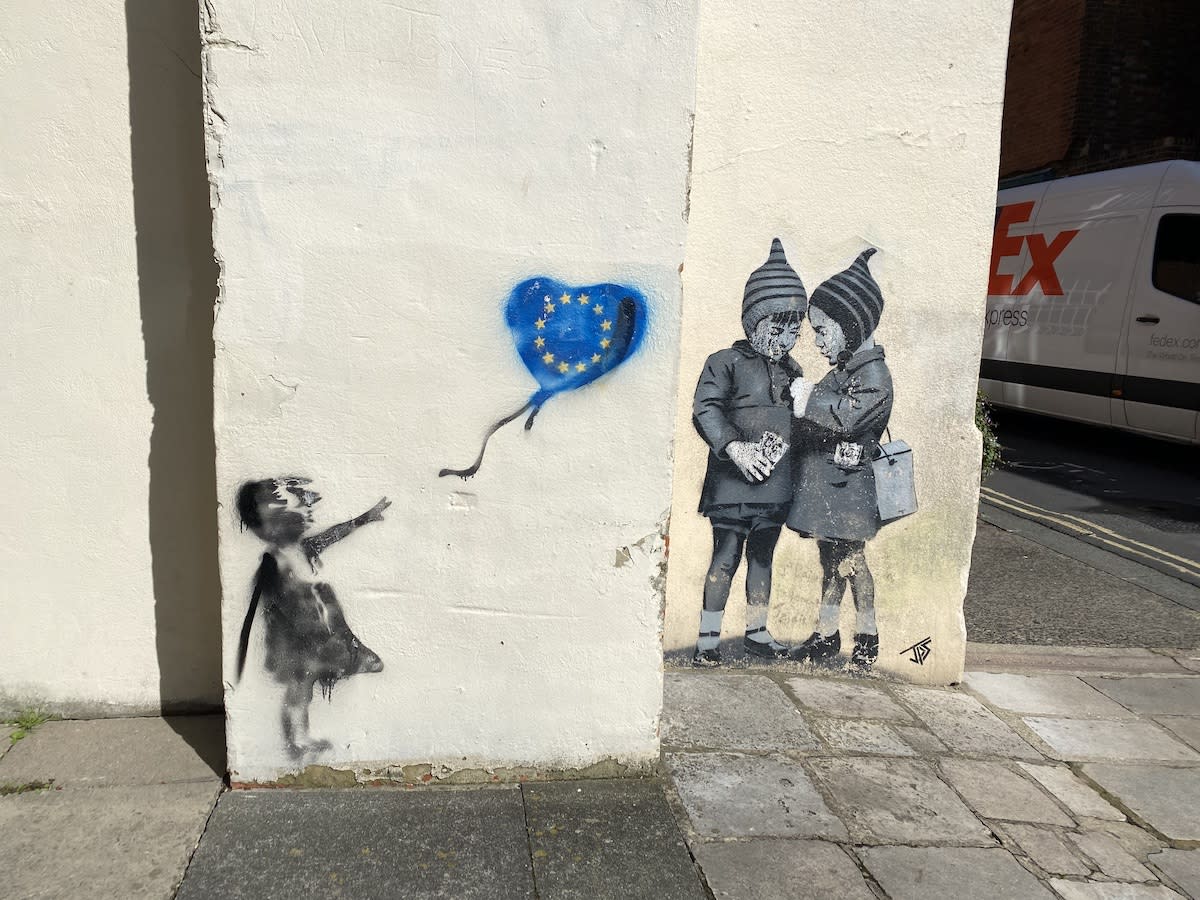 Then if you walk up East Pallant towards East Street you'll see these large, iconic figures created by Stik.  Stik is a world-famous British artist whose socially-conscious stick people have been painted across the globe.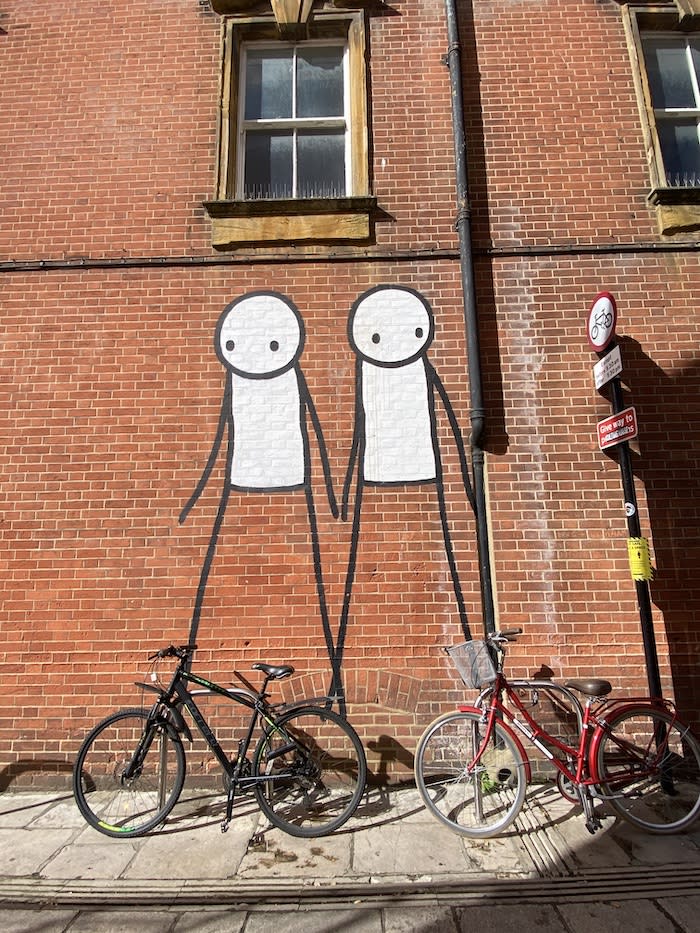 West Pallant
Just in West Pallant, off West Street, there are a few pieces which pop up from time to time.  They may have changed since the time of writing but that's the beauty of street art – the murals are often tagged or painted over by other artists.
When we visited there was this colourful cat there, but more have been added over time.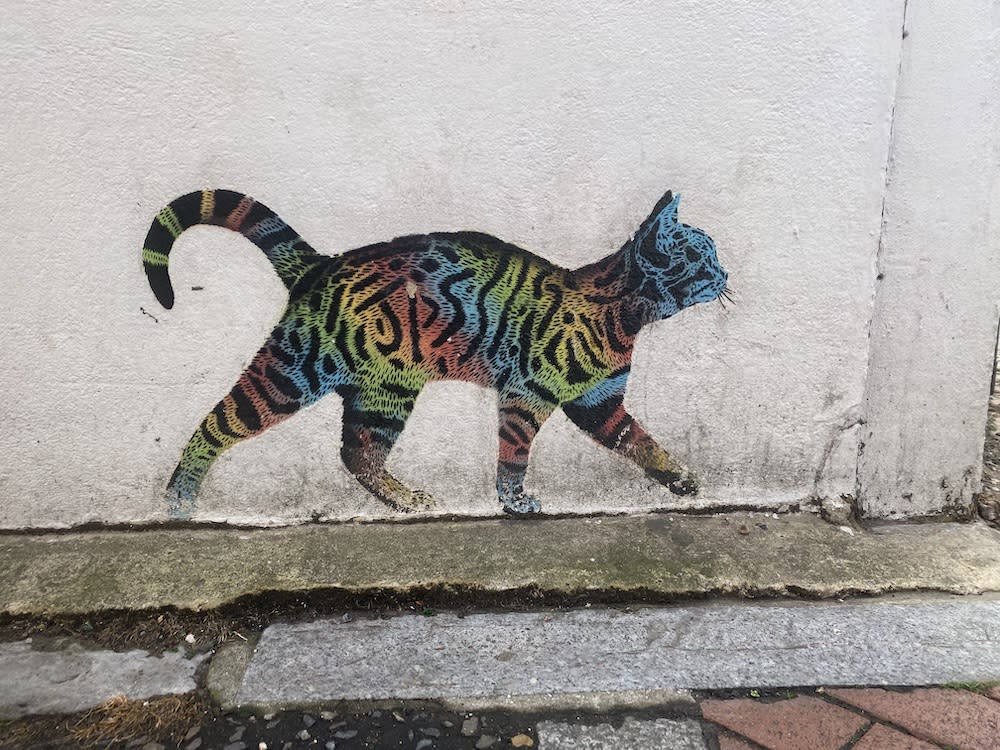 If you're in Chichester and a fan of street art then you can't leave without visiting Bangerz & Burgerz in South Street.   Bangerz is a local chain of burger bars which are decorated with murals by street artists, mainly from Brighton and Southsea, including Snub23, Fark, Samo and Roo.  
Ali was lucky to be invited there while it was being painted to see the artists in action, and captured this shot of Samo working on his fantastic piece in there.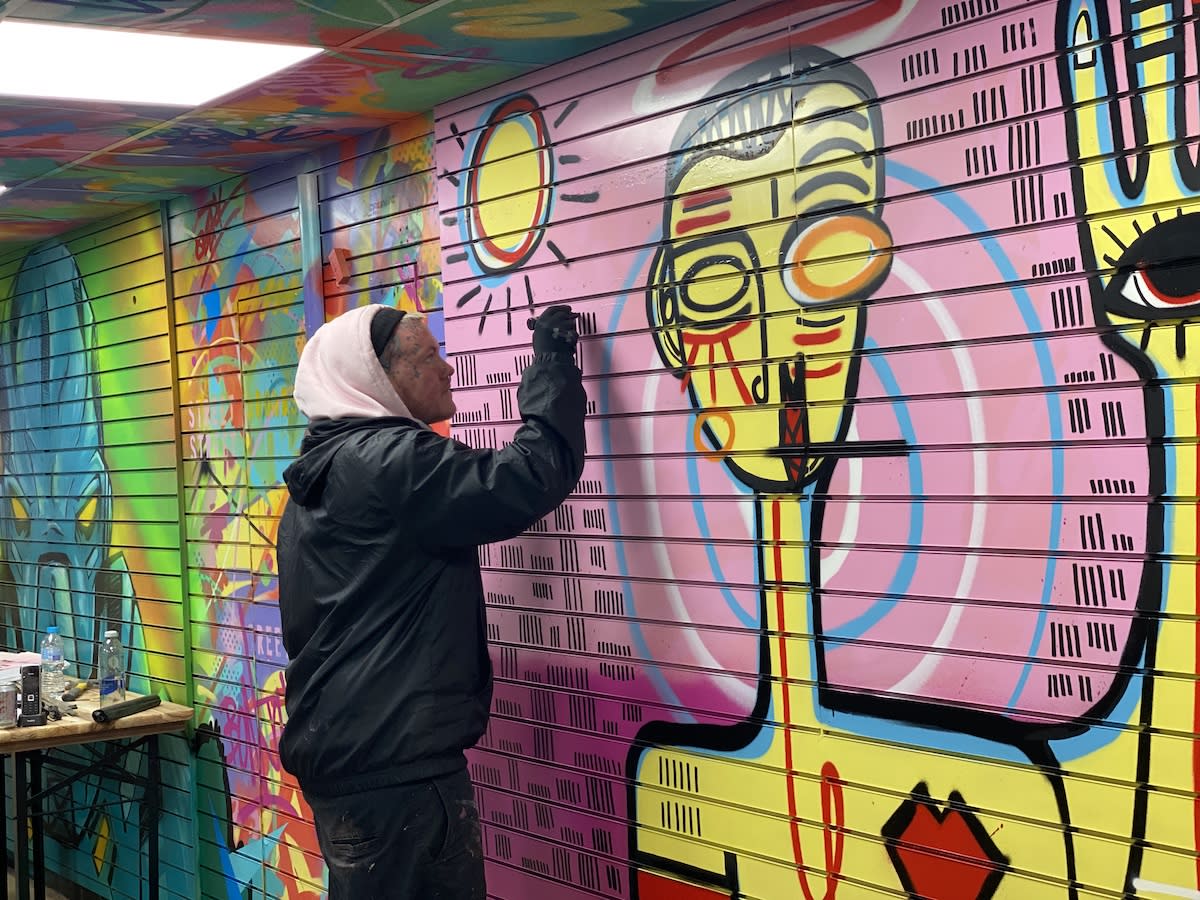 The place is a feast for the senses and one of the biggest indoor collections of street art you'll find in a public space, so we'd recommend stopping off for a drink at the very least.  Their burgers are absolutely delicious too if you want to treat yourself, and they cater for vegetarians and vegans too.
New Autumn 2023: Little London
Anonymous artist Hendog is the creator of one of the newest additions to Chichester's street art. Found on the corner of Little London and East Street, discover a piece entitled "Beauty's In The Eye Of The Holder" featuring a child holding flowers.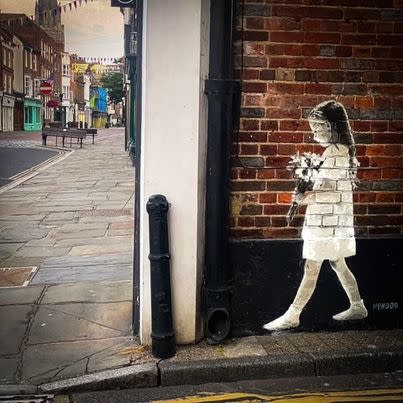 Chichester College
There are some large murals on the walls of Chichester College, many of which you can see from the road.  Some were painted by students in collaboration with street artists, and you can read about one of those projects in this article.
Other great independent businesses in Chichester
Once you've finished your tour it's just a 5-10 minute walk back to the Northgate car park.  On your way, you could visit one of the many fantastic independent businesses in Chichester.
Lucy With Diamonds is a jewellery shop in South Street where owner Lucy designs bespoke items for customers, as well as selling her own ranges.   What's brilliant about this shop is that Lucy will take old jewellery and turn it into new, contemporary pieces, for example using old gemstones and making new items from them. 
The Fat Fig is also in South Street and is a great spot for breakfast, lunch or morning coffee with a delicious slice of cake.
The resurgence of listening to vinyl records is music to the ears of Analogue/October Records which sells new releases and classic reissues.  They are open from Tuesday to Sunday if you want to just browse, or buy an album to add to your collection.
Along your route in North Street you can shop for gifts at Winter's Moon, lingerie at Smitten and home interiors at Thru The Looking Glass.
All images reproduced with permission from Ali Richards.  You can follow Ali on her blog, Diary Of A Detour, for more street art and other local articles.